Road trip. It's not just the second-best movie involving DJ Qualls. It's also something you don't need some weird excuse preventing your girlfriend from receiving a videotape (wow, that movie's aged) to take. Denver's great and all, but sometimes you need a change of scenery. When that times comes, here are 11 getaways within a thoroughly reasonable drive. 
Recommended Video
Turn Your Old Fruit Into Booze With This New Gadget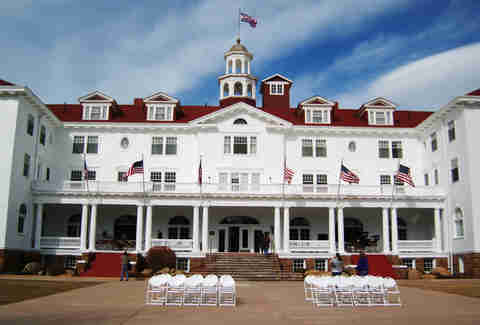 Estes Park
Distance from Denver: 70 miles North; 1.5-hour drive
Why it made our list: It's the town that is basically the entrance to the Rocky Mountain National Forest. It's a popular destination year-round because of endless activities available such as ice-climbing, mountain-biking, hiking, or even hot-tubbing in the snow. One of its best known attractions is the Stanley Hotel, which inspired Stephen King's The Shining. If you enjoy being scared, you can stay in the haunted room where there have been many accounts of ghostly occurrences. REDRUM.
Pro tip: If you want to check out the Stanley Hotel but aren't interested in getting harassed by ghosts, stay at a nearby cabin and grab a drink in the hotel bar, which carries over 900 spirits and features prohibition-style cocktails.
Steamboat Springs
Distance from Denver: 156 miles Northwest; 3-hour drive
Why it made our list: The original hometown of downhill skiing of course has great offerings for snow sports as well as tubing, fishing, and kayaking. Steamboat is unique because it lacks the pretentiousness of typical ski-towns and has a very laid-back, Western vibe. It also has two great hot springs parks, which are accessible year-round.
Pro tip: Every January, cowboys come from all over to ride the slopes in the Cowboy Downhill event. If you go in the summer, check out the annual Hot Air Balloon Rodeo, which happens in July.
Idaho Springs
Distance from Denver: 32 miles West; 40-minute drive
Why it made our list: With its close vicinity to Denver, it's a quick escape to a small-town feel and the Indian Hot Springs, which was voted one of the top ten mineral hot springs in the world. There are also geo-thermal cave baths and outdoor jacuzzi baths.
Pro tip: It may not contribute to the bathing suit body you wanted, but Smokin' Yards BBQ cannot be missed. This family-owned joint specializes in smoked meats and specialty barbecue sauces, which alone are worth the half-hour drive.
Fort Collins
Distance from Denver: 65 miles North; 1-hour drive
Why it made our list: Once voted "Best Place to Live" by Money magazine, Fort Collins is a healthy mix of college kids and families in a beautiful town. It is home to Horsetooth Reservoir and Colorado State University, which now offers a "fermentation science" program, AKA the degree in how to brew beer. Maybe you can audit?
Pro tip: If you love beer (which you do), take the Magic Bus Tour or hop on a bike for a self-guided brewery tour. You can plan your route here.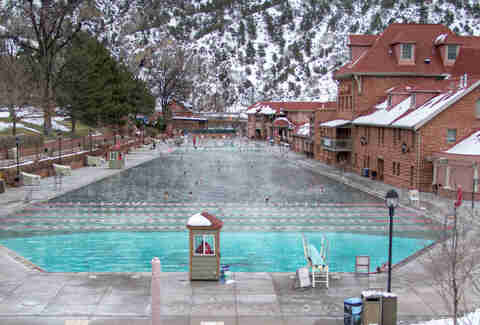 Glenwood Springs
Distance from Denver: 157 miles West; 2.45-hour drive
Why it made our list: It has the world's largest hot springs pool. You don't have to stay at the Glenwood Hot Springs Lodge to access the pool; just buy a pass for the day(s) you want to be there. Then grab some dinner at The Pullman, which is modern and hip without being fussy.
Pro tip: If you're up for a challenging hike, the Hanging Lake trail is one of the most popular in all of Colorado. It's about a mile long, but the end result is a gorgeous hidden lake with a waterfall to cool off in.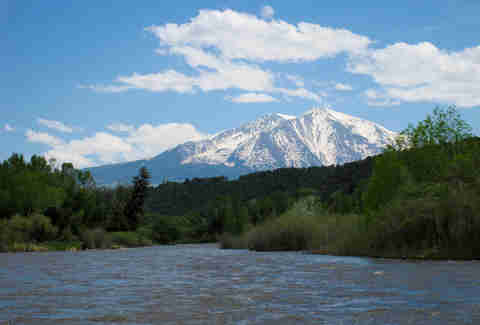 Aspen
Distance from Denver: 198 miles West; 3.45-hour drive
Why it made our list: Yes, it's another ski-town, but were you aware it's also quite the popular retreat among celebrities? So yeah, you may not be buying property here anytime soon, but that doesn't mean you can't swing a luxury mountain getaway with all the upscale-dining options. In the summer and fall, it also has some damn fine hiking.
Pro tip: If you're a fan of Hunter S. Thompson, you can visit his old favorite bar, Woody Creek Tavern, which will give you a glimpse of what Aspen used to be.
Blackhawk
Distance from Denver: 34 miles West; 45-minute drive
Why it made our list: It's the largest gambling town in all of Colorado and it's less than an hour away. If you have a hankering for cheap surf-and-turf and 24-hour casinos (or if you run out of money at said casinos), you can make it up there after work and get back the same night.
Pro tip: To take advantage of the best hotel deals, book a stay for the middle of the week.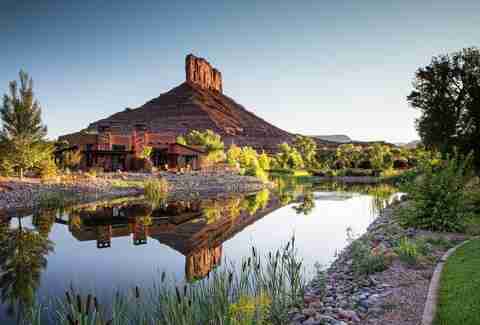 Gateway Canyons
Distance from Denver: 245 miles West; 4-hour drive
Why it made our list: The Gateway Canyons Resort was created by the same guy who founded the Discovery Channel, and it's the only resort in the world that sits at the base of five different canyons. If you're looking for a luxury vacation in the middle of nowhere, this is it. It's definitely not cheap, but you'll likely never see a place like this anywhere where else in the world.
Pro tip: If you're rollin' in the dough, you can take an air tour in a Eurocopter, complete with leather seats and the feeling that you're literally above everyone else.
Great Sand Dunes National Park
Distance from Denver: 238 miles South; 3.45-hour drive
Why it made our list: The majestic mountains made of sand. Pure sand! With the Sangre de Cristo Mountains in the background and several ecosystems to explore, camping in one of the nearby parks is a popular option with visitors. If you don't feel like roughing it, there's real lodging available, too.
Pro tip: You can bring your own sandboard or sled to ride down the dunes, but make sure you don't do it when it's too hot out, because the sand could literally burn you.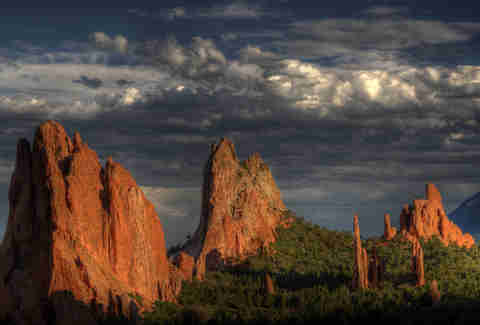 Colorado Springs
Distance from Denver: 67 miles South; 1-hour drive
Why it made our list: It's the second largest city in Colorado and it's jam-packed with parks and activities for the nature-lover. If you're in good shape, you can hike up Pikes Peak and then explore the Garden of the Gods on horseback. Both of these outdoor attractions are free to visit, unless you decide to use any of the extra amenities.
Pro tip: If you're going to stay overnight, stay at The Broadmoor Hotel. It's a bit pricey, but it's worth the incredible view.
Palisade
Distance from Denver: 231 miles West; 4-hour drive
Why it made our list: The Palisade Peach Festival is what put the small town on the map, and for good reason. Every summer, the festival celebrates the harvest of thousands of peaches, which brings visitors from around the world. What a lot of people don't know about Palisade is that it is also Colorado's wine country. There are over 20 small-batch wineries, as well as the Peach Street Distillers.
Pro tip: Don't miss Alida's Fruit Stand: it's run by a farmer and his wife who sell all kinds of goodies besides fresh fruit, like real fruit jelly beans.
Sign up here for our daily Denver email and be the first to get all the food/drink/fun in town.