Denver fights Boulder over which city is better. WHO WILL WIN?
Great rivals have faced off throughout human history: North vs. South, Army vs. Navy, and Joe vs. The Volcano. But none is more important, or more controversial, than Denver vs. Boulder. To help you determine which city trumps the other once and for all, we've tasked Denver native, comedian, and performer/ producer of the upcoming High Plains Comedy Festival to rep for the Mile High City against Hippieman, a Boulder native and comedian, to argue for the People's Republic. And, wouldn't you know, he's another guy you can see at the awesome High Plains Comedy Festival from August 23-24.We asked them both to defend their cities on a number of categories that're critical to making them awesome places to live and work. Here's what they said:
1. Coffee

Denver's Adam Cayton-Holland: Every day it seems like a new coffee shop opens in Denver. As someone who spends a lot of time in coffee shops, I personally think Denver's coffee scene is off the chain. How can I tell? Because I'm so over-caffeinated that I just wrote the phrase "off the chain" to talk about coffee. We've got expensive coffees brewed by skinny men in mustaches; we've got cheap coffees brewed by people wanting health insurance in green aprons; but most importantly, we have literally hundreds of air-conditioned spaces where you can sit in front of your laptop and pretend you have a bright future. The only place you can do that in Boulder is CU.

Boulder's Hippieman: The Trident Bookstore and Café, located on the west end of Boulder's Pearl Street Mall, beats anything Denver has to offer. It's got delicious coffee drinks and a clientele that includes locals, tourists, and plenty of wannabe poets, all without those annoying hats the Denver hipster scene has embraced. I don't know if you call it a pork pie hat, but whatever it is, it seems every Denver hipster has one. I would like to see a Denver hipster without a hat. Once they lose the hats, maybe I'll start going to the coffee shops there.
Photo: VISIT DENVER
2. Craft Beer

Denver's Adam Cayton-Holland: I have four breweries within walking distance of my house. Four. Denver is craft brewery mecca. There's a reason the Great American Beer Festival is held here. Mountain Sun started in Boulder. They're great. Then they opened in Denver at Vine Street. And got really great. Face it Boulder, your best beer is actually brewed in Lyons. But come on down to Denver anytime. We'll buy you a beer. A Bolder will run them over for free.

Boulder's Hippieman: The first microbrewery in Colorado was the Boulder Beer Company, and the largest organization of brewers in the US, The Brewers Association, is also located in Boulder. Those are pretty good credentials, Denver. And when Denver does happen to come up with a tasty beer, I'm certain we can hire a truck to bring us a couple of kegs, or if we wanna be eco-friendly, a couple of the past winners of the Boulder Bolder will run them over for free.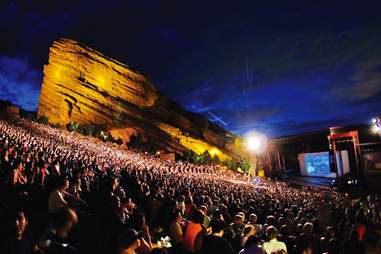 Photo: Steve Crecelius, VISIT DENVER
3. Fun Stuff To Do

Denver's Adam Cayton-Holland: On a scale of 1-10, this category is a negative seven. Fun stuff to do? That's the most subjective category I've ever heard of in my life. Like stand-up comedy? Denver rules. Like '70s strip-mall architecture? Boulder rules. To each their own.

Boulder's Hippieman: Boulder has open space for hiking, a world class farmer's market, and tubing on Boulder Creek. The only things I know to do in Denver are... The Mint. Once I've seen a big tray of quarters coming down the line, I've pretty much experienced The Mint. I can't take the money with me, so I don't really see the fun in it.
4. Cultural Activities

Denver's Adam Cayton-Holland: Denver wins off of sheer wealth of options. Boulder has some good stuff -- a guy on Pearl Street Mall who occasionally dances like a robot. The Fox is amazing, but that's about it it. Denver has the Clyfford Still Museum, the Hi-Dive, and a guy on the 16th Street Mall who occasionally dances like a robot. Come to think of it, they might just be the same guy. So anyway, Denver wins because of the Clyfford Still Museum, which no one has actually been to, but which everyone says is cool.

Boulder's Hippieman: The Boulder Dushanbe Teahouse is great for afternoon tea, and CU provides a wide range of cultural activities, including concerts, the Colorado Shakespeare Festival, and the Conference on World Affairs. I don't do any of those things, but I do take a walk on the creek path and smoke weed. That's enough culture for me. Also, I thought the Clyfford Still was a command to a misbehaving child.
5. Restaurants

Denver's Adam Cayton-Holland: Forget fine dining -- Denver has way more Mexicans, and way more Vietnamese people. Therefore, our restaurants are inherently better. It's not rocket science.

Boulder's Hippieman: I've been going to three restaurants in Boulder for years: The Buff, Dot's Diner, and Marie's. I always get a good meal and good coffee. Every Denver restaurant I go to, I just feel like someone's picking my pocket. I also tend to be paranoid a lot, I don't know.
Photo: Steve Crecelius, VISIT DENVER
6. The People

Denver's Adam Cayton-Holland: Hmm, where do I even begin? A bunch of state-school steak-heads raging for four years straight, and a bunch of aging Naropa pseudo-Buddhists trying to creepily [make sweet love to] their grad students during peyote ceremonies, or a thriving city-on-the-rise bursting with entrepreneurs and forward-thinking creative types that attracts the cream of the crop from four or more states, in pretty much every direction? Gee, I have no idea which group of people I prefer.

Boulder's Hippieman: I'm a Boulder native, and I don't like to go hard after people (unless I'm in the bedroom), but I will say that I prefer weed over alcohol, and Denver seems to run on alcohol. As a pedestrian in LoDo at night, I'm always running into drunks, and drunks are always (literally) running into me. It's like a bad gameshow where you get extra points if you tag a hippie. I'll be the first to say that Boulder's residents have an air of pretension and superiority, but I still prefer those people to the ones I find in Denver. In Boulder, I can't walk a block without getting a hug... or a dimebag.