Sure, Denver has great summers, but did you? Did you spend it drinking outdoors, watching outdoor movies, and generally taking advantage of all the sweet stuff there is to do in the Mile High City this time of year? If not, there's still time to do these 19 things before summer's over. But you'd better hurry if you want to...
LoHi
Well, not really. The VP did stop by the two-story milk jug on July 21st, but it would be weird if he was still there now. Nevertheless, no summer's complete without a scoop of Salted Oreo or Purple Cow amid the throngs in the stand's courtyard.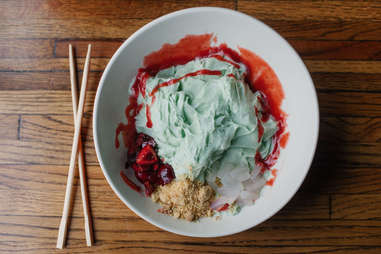 LoHi
Right next door to Little Man, the kitchen at everybody's favorite former mortuary recently introduced granita's Asian cousin to the dessert menu, and it's super cool as well as cold -- customized from an array of ingredients, shaved to order, and optionally packaged to go. Which means you can walk off that mound of, say, coffee ice topped with candied peanuts, chocolate pearls, coconut jelly, and dulce de leche even as you're gobbling it.

Engage in road-trip revelry
Multiple locations
Drop everything and go west, young man, to enter the peach-eating contest at the historic Palisade Peach Fest (August 12th-15th). Head north to show 'em your kilt during a jousting match or strongman challenge at the wonderfully weird Longs Peak Scottish-Irish Highland Festival in Estes Park (September 10th-13th). Wrap it up down south at Pueblo's Chile & Frijoles Festival (September 25th-27th), perhaps the only gathering in Colorado that smells better than the 420 Rally.
LoDo
On August 15th, you'll have your third and final chance this year to impress a date with a table at this urban block party, when Larimer Square's closed off to cars and the street becomes one giant restaurant patio. So don't screw it up, and make those reservations yesterday.

Jefferson Park
On August 1st, this modern Italian hot spot started weekend brunch with not a bang so much as a pop, and you can too. Order a bottle of bubbly with your breakfast pizza or eggs Benedetto, and you'll get a lesson in the art of lopping off a cork with a saber (AKA sabrage) on the house. Given the odds of lacerations and/or dislodged eyeballs, this naturally has to be done outside, though, so you'd better make reservations soon or the weather will preemptively cancel them for you.
Catch some rays at Confluence Park
Platte River Valley
You can lounge on a patch of sand that some people call a beach. You can kayak on what some people call a river. You can ride your bike along the paths of a so-called green space that actually is pretty green, by high-desert standards. And when you've had enough of nature, you're just steps away from the bars of Downtown. Now that's our kind of park.

Multiple locations
... that also faces the same opponents in a game of flip cup back at the league's sponsor bar. If that's not "enough said," we don't know what is.
Federal Heights
Or at least go on the ride by that name, which takes you on a journey by inner tube through a cave full of roaring dinosaurs. It's like a prehistoric, underwater haunted house. Of course the speed slides rule, too.

Multiple locations
Some 70 comedians -- from rising stars like Sean Patton and fest founder Adam Cayton-Holland to dark lord headliner Anthony Jeselnik -- are hitting town to yuk it up August 20th-22nd. That's about one gig per hour; if you estimate a joke a minute, you've got 4,320 laughs in store (and at least a few beer chasers, since most of the venues are bars).

Elyria-Swansea
Held August 28th-30th at the National Western Complex, this indie sound carnival out of Chicago has developed a reputation for bringing together musicians whose own reputations as icons of cool remain sterling, from Iggy Pop, Motörhead, and The Damned to Tenacious D, Modest Mouse, and Cold War Kids.

North Denver
Good news: as of this June, there are not one, but two outdoor movie theaters in the Denver metro area, both screening first-run studio films nightly. Bad news: neither spot serves booze. But for the sake of an old-school summer lovin' experience like this, we're almost positive you can go alcohol-free for 90 minutes. (So long as Minions are nowhere in sight.)
Capitol Hill
The season for the twice-weekly food-truck fiesta in Civic Center Park is coming to a close; best come quick to bask in the sunshine and live music while getting your fill of arepas or lobster rolls or pierogies. Or all three in one sitting. Because, you know, winter's coming, and you probably need to store up.
Party on a hotel rooftop
Multiple locations
FIRE, the restaurant crowning the swank, new, four-story Art Hotel, boasts floor-to-ceiling windows, so if it gets too hot out on the full-service terrace, you can move to the gleaming bar without losing the view. Meanwhile, every Thursday evening through the end of August, the Four Seasons hosts Poolside Cocktail Parties on the rooftop, where you can drink how the other half drinks.

Drink on a patio -- any patio
Multiple locations
Not that you can't start your bender at street level. Hell, you can start with a 40 in a paper bag on the curb out in front of the liquor store if you want, we don't judge. Just so long as you get an al fresco buzz sometime before autumn sets in. Still, you'll probably have a nicer time doing it at any of the places on our list of the city's best outdoor drinking spots.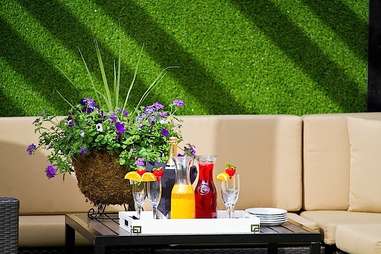 Get cabana service with your crew at ViewHouse
Ballpark, Centennial
The number one spot on the above list just got number one-ier. Both branches of this party palace are now offering carafe service (better than bottle service!) for groups seated in its cabanas. For $150, you get your choice of four themed packages, each featuring three carafes of batched cocktails accompanied by extra mixers and cut fruit for garnishes, plus some RESQWATER in case a trio of mules turns out to be one mule too many.
Curtis Park/Downtown
The one's a weekly pop-up in Sustainability Park with volleyball, cornhole, live music and surprise "five-minute happy hours" at the full bar (through Halloween). The other's a quarterly blowout, next held September 12th-13th in Sculpture Park. But they both showcase the best of what our local hipsters have to offer, from South African beef jerky and jalapeño popsicles to organic bow ties and belt buckles made of reclaimed skateboards.

Henderson
Sure, this overgrown garage sale-meets-dubious amusement park is open year-round. But it's an inexplicable fact that sizzling summer days are prime time for joining the sweaty masses to ironically buy toy-soldier snow globes and gnaw on hormone-pumped turkey legs.

Multiple locations
You really don't have to go to the Great American Beer Festival to go to the Great American Beer Festival. From September 18th to 26th, the brewers who pour into town from across the country pop up at local restaurants and bars for tap takeovers, paired dinners, and various other beer bashes. At the same time, Oktoberfest gets underway at the edge of Ballpark, complete with stein-hoisting and dachshund-racing competitions. Given the perfect end-of-summer weather that usually attends all these sudsy goings-on, there's no better time for a Denver drinking crawl.

Lakeside
But maybe wear protective gear as this is one notoriously rickety roller coaster. And bring a barf bag while you're at it, because there's an open bar at the Denver Film Society's wildly popular private fundraiser.
Sign up here for our daily Denver email and be the first to get all the food/drink/fun in town.
Ruth Tobias has officially gotten cracking. Track her late-summer movements @Denveater.