9 awesome ways to spend a free day in Denver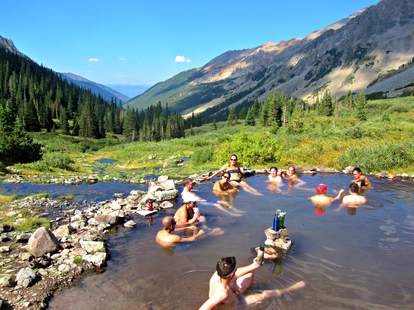 Say someone offered you a free day to go out and do whatever the hell you wanted. You'd probably jump for joy -- or at least pump your fist for joy -- but then after that, you might find yourself paralyzed, because there are just too many possibilities. To help shake you out of it, we put together a list of some of the greatest ways to have the most killer Mile High day possible.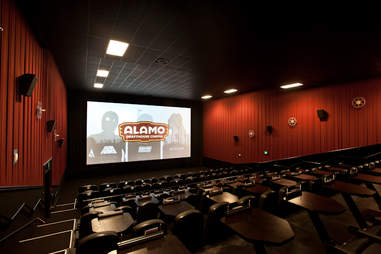 Catch A Flick And Test The Boundaries Of Beer
Don't spend today just watching a movie. Try to become a local legend by testing the Alamo Draft House's super strict cell phone policy with the most obnoxious dub step ring tone available. Or, don't be a total jerkface and see where hop science is headed with the Alamo's beer mixes, like the Suero, a blend of Avery IPA, Tabasco, lime, Worcestershire, and salt.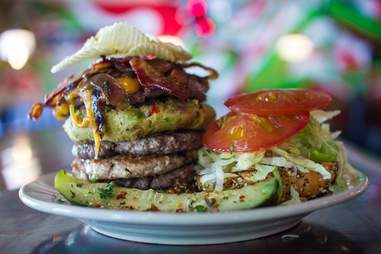 Eat The Most Calorific Meal In Denver
Trundle over to Tag Burger Bar and prepare a few extra belt notches: you're about to inhale The Cinco Burger, approximately 2000+ calories of bison, lamb, beef, turkey, cheddar cheese, bacon, and (why not?), potato chips. Start breathing heavy now.
Learn How To Butcher Meat
A day spent not mastering meat is pretty much wasted, so hit the Boulder grocery for a 2hr "Unusual Cuts" class, where you'll learn how to breakdown, prep, and cook half of a pig.
Imbibe At A Beer Tap House
Test your hipster cred by scouting out their home base at the Source Building, where the Crooked Stave Artisan Beer Project lets you go right to the… source for a fine selection of brews, like their Wild Wild Bret line, made right there on-site.
…Or A Wine Tap House
An urban winery that's Denver's answer to the many beer tap houses, Infinite Monkey Theorem provides barrel tastings, tours, and food trucks. But, really, go here because where else can you see a cannery operation where they, obviously, can wine, which is like box wine's cool, rustic cousin.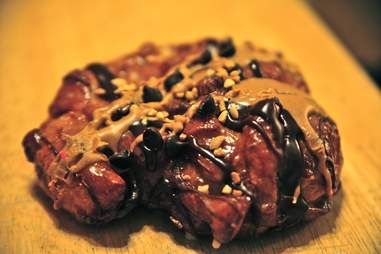 Grab A Donut
Spend a few hours pounding glorious fried balls of deliciousness, because Voodoo Donuts is slinging confections deep-fried with banana chunks, cinnamon sugar, chocolate frosting, peanut butter, peanuts, and chocolate chips ("The Memphis Mafia"), or smothered in insulin ("The Brimley"). Okay we made that one up, but you might actually need that once you're done here.
Take A Boozy Hike
Who said fitness can't be fun!? Pack a bag for the Conundrum Creek Trail, 8 miles of beautiful flora and fauna that end in a hot spring, which is more likely than not packed with imbibing revelers. Feel like making this one-day journey into two? Bring a tent and spend the night. Definitely do not fall asleep in the spring because that's how A&E Original movies happen.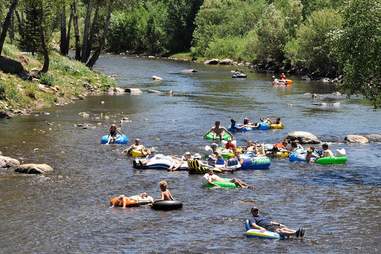 Go Tubing
Ah, tubing: the sport of kings. Lazy, lazy kings. When the weather warms up, grab the nearest inflatable item and splash into the Poudre River. Careful for high water levels, because the ride can get rough.
Read Books, Drink Wine, Eat Food
Because today can be about education and gluttony with BookBar's 12 wines, two beers on tap, a full menu of small bites, plus a selection of hundreds of books at your likely greasy (from the crostini with truffle bresaola and Gorgonzola) fingertips.