Out of town guests are always so demanding, always saying they wanna go somewhere fun, but then that they don't want to explore the worlds of Assassins Creed 3?! Worry not, as we've got 15 foolproof activities that both you and your potential guests will all enjoy, including your sister and her three-year-old son, your grandparents, and your former fraternity brother who can't drink anymore

THE GUESTS: YOUR SISTER AND HER THREE-YEAR-OLD KID Being an uncle is not the easiest thing in the world, as it makes texting that girl you met at Ginn Mill difficult when a kid and his disappointed mom are constantly begging for attention. Entertaining them both just got a lot easier with these picks

The Cherry Cricket, 2641 E 2nd Ave; Cherry Creek; 303.322.7666 Park the rugrat at a table at Cherry Creek's bustling pub, and get them a kid's size version of the Cricket's legendary burger and fries; get yourself one of their 23 beers on tap.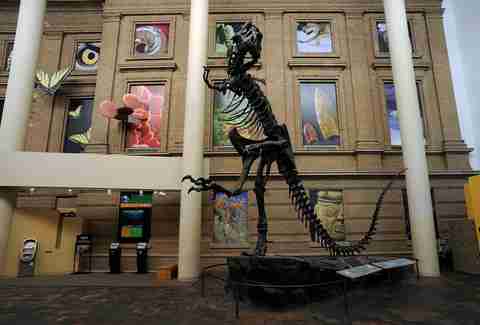 Denver Museum of Nature and Science, 2001 Colorado Blvd; City Park; 303.370.6000
A giant IMAX screen is one of many attractions -- including mummies, dinosaurs, and an extensive planetarium -- that're perfect for young, budding nerds, and older ones, too.

Children's Museum of Denver, 2121 Children's Museum Dr; Jefferson Park; 303.433.7444
The kid can actually stimulate his or her brain here, rather than just your bank account. And, with exhibits like one where you "shoot rockets with new vertical launchers", it'll be hella fun for you, too.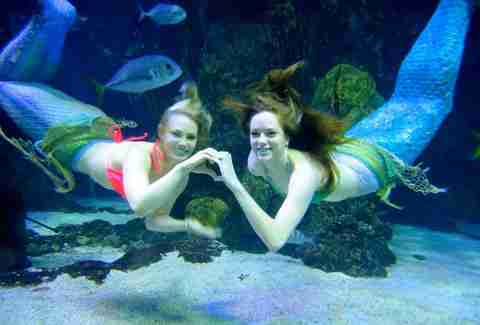 Downtown Aquarium, 700 Water St; Jefferson Park; 303.561.4450
Countless fish and more than a million gallons of water will amaze the kid, while the hot mermaid ladies swimming in the tanks will be fun for you to watch.

Dinosaur Ridge , 16831 W Alameda Pkwy; Morrison; 303.697.3466
With 300 unique dinosaur tracks dating back almost 68mil years, this short, mile-and-a-half long trail guarantees that, afterwards, the kid will want to watch Jurassic Park with you.


THE GUESTS: YOUR GRANDPARENTS
It's tough to entertain Gramps and Grams around Denver, and not just because it's tough to squeeze in activities between naps. Here's where you should take them.

Denver Mint, 320 West Colfax Ave; Golden Triangle; 303.405.4761
The Denver Mint is the single largest producer of coins in the world, with millions of coins being produced each day, most of which end up in your couch. Tours are free but require a reservation.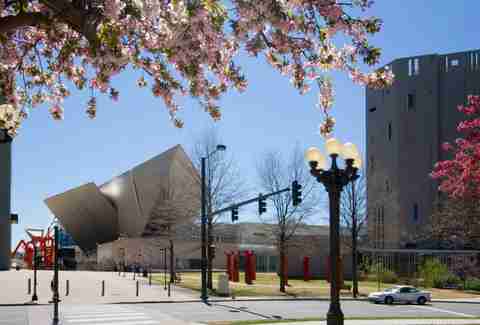 Denver Art Museum, 100 W 14th Ave Pkwy; Auraria; 720.865.5000
With over 68,000 masterpieces from artists such as Pablo Picasso, Georgia O' Keeffe, Claude Monet, and Man Ray (the most badass name of the group), you'll all enjoy the art, though you'll be the only one who can actually see it.

Molly Brown House Museum, 1340 Pennsylvania St; Capitol Hill; 303.832.4092
Your grandparents will enjoy a look into the 20th century, as the famous Titanic survivor's house has Cribs-worthy features like gold-plated walls and a polar bear rug.
Forney Museum of Transportation, 4303 Brighton Blvd; Five Points; 303.297.1113
A gearhead's dream, not only does FTM have 650+ cars, planes, and trains from as far back as the early 20th century, it also has carriages, buggies, and other vehicles grandpa used to take for joyrides.

Denver Botanic Gardens, 1007 York St; Congress Park; 720.865.3500
Like a Garden of Eden in the middle of Denver, the York St Gardens offer something everyone can appreciate, like tranquility and peace of mind. Plus, flowers!!!


THE GUEST: YOUR FRAT BUDDY WHO CAN'T DRINK ANYMORE FOR VARIOUS REASONS
Just because your bro can't drink anymore doesn't mean he can't still act a fool, and it'll be easy for him to do so at these spots:

Clear Creek Rafting, 1896 Stanley Rd; Idaho Springs; 970.372.2870
Even the easier rapids on Clear Creek have seemingly Korn-inspired names like Hell's Corner and Rigor Mortis. Liquid Descent Rafting will hook you up with a fun-as-hell trip.
Wings Over the Rockies Air and Space Museum, 7711 E Academy Blvd #1; 303.360.5360
They have a scale model of the X-wing! Case closed.

Brainard Lake Recreation Area, Brainard Lake Rd; Ward; 303.541.2500
Drive a measly hour for the hiking trails near Brainard Lake just North of Ned, where the fresh air and rugged mountains are a nice substitute for those blue, aluminum mountains in your fridge back home.
Unser Racing, 7300 Broadway; 720.282.5000
Strap up and hit that quarter-mile track, where anyone can be a menace, and only p**sies hit the brakes.

Comedy Works, 1226 15th St; 303.595.3637
With big name comedians like Mike Birbiglia and local hero Josh Blue dropping in, this place is well-worth the ticket price, and they have a two-drink minimum that can include sodas.