Denver has always been viewed as the coolest town in America. With ski resorts close by, great food/better beer even closer by, liberal views on recreational activities, and a populace that is in damn fine shape, people are realizing that where they live doesn't have any of these things, so they're finally making the move to Mile High. Translation: a TON of people are moving to Denver every day. Here are some tell-tale signs you have just arrived.
1. You've planned out your weekends for the next 6 months, and they all involve being in the mountains. Camping, camping, camping, hot springs, camping, skiing...
2. You ask people about dispensary locations like you're involved in a criminal conspiracy.
3. You woke up suuuuper early to ski/snowboard thinking you'd "beat" the traffic. Two hours later, you just got to Idaho Springs. Might as well stop at Smokin' Yards while you're in town.
4. You went to Casa Bonita because of that South Park episode and realized this is not the optimal way to make dining selections (that's what Thrillist is for!).
5. You tried to find South Park and realized it's a lame little town known as Fairplay and now you are back on your way to Smokin' Yards. Again.
6. You're befuddled by not being allowed to drive on 16th St Downtown. Who put these people here?
7. You are way too eager to say you are from Denver. Don't be ashamed that you're from the Midwest. If you're from California, feel free to keep it to yourself.
8. You get so into Happy Hour that you're completely useless by 8pm every Friday.
9. You believe the best bars are on Larimer, Market, and Blake. Retro Room shots are pretty sweet, but 30 minutes later you'll find yourself eating popcorn at The Gin Mill, and that's not okay.
10. You liked beer before, but now you REALLY like it.
11. You had a sudden realization as to why the band 303 was called 303.
12. You're trying to figure out a dignified way of eschewing your former NFL team affiliation and getting on that Broncos bandwagon -- especially if you came from Chicago. How's Cutler treating you?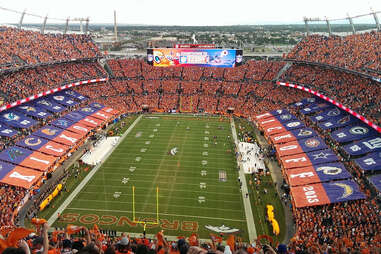 13. You call that place the Bronco's play "Sports Authority Field." While accurate, it's still completely wrong.
14. You are easily winded.
15. You bought a mountain bike at REI, because that's also something you're now really into.
16. You returned to REI and bought a bunch of other outdoor-type things. Your parents have taken to referring to you as "so outdoorsy".
17. You use snow slang like "pow pow", "gnarly", and "freshies" ironically. Or maybe seriously? You still haven't figured out which way everyone else is using it.
18. You have no idea what people mean when they say they live in Baker, Cap Hill, or Wash Park, but you resolve to learn your neighborhoods.
19. You settled in Glendale and hate how far away you are from anywhere fun, so you resolve to change neighborhoods.
20. You ask people if they've eaten at this amazing burger place called Cherry Cricket.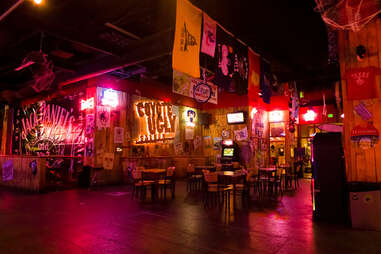 21. You're at Coyote Ugly.
22. You are completely terrified on Colfax but comfortable one street either north or south.
23. You're constantly surprised by the weather. 70 degrees in the morning? You go to work in a t-shirt, and then have to borrow a co-workers hoodie to brave the snowstorm on the way home.
24. You regret not having moved here years ago.
Sign up here for our daily Denver email and be the first to get all the food/drink/fun in town.