Denver's come a long way towards creating a utopia of unparalleled craft beer, permissive marijuana laws, and an almost unnervingly fit general population given the first two things. But that doesn't mean it's without problems -- 99 of them, specifically:
1. The Rockies' pitching rotation
2. We have a bicycle gang
3. Guys who shop at Lululemon
4. Parking meters do not operate within the rules of logic
5. The construction zone known known as Cherry Creek
6. The construction zone known as everywhere else
7. Market St on a Saturday night
8. Guys who wear Uggs
9. Caught wearing shorts in a blizzard because the weatherman lies
10. Women with pics of their dogs on Tinder
11. Tinder
12. Everyone with an off-road vehicle who never goes off road
13. Peyton Manning's medical record
14. Von Miller's arrest record
15. … and cowboy hat
16. Highland Ranchers who say they're from Denver
17. Overwrought facial hair
18. Everyone picks the same time to drive to the mountains
19. Lyft drivers who moved to Denver the day they started driving for Lyft
20. Your bartender is now a mixologist
21. Music festivals headlined by 2 Chainz
22. Cherry Creek bike path = homeless people freeway
23. Fixie riders who think the entire street is their bike lane
24. The 30-minute drive to Boulder that actually takes 90 minutes
25. "Outdoorsy" people who never go outdoors
26. Everyone is quitting their day jobs to open a brewery
27. Your day job doesn't leave you with enough time for all the new breweries
28. Waking up on a Monday after trying to go to all the breweries
29. People who go to Chloe...
30. … and get bottle service
31. Local people who say "Y'all"
32. Brahs who "Totally shred the gnar-gnar"
33. Our skyline is equal parts mountains and cranes
34. Condo-trification
35. Parts of Downtown are similar to navigating the Labyrinth
36. Soccer Moms behind the wheel
37. Trustafarians
38. Marijuana-driven shoplifting
39. Denver International Airport is only international because it's basically in another country
40. The Denver Nuggets starting five
41. … and backup seven
42. Guilt-tripping canvassers
43. 300 days of sunshine, 150 days of snow
44. Denver has been listed as one of the top five cities for singles… single women
45. Bloody Mary bars that look like crime scenes
46. Seasons that alternate by the day
47. Great American Beer Festival fallout destruction
48. Overly aggressive bus drivers
49. Slow moving tourists
50. Bicycles are taking up our parking spots
51. So is car2go
52. Too many people, not enough cabs
53. Bucket drummers
54. The guys selling roses at bars instead of burritos
55. East/West Coast infiltration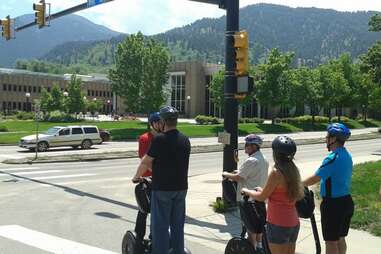 56. Downtown Segway tours
57. Thundersnow
58. Food trucks that aren't where they say they are
59. Coors Field whenever the Red Sox, Cardinals, Cubs, or Dodgers are in town
60. Our most famous landmark is Casa Bonita
61. People standing left on the escalators at DIA
62. The destruction of St. Patrick's day
63. The destruction of 4/20
64. Catching MallRide late at night is like winning the lottery
65. Learning about Rocky Mountain Oysters the hard way
66. Every DU bar
67. That first run after you decide to get in shape
68. The smell when you drive by the Purina factory
69. Scraping ice off your windshield without a scraper
70. Turning down the Winter Olympics
71. An average monthly rent of $1,041 for a one bedroom
72. Cabbies who don't turn the meter on
73. Our musical poster boy is Ryan Tedder
74. "Visit Seattle" ads
75. The raccoons are the size of labradors
76. ... and are more likely to eat your face than labradors
77. The last time we had a parade, Garth Brooks was topping the charts
78. ... so was Titanic
79. ... and Celine Dion
80. Speer Blvd between the hours of 12am and 11:59pm
81. Affliction T-shirts
82. Cherry Creek North is more homogenous than a gallon of milk
83. People who lie about having Celiac disease when they go out to eat
84. Capitol Hill's parking situation
85. The lingering smell when the rodeo/stock show comes to town
86. The Demon Horse that makes its way into children's nightmares
87. Evil geese in City Park
88. Poop from said evil geese
89. Skyline Park is in no way, shape, or form, an actual park
90. Pedicabs
91. People who take pedicabs
92. The horse sh*t Downtown after the "romantic" buggy rides come through
93. Certain parts of Colfax St are similar to third world countries
94. Our strange necessity to name everything after cherries
95. Trying to get a reservation when a conference of 10,000 comes to town
96. The Avalanche's 2014 playoff run
97. No one is actually "from here"
98. People get way too excited when you say you are "from here"
99. "Menver"
Sign up here for our daily Denver email and be the first to get all the food/drink/fun in town.