You live in Colorado, so you probably don't really have plans to move anywhere else, as life here is the absolute tops... despite what these jokers may want to argue. But just in case you wanted to reaffirm your plans to stay forever, here are 20 things this state does better than anywhere else.

1. Mountains
Sure, the Rocky Mountains extend to other states. And countries. But when you think of them, where do you think of first? We thought so.
2. Marijuana purchasing
As in $3.5 million worth in April alone. Why? Because we cannabis.
3. Outdoor music venues
Is there anywhere better than Red Rocks? That's not rhetorical. If such a place exists we'd genuinely love to know about it.
4. Road construction
Not only do we build and rebuild roads like we're playing Sim City or something, but we have no problem blasting our way through a mountain to make it happen.
5. Large blue animal statues
Yep, we've got TWO of them. Take that, everyone else.
6. Beer
There's a reason the Great American Beer Festival's in Denver. Most of the great American beer is here already.

7. Acceptable fitness levels
Fact: Colorado is the only state with an obesity rate below 20%. All these places notwithstanding.

8. Attractiveness
The low obesity levels help. And when everyone's drinking beer, we all look THAT much better.
9. Ski resorts
We're talking about a little place called Asssspen. And a bunch of other places, too.

10. Festivals
There are fests celebrating everything from history (Gold Rush Days) and beer (Tour de Fat) to frozen dead guys (uh, Frozen Dead Guy Days) and headless chickens (Mike the Headless Chicken). We'll find a way to celebrate anything.

11. Rocky Mountain Oysters
Hey, back off Montana!

12. Weather
The 300 days of sunshine thing isn't EXACTLY true, but it feels like it.

13. Training olympians
Michael Phelps thanks you, Colorado Springs!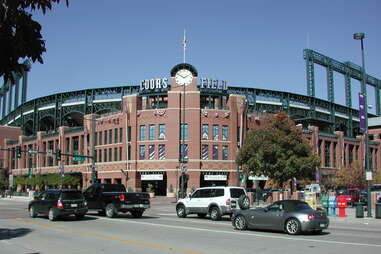 14. Baseball stadiums
Coors Field is so gorgeous you don't even care if the Rockies are winning. Which is important, because they aren't!

15. Late-night fights
There is no more convenient time or place to bash your fellow man in the face than on a Friday or Saturday night after last call in LoDo. And worry not about getting jailed for fighting! It's basically like The Purge every weekend.

16. Wide-ranging dining options
Rattlesnake sausages? A bagel rivaling anything you'd find in NYC? An Italian sandwich rivaling anything you'd find in Jersey? Yeah, it's all here -- and that's just in Denver. For anyone with tastebuds, this is the golden age for dining.
We may not be the only ones who have it anymore, but the world has Colorado to thank.

18. Rodeos
We had the first one ever, and the annual Western Stock Show is in Denver. Take that, Texas.

19. Being incredibly high
No, not like that! Well maybe… anyway, we're talking the highest paved road in the US (Road to Mount Evans), the highest auto tunnel (Eisenhower), the highest suspension bridge (Royal Gorge Bridge), the highest town (Leadville), the highest chairlift (Breckenridge), and most importantly, the highest alligator colony (San Luis Alligator Farm).

20. Generally inoffensive sports teams
The Nuggets, Rockies, Avalanche, and Broncos don't really generate all that much collective hatred. Well, except from Raiders fans.
Sign up here for our daily Denver email and be the first to get all the food/drink/fun in town.