Denver Freebie of the Week
Want good news? Snowmass is throwing down its Second Annual Après Ski Cocktail Classic March 13th-16th, complete with hot toddies, mountaintop parties, a massive pub crawl, and more delectable cocktailing events than you could possibly know what to do with. Want better news? Thrillist can hook you and a friend up with free passes that'll get you into the opening party, onto the pub crawl, plus a bunch more great access. Hit us up on Twitter for your chance to win
Recommended Video
Hops n' Hot Sauce Festival
Thursday, February 27th: Get a taste of what's going on around the world without seriously hurting your bank account by hitting up Imbibe! Denver's Around the World in 180 Minutes. The international food festival will feature famous eats and drinks from across-the-globe destinations such as Argentina, Brazil, and Germany.

Continue Reading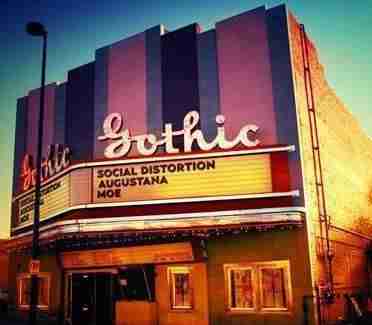 Thursday, February 27th: Head out to to Englewood to see your favorite Denver native, who also happened to be a stand-in and supporting role in like, 100 movies, TJ Miller. Show and jokes start at 8pm at the Gothic Theatre -- he's funny, we promise.
Friday, February 28th: Time for another edition of the Botanic Gardens pop-up dining experience, Gather: an Intimate Supper. Get ready for a whole lot of courses featuring innovative and mind-blowing cuisine that is sure to be unique. Oh, and its BYOB. Sign up here
Saturday, March 1st: Join the "sun's out, guns out" crew at Linger for their Topless Brunch. Whoa, bro, put your shirt on, topless stands for "unlimited" Mimosas. Get yourself together, you're embarrassing your friends. The details are right here
Saturday, March 1st: What's Mardi Gras without a party? That's right, it's called "Saturday". Turn this Saturday into Mardi Gras when you head to the 4th Annual Mardi Gras Denver Party at Dave & Busters. Bring your mask and get ready for a night of music, food, and probably some skeeball. Oh, and beads. Always beads.


Sunday, March 2nd: Make your holy day more wholesome by going to LoDo eatery The Squeaky Bean for their famous Bingo Brunch from 1-3pm. Brunch is served with Bingo, a standup comedian, and of course, prizes! Don't forget to tell Grandma…
Wednesday, March 5th: Zengo is turning 10 and they are celebrating with a four-course prix fixe diner this Wednesday that'll mix some new moves with old favorites. More importantly, they're running a Facebook contest that could net you a trip to Cancún. Get the details on both.