Spring might bring about the occasional freak snowstorm (what was that about?), but once summer comes around, Denver is inarguably the best place to be. If someone DOES foolishly try to argue with that, here are 15 things you should tell them:

1. There are patios EVERYWHERE
Since we get sunshine almost every single day of the year, there're plenty of chances to work on your tan while getting your drink on. Make sure to check out Linger's rooftop patio. There will most likely be a wait, but it's worth the view and it is always hoppin'.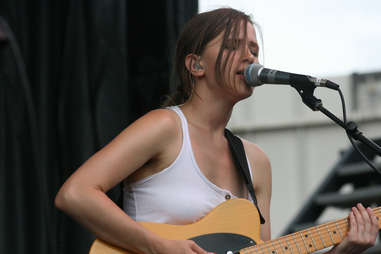 2. We celebrate our local music, and we have some excellent local music
The Westword Music Showcase is the biggest music festival in the state, with over 100 bands playing in one day. It's far superior to the cookie-cutter festivals you encounter elsewhere.
3. We're hopelessly hooked on handmade ice cream
Little Man, Sweet Action, Liks, High Point Creamery, Ice Cream Riot, Nuggs, Bonnie Brae, Sweet Cow... Denver kind of has a problem with handcrafted ice cream, which is the best kind of problem to have.

4. We party on the way to the bar
If you feel like bar-hopping and getting some exercise at the same time with a bunch of your friends, rent a pedal hopper. It comes with 16 seats and a sober "driver" to steer for you.
5. There're always frisbees and beer in the park
Seriously, any park.
6. When it comes to music under the stars, you have options
We have more than one outdoor music venue. Of course, the most famous is Red Rocks, but we also have Fiddler's Green, two different Botanic Gardens, and Hudson Gardens.
7. There's street art like you won't find anywhere else
Literally, it's drawn on the street. In chalk. This year it's June 6th-7th in Larimer Square and there will be over 200 artists drawing larger-than-life murals. There will also be a graffiti showdown the first night.

8. There's an amusement park for all types
We go to Lakeside for the retro fun, Elitches for the big roller coasters, and Waterworld for the water slides and girls in bikinis.
9. You don't need to own a bike to bike everywhere
B-cycle is the bike-sharing program that has 700 bikes set up all around the city. Use the app to find the closest pick-up/drop-off station and avoid wondering around aimlessly and confused.

10. We rally... with food trucks
There are so many food trucks in this city, it just makes sense that we'd have food truck parties. There's Civic Center Eats every Tuesday and Thursday from 11am-2pm, plus weekend truck parties happening all over at different times throughout the summer.
11. We watch movies outdoors at every opportunity
Not only do we have Film on the Rocks (which is bad-ass), we also have movies in different parks. Some are bike-in, some are free, and all are fun.

12. Denver craft beer > your city's craft beer
Denver is packed with breweries, but the Summer Brew Fest at Mile High Station is a craft beer festival. It's July 24th-25th and a ticket gets you unlimited tastes and live music all night long.

13. We get jazzed up in the park
City Park, that is. Every Sunday afternoon there's free jazz for everyone, so bring your beers, your volleyball, and your dog.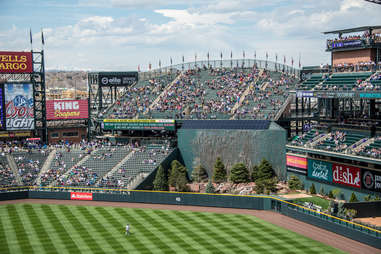 14. The Rockpile at Coors Field is a singular baseball-viewing experience
The expensive beers might make up for the cheap seats, but hey, it's outdoors and no stadium has better scenery.

15. Our margarita obsession knows no bounds
There are several restaurants around town that are known for margs, either because of their size or amount of alcohol. However, La Biblioteca does house-infused margaritas and crazy/delicious flavors, like grilled pineapple or cilantro. Plus, they're only $5 at happy hour and every Monday night.
Sign up here for our daily Denver email and be the first to get all the food/drink/fun in town.