The Detroit of today is the great underdog, and most of the time when out-of-towners, world travelers, and even Detroit suburbanites are in town for longer than a Tigers game, they leave saying something like, "Wow! I didn't know Detroit was a real city." Welp... we've got your "real city" right here, pal, and it comes with real people and real things to do (and yes, real problems, too). In fact, here's a list of 11 things that make Detroit an underrated city to visit.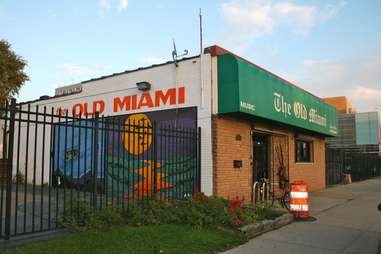 Welcome to the alcohol-related portion of this list, which is, not coincidentally the beginning of the list, thanks to Detroit's longtime love affair with booze, as best showcased by its seriously sweet collection of dive bars. And sure, all you really need to make a good one is a space where the people can gather to discuss local goings-on, watch sporting events, and drink cheaply. Thankfully, we have a lot of those here, and they're very, very good. The Old Miami, the Painted Lady, Jumbo's, the Two Way Inn… the list goes on.
The beer
You're in Michigan, so that means access to a lot of fresh water. And you know what beer is mostly made of? That's right! So in Detroit, folks like Atwater, Batch Brewing Company, Detroit Beer Co., Motor City Brewing Works, and many other Michigan-based beer companies convert our fresh water into delicious beer that is better than most other beers. Some are overrated, some are underrated, but, really, you should rate them all yourself.
The cocktails
Craft cocktails require two things: talented bartenders and fine spirits. We've got both of those things in spades. Detroit City Distillery, Two James, Valentine Distilling, and Motor City Gas should be on cocktail menus nationwide.
The surprisingly great outdoors
Yes, Detroit is becoming a more outdoorsy city. For bikes: Slow Roll, Tour de Troit, the newly extended Dequindre Cut, and of course the Riverwalk. For water: Belle Isle, where you can rent canoes and kayaks, and hang out on the beach, especially during things like OABI. There's also the recently finished Outdoor Adventure Center in case you like your outdoors with a little more indoors.
The art scene
The DIA, the Red Bull House of Art, the Grand River Creative Corridor... hey, even Shepard Fairey tagged some stuff for us (but of course, Detroit got angry, which was very uncool of us). There are also plenty of small businesses like Signal-Return that are churning out original Detroit-centric work, and there are institutions like The Heidelberg Project and the African Bead Gallery as well.
Local eats
Between Vernors, coneys, and Detroit-style pizza, the city has plenty of regional specialties that may or may not already be on the national radar, but we're also talking Bucharest shawarma here, and soul food, and Scotty Simpson's Fish and Chips, and all the other things listed here.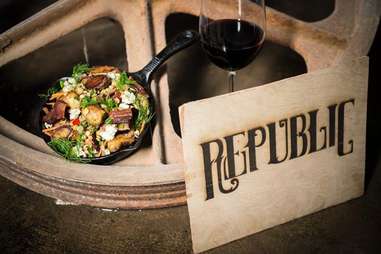 Not-so-casual local eats
Nowadays, you can't swing a dead cat (which we would totally never do, because ewww) without hitting a new restaurant in Detroit that's both intriguing and delicious. Selden Standard, Republic, Townhouse, Wright and Co., Antietam... the Detroit restaurant scene is actually something special, and could always use some more recognition.
Ain't no party like a... Detroit party?
Yes, Detroit knows how to party, OK? Opening day, St. Patrick's Day, Dally in the Alley, Marche du Nain Rouge. We can party with the best of them. And some of those parties could only happen here.
... and hey! Newsflash! We DO have the kind of normal "cool" things that people expect in other cities, but apparently not in Detroit. But we have the beach in Campus Martius Park. We have yoga class on Belle Isle. We have the story slam at Cliff Bell's. We have the Canine to Five "Pack Walk" on the riverfront. Detroit can be the coolest city in America if you simply know where to look.
There's probably a game on
No city loves its four sports teams as much as we love the Wings, the Tigers (except this year), the (ugh) Lions, and the Pistons, who are as close to our hearts as Auburn Hills is to Detroit. Heck, most towns don't even have four sports teams. And best of all there's almost always a game on.

The vibe
Here's the thing: Detroit, while dangerous in certain places and often backwards and frustrating when it comes to city development (read: like many other American cities), is also home to some of the most friendly, wholesome, and kind-hearted individuals you'll find in the Midwest. In Detroit, you're likely to find a vibe of collaboration, not competition. At least that's what a lot of folks in the small business, start-up, and tech worlds are experiencing, and is also why a lot of people are starting to move here. Yes, we're looking at you, former Brooklynites.
Sign up here for our daily Detroit email and be the first to get all the food/drink/fun Motor City has to offer.
Jeff Waraniak is an underrated party guest specializing in cheese-based snackfoods and the booze left over from last time. He lives in Detroit.