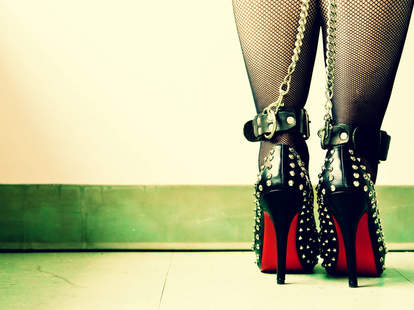 To some, it's the stuff of nightmares, while to others, it's a celebration of lust, love, and sexual freedom -- that's right, President's Day The Dirty Show is back at Bert's Warehouse featuring six nights of freaky fun, erotic art, and seriously exhibitionist exhibitions. We got a (relatively) SFW scoop on what you'll see at this year's event
Blanche, Rose, and Dorothy keep things barely clothed for the canvas in a series of paintings titled Golden Gals Go Wild, making you thankful Joe Francis targeted seniors, not senior citizens. In addition to local artists like Michelle Tanguay showing pieces, look out for "polysexual performances" happening on stage every night with everyone from the self-billed "bad girl of burlesque" to pole artist twins!
Just your average picture of wolves surrounding a topless chick wearing rabbit ears
In such a highly sexualized world, it's refreshing to see Susannah Popov-Griggs' take on a totally not suggestive citrus..
... though the Erotic Dessert Menu is an entirely different story.
This might win Breast in Show, but there's tons more to check out, ranging from the soft core (like the work of a legendary Playboy pinup artist) to the awesomely NSFW Equus Maximus, which involves life-size taxidermy horses engaged in something only seen in very different kind of nightmare.