A bunch of actual DJs/artists tell you where to party and what to listen to at Movement
Movement Electronic Music Festival. It kicks off on Saturday. But instead of re-listing the full lineup or the insane number of after parties, we hit up the first night of Synesthesia -- Red Bull House of Art's "celebration of multidisciplinary artists expressing themselves through both fine art and electronic music" -- to check out the pop-up show and the brand new LED arrow sculpture out front (!), and also to ask some of the artists/DJs (they're all both, naturally) who and what you should actually check out at DMEMF.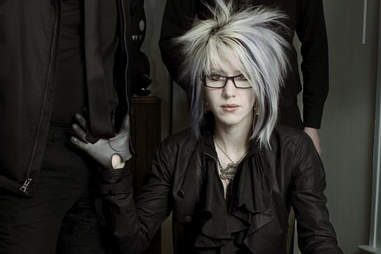 For those in need of further direction, Bethany Shorb's got you covered -- she designed the awesome arrows out front AND has a pretty epic party pick: CLR party at St. Andrew's on Saturday, which goes until a respectable 4a.
rcrdlbl.com
This is Tadd Mullinix, AKA Ghostly International DJ Dabrye, who's not only showing right now at Synesthesia, but he's set to play at Movement on Monday (3p). He's also a must-see for this guy...
... artist, teacher, Boldy James producer, and smiling-for-the-camera Sterling Toles, who's also looking forward to checking out Squarepusher (1045p) and Adult (530p) on Sunday. Jeff Risk (to the left with full-on DJ face) says those are great, but even better is Deadbeat (Saturday, 3p), Masters at Work (Sunday, 10p) "for the out of towners", and Carl Craig (Saturday, 7p) and Sinistarr (Saturday, 4p) "for the hometowners... even if they don't stay here anymore".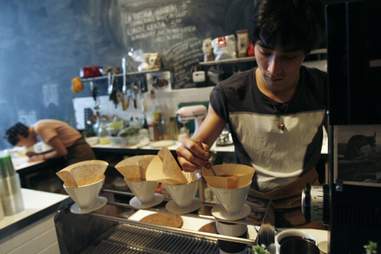 MetroTimes.com
Ben Saginaw not only pours cups at Astro, but pushes the pen to create some incredibly intricate skull pieces and a floor-to-ceiling piece of falling creatures called "Hell". He sure as hell suggests you head to Hart Plaza on Saturday at 330p to hear the beat-driven, live drum-tinged tracks from his older brother Shigeto.
And then there's House of Art curator Matt Eaton, who's getting pumped for Dave Clarke (830p), Richie Hawtin (10p), and Andy C (1030p) on Saturday as well as Calico (Sunday, 1p) and Carlos Souffront (Monday, 330p)... that is, if he can break away from the gallery, which is continuing the pop-up show throughout Movement weekend from 12-4p daily.