The 20 Detroit Commandments
And lo, Mayor Duggan emerged from Belle Isle, clutching a two-liter of Faygo Redpop and a pair of tablets, and he spake unto the inhabitants of the Motor City this covenant which, if followed, would surely lead to lives bursting with interesting, complexly flavored craft beers, and many more sports championships to come. Even for the Lions. The tablets did read:
Wikimedia Commons
THOU SHALT...

1. Honor thy Motown hits.
If it's the Supremes, Four Tops, Temptations, etc. -- you'd better be singing along like nobody's business.
2. Believe this is the year for the Lions.
Until a playoff berth cometh. Amen.
Jeff Waraniak
3. Have a stance on the best coney dog in town.
No hesitancy. Ye must choose.
4. Identify one's city using thine own hands.
Truly, the blessings of living in a mitten are many.
5. Keep holy the riverfront.
It's really pretty. Let's keep it that way.
6. Know who your Tiger is.
In Cabrera we trust.
7. Know when, why, and how to Call Sam.
For it is the only way to get the Bernstein advantage.
8. Support the local brewing and cocktail scene.
If you're not already drinking Michigan booze, now's an advisable time to start.
9. Cherish the Heidelberg Project.
The bad guys keep trying to burn it down, the good guys keep building it back up. Be one of the good guys.
10. Defend thy city to the uninitiated.
Should you move here, live here, or spend enough time in the city to understand its charms, go forth and spread the good word.
THOU SHALT NOT...

11. Worship false idols.
… except the new RoboCop statue!
12. Covet thy neighbor's city.
You know what Chicago doesn't have? 11 Stanley Cups.
13. Accidentally cross the bridge to Canada.
Seems simple enough not to leave the country, but it happens.
14. Take the People Mover for granted.
With only 13 stops it can be hard not to, but at $0.75 it can save you a boatload on parking.
15. Expect smooth roads.
Literally and figuratively. Potholes abound in this city. Just think of them as extra fun obstacles.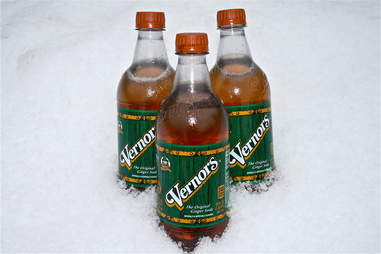 Jeff Waraniak
18. Sell thine art collection to creditors.
Please?
19. Wallow in ruin porn.
Fascinating to look at and explore? Yes, but urban blight is something the city's trying to eradicate.
20. Give up.
Detroiters have known hard times, but the city is not forsaken, O ye of little faith. Be part of a Detroit that helps, not harms.