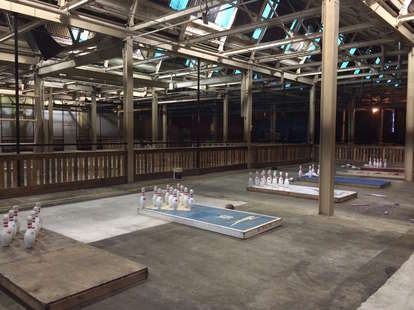 Megan Frye
Megan Frye
Bowling: tried and true. Football: America's most popular sport. Horseshoes: everyone's favorite lawn game (since they outlawed jarts). And now, from the city that bestowed upon the world such integral inventions as the automobile, Vernors and Coney dogs, comes another innovation, arguably just as important: fowling.
Equal parts bowling, football, and horseshoes, fowling is a Detroit original. Detroit's Fowling Warehouse was founded in 2010 on the city's east side. Due to safety concerns related to its location in a rough part of town, the Warehouse has moved to a new space in Hamtramck, featuring a whopping 34,000sqft of entertainment pleasure, 20 lanes, two bars, big screen TVs, and a stage.
Even if you don't yet understand fowling, know that this is exciting news. However, Thrillist met with fowling originator, Chris Hutt, to ensure you have no excuse for not understanding fowling.
1. Born in Speedway, raised in Detroit
Fowling (rhymes with bowling -- please, don't be THAT guy) began its short life at an Indy 500 tailgate party in 2001, played by Detroiter Chris Hutt and friends. It was conceived when a rogue, airborne football met an outdoor bowling game that had been abandoned after disturbing too many fellow tailgaters. To date, there are four fowling tournaments each year, including one at the Indy 500.
2. The rules are refreshingly simple
Pretty simple concept: you and your teammate(s) throw a football at the opposing team's 10 bowling pins, and vice versa, alternating turns. The first team to knock down all of the other team's 10 pins, wins.
3. There's an official playing surface
The lane surface consists of two 8'x42" plywood boards, with a total distance of 48' from end to end, and the lanes at least 15' apart.
4. You don't necessarily want a quarterback as your partner
Your buddy who still brags about his days as the high school quarterback stands a very good chance of getting beat by his girlfriend -- which keeps this game interesting. Fowling is more about accuracy than power.
5. You have to sign a liability waiver
Footballs are literally flying around your head. You might get hurt. Especially if certain former Detroit Lions QBs are trying to relive their glory (?) days.

6. You can learn a lot from the Canadians
It's no secret that the Canucks are generally more polite than us Yanks. And when it comes to etiquette, fowling takes notes from curling: at the end of each match, both teams meet in the middle, shake hands, and say "good fowl".
7. It's already a worldwide phenomenon
From its infantile days at the Indy 500, fowling has slowly spread through word of mouth by international travelers to the race to such places as Sweden, Germany, and Canada.

8. On a related note, it's been played in the desert
It's alleged that fully uniformed members of the U.S. Coast Guard stationed in Kuwait once played a game in 130 degree heat. Here's hoping our upcoming Detroit winter doesn't break the record for coldest game ever played.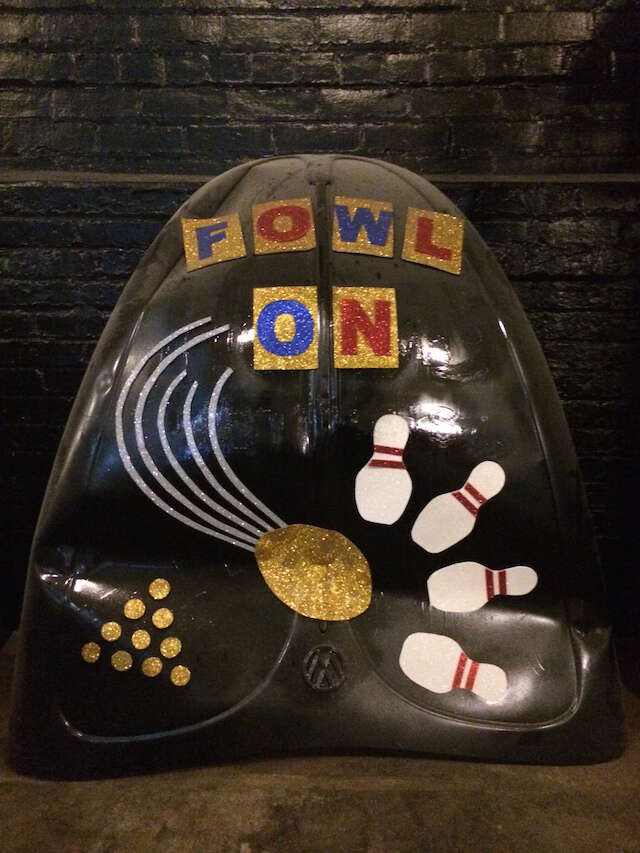 9. When fowling is eventually televised on Monday nights, it will have a theme song
And that theme song will be "(Ain't Nothin' But a) Houseparty" by J. Geils Band – the version recorded live in Detroit, of course.

10. Oh, you can (and should) play it with beer
Much like your local bowling alley, the suds will be flowing (which is an anagram for fowling!). With two bars at your disposal, this can easily be turned into a drinking game.
Sign up here for our daily Detroit email and be the first to get all the food/drink/fun Motor City has to offer.