The Definitive Guide to the 11 Best Strip Clubs in Detroit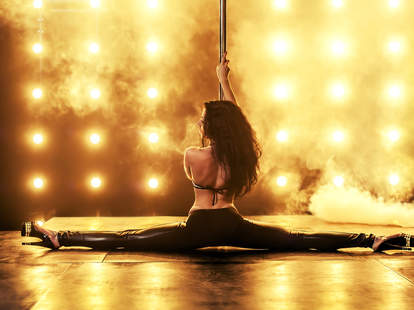 If there is one thing that people in Detroit love it's... well, these 21 things... but if there's one other thing, it's probably strip clubs. Seriously, there's more of 'em on 8 Mile than there are CVSes. In fact, there're so many here that they're hard to keep track of, unless you have Thrillist's 2015 guide to The D's sweetest gentlemen's establishments...
 
Please note: cover and lap dance charges listed here are subject to change!
E 8 Mile Rd
If you've ever wondered what the boozy, booby bacchanals of ancient Rome were like, look no further than the Coliseum. Like every other adult entertainment megaplex on 8 Mile Rd, this one is located in an area that will make you thankful for that mandatory valet, but once those curtains are drawn back you are greeted with a vision of strip club decadence that actually has an Egyptian theme but whatever. A diverse array of gorgeous dancers appeals to all clientele, from the ballers to the bachelor pack post-gaming the Tigers, and it's also couples-friendly.
During the day there's no cover, but at night expect a $10 cover and another $20 if you want a booth. Drinks will run you around $6-10, while dances in the private-ish VIP area will cost $25-100. The "Coli," as loyalists call it, also has a number of amenities unique to the strip clubs of Detroit -- two separate bars, including a two-level main bar, to watch the entertainment; private luxury skybox suites; a world-class wine cellar with over 160 bottles of high-ticket wines and Champagne along with 56 private wine lockers; a custom cigar humidor with 28 personalized cigar lockers; hookahs; and a heliport. So you can take your helicopter to the strip club, as one does. (Although we have to wonder, does mandatory valet still apply? Anyone who's got a helicopter, let us know!) It's also very clean, which is worth noting because not all clubs are. Pro tip: the steaks are pretty excellent and pricing is on par with the average Birmingham steakhouse. 
 
W 8 Mile Rd
The Penthouse is certainly the slickest-looking club in Detroit, and it also aims to be the "classiest." Which, LOL. But still! If you're looking for a strip club with a state-of-the-art sound and lighting system, executive bottle service featuring items like Johnnie Walker Blue, premium cigars & Cristal, five-star steakhouse cuisine from the talented Chef Stewart Fox Jr. (which you can also order to go, because obviously), second-floor sky suites, Wi-Fi (?), 50in plasma TVs with stadium seating (because… you're watching TV at the strip club?), and a pro shop (??????), look no further. Drinks will run you $6-12 for standard beers and mixed drinks, cover is free during the day and $10-15 at night plus another $20 for a booth, and there's mandatory valet parking ($7 + $3 tip) and coat check ($2). Yes, it's expensive just to sit down here, but you get a real Vegas-type experience: the stage looks like the sparkling night sky and dancers descend from a staircase on one end and then dance on flying custom choppers that hang from the ceiling. It's kind of bananas, and it's perfect.
Greektown
Look, Bouzouki is kind of cheesy. It's also just a damn fun time. There's no cover during the day and a minimal cover of $6 at night, with no valet but a mandatory coat check. It'll occasionally have feature dancers, and private dances will run you $20 each. VIP packages are very affordable, running $200-400 for up to 15 people including seating in the Champagne room. The food is pretty good and the drinks are relatively cheap, but Bouzouki's greatest strength is its convenience: located right in Greektown, you can hit this place up before or after a Tigers game or just during a random night out at Greektown Casino or bar-hopping Downtown. This is the kind of place where a spur of the moment "We should go to the strip club" suggestion becomes "LET'S GO TO THE STRIP CLUB!!!" without the hassle of driving to a sketchy part of 8 Mile (i.e. any part of 8 Mile). It's also couples- and female-friendly, where many other clubs are not. Basically if you have a bad time at Bouzouki, you're having a bad time at life.
 
8 Mile Rd & John R
Some clubs cater to specific tastes, and Centerfold is one of them. Remember all those stripperific Motley Crue/Poison/Warrant/every-single-other-hair-metal-band-ever music videos of the '80s and early '90s full of MTV video stars like Tawny Kitaen and Bobbie Brown crawling on bars and cars and flinging their hair everywhere? The Centerfold Lounge keeps that spirit alive with all rock music all the time and throwback prices that include $2 secure parking, a $5 cover (if and when there is any), and $4-5 beers. There's only one stage and it's a bit worn down, because the Penthouse this ain't. Dancers are often more on the tattooed side if you're into that (and if you're not, be warned) and are very friendly, since this tends to be more of a regulars joint. Dances are only $20 but there are no longer any private dance rooms.
Lincoln Park
Any place that bears Larry Flynt's moniker is going to be… erm, we'll let you fill in the blank, and just tell you the amenities are more than ample with a cigar bar, a full menu that includes high-end steaks and seafood, a variety of dancers offering private dances for $25 per song in a curtained space, private rooms for $150 per 15 minutes, and Champagne rooms that are basically living rooms with poles. Drinks are relatively cheap and strong, and it's got the best deal in town: $2 Tuesdays. Everything -- EVERYTHING -- is $2. Beer? $2. Goose? $2. Even with a nighttime cover ranging from $10-15 (free during the day), $2 Tuesdays are worth it every time.
 
Dearborn
Dearborn has its fair share of strip clubs, but the Pantheon Club is the nicest-looking, and boasts some impressive talent. Tables and booths surround a center stage with three platforms for the dancers, who'll need about $25 to take you somewhere more private. Drinks are pricey but strong, beer buckets are reasonably priced, there's good bar food, hookahs are available for those who want to smoke, and the atmosphere is an upscale-yet-comfortable one -- it's not super flashy, but it's also clean and not run-down or divey.
W 8 Mile Rd
Trumpps is sort of the Cheers of Detroit's gentlemen's clubs, but without being so stolidly a "regulars" joint that it's too divey to enjoy. A recent remodeling has spruced the place up a bit, putting it more on par with the slicker clubs, but it's still a friendly place that isn't all about that hustle. There is mandatory valet and coat check, but also a free shuttle service that will pick up and drop off groups of six or more. Cover is free during the day and $10-15 at night, while drinks are pretty average around $6-9. There are excellent food and drink specials daily, but Chophouse Tuesdays and Thursdays with $29 surf & turf and $9.75 20oz USDA Choice Black Angus T-Bone is pretty tough to beat. 
 
Romulus
If you want to take in some quick entertainment after a flight or want to keep yourself entertained on a long layover, the Landing Strip is there for you. It's a cheap joint with diverse, good-looking dancers, good food, and comfortable seating around the stage and at surrounding booths. Cover is free during the day and $7 at night, and dances will cost you around $25. Happy hour specials run from 11am-7pm Monday through Saturday (which is a happy eight hours for anyone who's counting) and include $20 domestic beer buckets, plus there are $7 lunch specials Monday through Friday. And in a world full of strip clubs with names that play on variations of the word "cat," we give this place extra props for the location-based double entendre it has for a moniker.
Southgate
Subi's Place has an atmosphere that feels more like a locals joint than a flashy strip club, and given that this is NOT the Penthouse or the Coli, the dancers here are exceptionally attractive. Plus valet parking is only $4 and street parking is available, there is no cover before 7pm and it's only $5 after, dances are $20-25, and drinks are comparatively cheap for a strip club. It's a small space and there's nothing state-of-the-art about the AV equipment, but this place is all about the value and you're definitely getting the most bang (heh) for your buck here.
 
Windsor
Cheetah's of Windsor is a rite of passage for 19-year-old Detroit men, who can be at the bar drinking (Alcohol! Legally! In a fully nude bar!) just 10 brief minutes after crossing the border. Bless you, Canada! Cover is $5 during the day and $10-15 at night with cheap drinks and cheap dances, about $10 on average -- Canadian dollars, so your American dollar goes quite a bit farther. It's not so great that it necessitates a trek across the border once you've hit the legal drinking age -- there's no shortage of Detroit clubs to choose from, after all -- but for that two-year sweet spot (or any time you might accidentally find yourself in Windsor), this is the place to be. Plus, shower shows!
Ypsilanti
Oh, the Vu. The Vu is a staple of college cities all throughout America, where nubile 18-year-olds can earn themselves an honest living to put themselves through med school. The clubs are alcohol free because some of the dancers are totally nude and not having a liquor license is easier than meeting the strict requirements of getting one. But you can get $6 bottomless juice! There are several locations throughout metro Detroit, but the Ypsilanti location -- with University of Michigan and Eastern Michigan University both nearby -- has the friendliest dancers and one of the most laid-back vibes. Like a neighborhood bar, just with naked girls. Cover is around $9, it's open until 4am on weekends, and it's got two-for-one dances on Tuesdays, so if you don't mind abstaining from alcohol, this place is a great value.
Sign up here for our daily Detroit email and be the first to get all the food/drink/fun Motor City has to offer.
Nicole Rupersburg appreciates the service that strippers provide to the community and sometimes feels that being a stripper might be less demeaning than getting abused by angry trolls on Twitter when they don't agree with her listicles.