Detroit is full of surprises. A LOT of surprises. Some good, some bad, and some that are more just like… "Hmm". Lucky for you, we've rounded up 10 of the good kind. Here are some secret Detroit things you probably never even knew were there.
Special thanks to the Detroit Bus Company for sharing their secrets. Check out their 'Weird Detroit' tour for more under the radar Detroit gems
There's an enormous subterranean salt mine you've probably driven over
You might not be familiar with this one, because it's almost 1200ft below you... or more specifically, beneath Melvindale, Dearborn, and the River Rouge area. The Detroit Salt Mine's been operating since the early 1900s and it's still going strong. Why there was a road salt shortage last winter remains a mystery.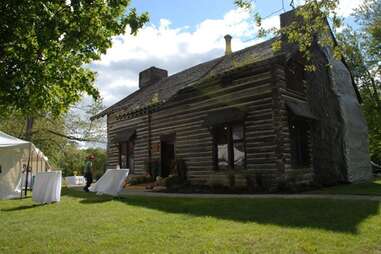 A senator built a log cabin to get away from it all
Back in the 1880s, city life was crazy hectic, what with the new invention of the telephone and the birth of the modern automobile. So Senator Thomas W. Palmer and his wife had a log cabin built in what would become Palmer Park. Bonus: there's an apple orchard in Palmer Park -- because, you know, fall.
Hamtramck's Disneyland trumps all other Disneylands
Yes, there's the Heidelberg Project, but there's also Hamtramck Disneyland. No, you can't ride anything, and no you won't find Cinderella in full costume. What you will find is a towering folk art structure of windmills, lawn ornaments, and pop culture portraits, along with the old Ukrainian man Dmytro, who built it all on top of his two garages... and in the end, isn't that way better than Disneyland?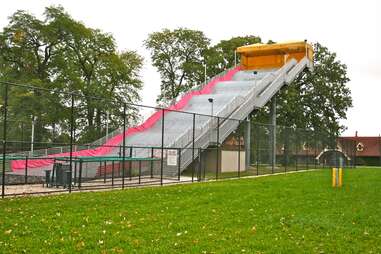 Belle Isle has way more to do than you realized, like a giant slide
Ok, you know Belle Isle. But you did know there's an aquarium, right? And it's free. There's also a conservatory. And it's free. There's also a giant slide, which isn't free (but that closes starting in October). But still... giant slide! Oh, and there's also a golf course/practice center.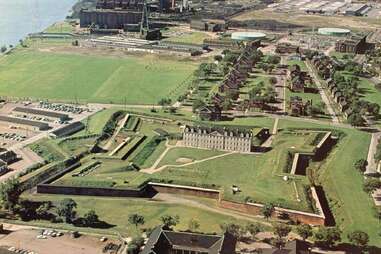 This 200-year-old fort may or may not be haunted
In the wake of the War of 1812, Fort Wayne was established to keep those pesky British/Canadians at bay. After that, it served as an infantry garrison during the Civil War. Later, it housed families displaced by the 1967 Detroit riots, and up until last year it had ghost tours. These days, there are guided historical tours, an annual flea market, a cyclocross race, and Civil War-related events. It's a crazy piece of history that goes overlooked all too often.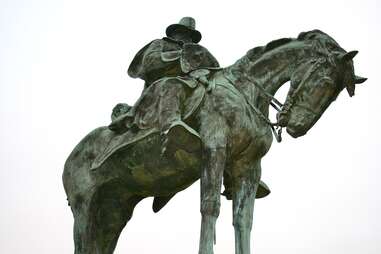 This statue involves possibly the greatest horse name ever
Detroit has a whole slew of monuments to people you've never heard of, and are at best tangentially related to the city. But Alpheus is a Detroiter with a cool story. Aside from being a Wayne County probate judge and congressman, he was also a Civil War general who fought in the Battle of Gettysburg and The Battle of Antietam. Old Pap, as he was known to his men, rode a big, muscly horse named Plug Ugly... and if that's not a good name for a new Detroit microbrew, we don't know what is.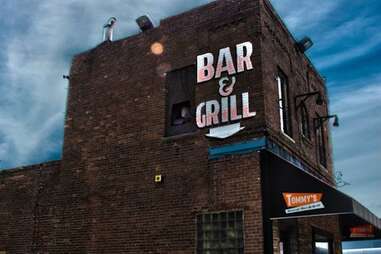 This bar has a hidden underground tunnel
In the basement of Tommy's is an old tunnel. It may have been connected to the Fort Street Presbyterian church across the street as part of the Underground Railroad. It also may have helped members of the Purple Gang get their booze on during prohibition. Tommy's isn't the only bar in town with tales and tunnels like these, and you can hit a whole bunch of them if you hop on a bus tour with The Detroit Bus Company.
This hidden museum will take you to Africa
The MBAD African Bead Museum is packed with sculptures, pottery, and yes, bead work -- all of which dates back hundreds of years. It's a museum, it's a collection, it's a repository for African-American culture. It's also what you should do next time you want to go to the DIA, but you're sick of going to the DIA.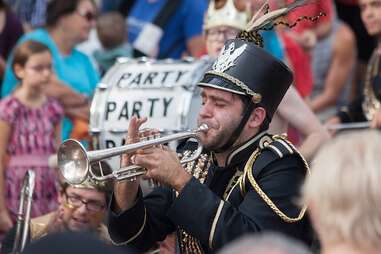 There's a brass party band that appears out of nowhere
So, you're sitting there at the bar, or in the park, or at the parade, and suddenly: a wild brass band appears! That would be the Detroit Party Marching Band, bringing their lovable guerrilla brass, crashing cymbals, and energetic street music to your unsuspecting ears. Sometimes they play scheduled shows, sometimes they'll just be where you are. Either way, you're going to have a good time.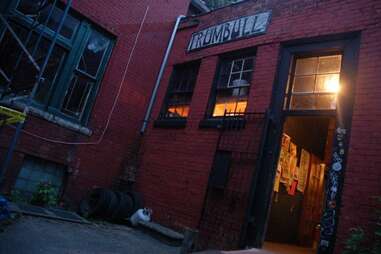 The Trumbullplex is like nowhere you've ever been
The Trumbullplex is a lot of things. It's a housing collective, a performance venue, a DIY space, a theater, or just somewhere for artists, activists, anarchists, hippies, radicals, and other open-minded individuals to get together and just chill... man. If nothing else, it's an awesome place to catch a show.
Sign up here for our daily Detroit email and be the first to get all the food/drink/fun Motor City has to offer.