When it comes to planning a date in Detroit, there are a lot of sweet things to do. A lot. There are so many that it's almost a problem (almost as big a problem as the fact that everyone knows everyone), unless you've read our handy guide to the best date spots in every -- OK, 14 -- D-Town 'hoods, obviously.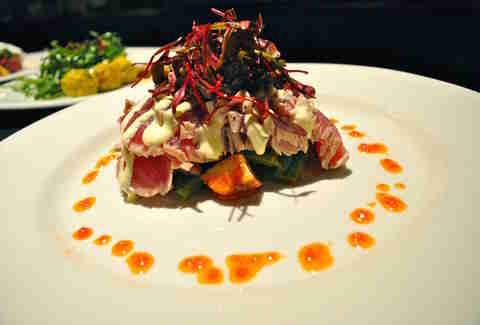 Downtown
London Chop House (address and info)
The London Chop House is as old school as it gets, a throwback to a former era rich with sumptuous design and cuisine. Everything about it is over the top -- from the deep-red leather banquettes and glossy wood paneling, to the béarnaise-drenched aged steaks and decadent oysters Rockefeller, right down to the Rat Pack-era dinner music performed live with singer and piano. When you really just want to get all gussied up and be fussed over, there is really nowhere better in Detroit to do it.
Foxtown
Cliff Bell's (address and info)
Hands-down Detroit's finest cabaret club, Cliff Bell's is a cocktail bar, restaurant, and entertainment destination with dramatic Art Deco décor that includes a curved wood ceiling, mahogany leather banquettes, and a vintage Steinway grand piano. The very walls themselves ooze romance, whether it's the romance between two people, the romance of song and stage, the romance of a bygone era, or the romance of the city itself. There truly is only ONE Cliff Bell's, and if you're aiming to impress, this is the place to do it.
Hamtramck
Rock City Eatery (address and info)
Kick it with the Hamtramck kids at Rock City Eatery, where $40 will buy you a killer meal complete with cocktails in a casual rock 'n' roll atmosphere that still offers some of the best food in Detroit. Plus, you know if the two of you can get down on a plate of poutine together, the relationship has real potential.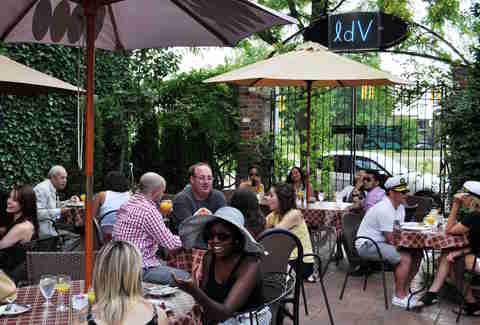 Woodward & McNichols
La Dolce Vita (address and info)
Once again, everybody digs brunch. And while there may be better brunches in the city, La Dolce Vita's stubbornly remains one of the most popular, complete with bottomless mimosas, stuffed French toast, and a secluded "urban oasis" of a garden. Located just North of Highland Park on the East side of Woodward, there isn't a whole lot else in the area to hit up before or after, but we recommend a stroll through the urban orchard in Palmer Park, a roughly 300-acre public park just on the other side of Woodward, to continue in that vein of "hidden gem" and "urban oasis."
Harmonie Park
Detroit Seafood Company (address and info)
Buttery yellow leather booths, hardwood floors and ceiling, cornflower blue curtains, exposed red brick walls, and floor-to-ceiling windows set the stage, and the lobster trio brings down the house. There are a lot of beautiful dining rooms in the city, but this one manages to be charming and colorful while still being luxe -- all with an added air of urban chic -- but still doesn't seem like it's trying to hard. It's comfortable yet sophisticated, and seriously, you just can't go wrong with the lobster trio on any date ever.
 
Greektown
Prism (address and info)
Not for lack of trying, the Greektown Casino seems to be having a hard time keeping a fine-dining flagship restaurant. Prism is the latest effort, stepping down from the high-end dining of Brizola to a more affordable version of a casino steakhouse. It's too bad, too -- the space is stunning, in a "we have a ton of money to do whatever with" casino-ish way. It also has the advantage of not being terribly busy... errrrrrrr, "advantage" on the side of the diner anyway... so you don't have to worry about getting a table or having some privacy. Plus, afterwards you can go gamble by yourself if the date went bad, or go to Bouzouki if the date went REALLY bad (or... really well?).
Renaissance Center
Coach Insignia (address and info)
Where else in Detroit can you dine 700ft above the ground overlooking both Detroit and Canada? Only at Coach Insignia, one of the highest hotel restaurants in the Western Hemisphere. Because nothing says "romance" like vertigo. The massive restaurant, which inhabits all of the 71st and 72nd floors of the Renaissance Center's main tower, has plenty of space for semi-privacy so you and your date can enjoy dinner and drinks without sharing your conversation with your neighbors at the communal tables that are so popular at  hipper dining spots. Coach is also a Wine Spectator Award of Excellence winner, and the place knows some things about steak. 
 
Corktown
Iridescence (address and info)
Another tall hotel, another outstanding city view. Detroit's only AAA four-diamond dining experience (through 2013, anyway) and another Wine Spectator Award of Excellence winner, Iridescence inside the MotorCity Casino is all ultra-modern LED chic compared to Coach's plush neutrals. It's more elegantly flashy to Coach's understated handsomeness, but if you're really looking to impress, this might be your best bet, thanks to items like Osetra caviar, foie gras torchon, and chateaubriand for two. But really, we eat with our eyes, and the view from the dining room is a feast in itself, perfect for creating a little... um, atmosphere.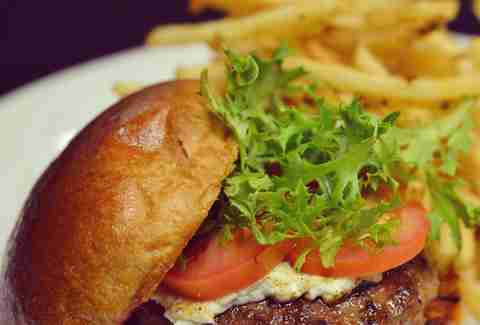 West Village
Craft Work (address and info)
If you want to be comfortable and low key, but still enjoy a stylish Detroit-minded atmosphere and excellent food, head East to Craft Work in historic West Village. Sit at the bar and order some Sage Advice in a setting that takes all the pressure off while still being date-worthy, and also impress your date with your inherent Detroitness, because not just anyone makes the trek all the way to West Village. 
 
Midtown
Chartreuse Kitchen & Cocktails (address and info)
Taking a date to the Detroit Institute of Arts is a no-brainer, and now that Chartreuse Kitchen & Cocktails has opened up in the Park Shelton building next door, the decision of where to go for dinner afterwards is too. Sit at the bar and watch Chef Douglas Hewitt Jr. and his cooks hustle hard, and do NOT, on pain of severe life choice disappointment, skip the steak. 
Rivertown
The Rattlesnake (address and info)
If wooing is your goal, look no further than the Rattlesnake. Specifically the Rattlesnake's garden terrace patio overlooking the Detroit River. Enjoy high-end New American seafood and steakhouse fare, wines from yet another Wine Spectator-awarded list, a special 'Snake Bites menu for the patio, and an outdoor riverside view unmatched by any other restaurant in Detroit. 
 
Southwest Detroit
El Barzon (address and info)
Can't decide between Italian or Mexican? Do both! And do them in El Barzon's stunning enclosed patio courtyard that makes us believe in love again.
Eastern Market
Detroit City Distillery (address and info)
Here's a thought: daytime dates! Start yours in a civilized way with a stroll through the Saturday market, maybe check out the works at Inner State or Red Bull House of Art, grab a coffee at Trinosophes, and eventually end up at Detroit City Distillery, because a date without some social lubricant is, well, a date without lubricant. That's bad. Stop in to partake of cocktails made from the small-batch Summer of Gin selections and let the city's best bartenders help you keep the conversation (and drinks) flowing. Saturdays also mean brunch. Chicks (and dudes) dig brunch.
 
Avenue of Fashion
Baker's Keyboard Lounge (address and info)
If you haven't been here yet, what are you even doing? Self-described as the "world's oldest jazz club" (we'll just take its word for it), Baker's serves up no-fuss soul food along with a heaping helping of live jazz for ridiculously cheap, and bless you Detroit for still being a place where a $5 cover is balked at. Sit at the bar that looks like a piano keyboard, and cherish the live music that will fill in those awkward silences. 
Sign up here for our daily Detroit email and be the first to get all the food/drink/fun Motor City has to offer.