Test your knowledge before drinking enough to destroy all of it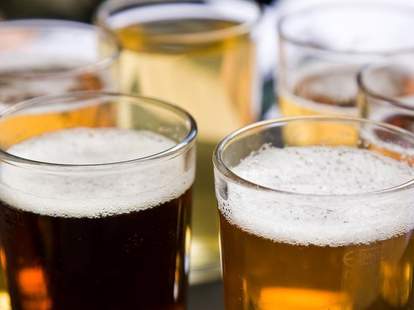 To get in shape for this weekend's 15th annual Michigan Brewers Guild Summer Beer Festival in Ypsilanti, continue not ever going to the gym, and train your mind with this firkin factful quiz. There: $30 gets you 15 pours (then it's an outrageously pricey 50 cents/pour after that) of over 500 beers from 62 breweries, every single one of which is located in our great state. Here: knowing the answers (revealed with each link) gets you unlimited self-satisfaction.
The name of this Grand Rapids brewery translates in French as "to be alive", which won't be totally accurate after drinking their 10% Imperial Stout.
This outfit's pilsner pays tribute to a Prohibition-era gang known for bootlegging beer across the Detroit River (now doesn't the drive to Ypsilanti seem easy?).
This operation adds fresh jalapeños to their German-style Amber, so it's totally authentisch.
This company's got some of the world's most out-there beer names, like Whatsupwiththemonkey Blueberry Ale or their newer mouthful, Scary Jesus Rockstar Apricot Chamomile Pale Ale.
Aged in merlot casks for five months, the Belgian IPA from this brewery is known as the 5th Dimension, so you'll have to battle giant floating jellyfish for a glass.
Helping hold down Detroit's Cultural Center since '94, this brewery kicks out jams like their signature Ghettoblaster, which they say is the "Beer You Can Hear".
Located in Sawyer, Michigan, this brewery's tap room was previously home to a hybrid laundromat/video rental/garden shop, and before that had been hit by a derailed freight train, so it kind of deserves a beer.This brewery's unfiltered beer was rated the #1 Belgian Golden Ale by the New York Times in 2010, so if you don't know them, you should rate your knowledge of local breweries considerably lower.
The couple behind this Little Brewery That Could met in 2006, fell in love, and started making products that spread "love, health, and possibility into people's lives", specifically, the possibility that you might try their raspberry kombucha beer.
This operation was born from a family hardware store that had to adapt when a big business hardware store moved in down the street. So at least they've been getting people hammered for years.