Understatement alert: you probably won't find Detroit on too many travel destination short lists. Bold statement alert: missing out on the Motor City means depriving yourself of a singular representation of the American experience. While daily headlines seem to dwell exclusively on decay, bankruptcy, and the possible placement of Robocop statues, the reality on the ground is there's plenty to impress even the pickiest of travelers (though no Robocop statue, yet). Here are 10 reasons to start planning that visit: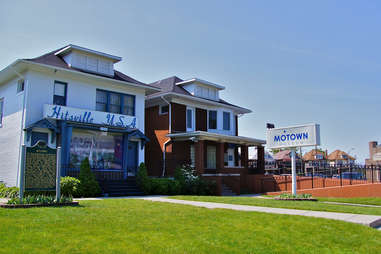 1. We still rock
This is Motown, baby! Every wedding reception you've ever attended owes a debt of gratitude to Hitsville USA, where Berry Gordy introduced the world to the likes of Diana Ross, Smokey Robinson, the Jackson 5, Stevie Wonder, and so many more. But Detroit's music scene extends beyond museums. This city still keeps the beat with the likes of the Detroit Jazz Fest, the Downtown Hoedown, DEMF… (ahem)… the Movement Electronic Music Festival, and Dally in the Alley.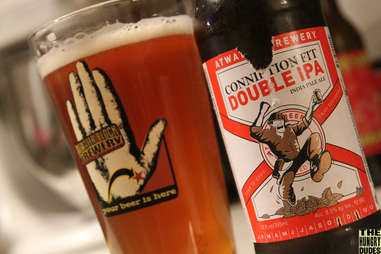 2. You like beer? Great, we have beer!
Michigan is on any short list for best brewing state in the country (unless that list is terrible and misguided and made by people who hate beer). Go ahead and check BeerAdvocate's list of the top 250 beers. See all those from Founders, Bells, and Dark Horse? Sure, those are not brewed in Detroit per se; however, you'll be able to find plenty of those tasty brews at nearly any respectable purveyor of alcoholic beverages in the city, not to mention fine selections from true Detroit-based outfits like Atwater, Motor City Brewing, B. Nektar Meadery, and Dragonmead.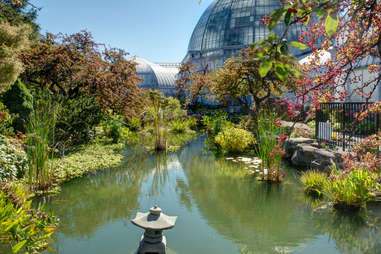 3. Belle Isle means "beautiful island" and backs it up
New York has Central Park. Detroit has Belle Isle. And while both were designed by the same guy (that Frederick Law Olmsted was one busy cat), the similarities pretty much end there. At nearly 1000 acres, Belle Isle's a giant island-park (giant-er than Central Park, take THAT, New York) right smack in the middle of the Detroit River, complete with an aquarium, a zoo, a conservatory, a golf course, a yacht club, and plenty of places to bike, jog, fish, or picnic. It's a picturesque setting where you can take in views of Detroit AND our friendly neighbors to the North.

4. We've got that Midwestern friendliness thing down
Despite everything you've seen and heard about this city, people will actually talk to you here. Sidle up to the bar at the Old Miami or Green Dot Stables, grab a booth at your choice of ConeyIsland, or take a few laps at the ice rink in Campus Martius Park. You're bound to pick up on the strong sense of community (Alison Brie not included) no matter where you find yourself. In fact, Detroiters even remain neighborly during a polar vortex.
5. You're hungry
You already know about coney dogs (if you don't, all the more reason to visit!). You may have some familiarity with Slow's Bar BQ and Buddy's Pizza, but Detroit's culinary game goes well beyond those standard (though admittedly delicious) indulgences. The London Chop House is a steakhouse legend. The authentic Mexican in Mexicantown (easy enough, right?) and the Middle Eastern in Dearborn will make you wonder what country you're in, in the best possible way. Then, of course, there's Eastern Market -- a six-block farmers market that, every Saturday, fills up with thousands people either selling or seeking farm-driven deliciousness from all throughout Michigan, Ohio, and Ontario.
6. You'll like how we roll
Every time a bell you hear, a hipster gets a new fixed-gear. Or something. But seriously, the biking community in Detroit is growing faster than you can say Shinola, and with events like Tour de Troit, the Slow Roll, and the Motor City Bike and Brew Tour, biking has become an integral part of the city and a much less stressful way to get around. More bike lanes and bike-friendly roads are set to be installed in Detroit, Warren, Grosse Pointe, and Ferndale throughout 2014.
7. Damn right our buildings are beautiful
Sure, take all the ruin porn photos you want, but feel free to swing your lens towards one of the city's amazing structures that are still intact -- like the Guardian Building, the David Whitney Building, the Fox Theatre, or the Ste. Anne de Detroit Catholic Church, which happens to be the second oldest Catholic church in the country still in use. Decay and ruin can make for compelling imagery, but when you visit, be sure to take in the growth, renewal, and masterpieces that are still standing.
8. We've got more game than Jesus (the one Ray Allen played)
Forget the history (even though you know full well you'd STILL pay to watch Barry Sanders), this town currently has some of the most exciting players to play their respective games -- Pavel Datsyuk, Miguel Cabrera, Calvin Johnson, Rodney Stuckey (okay let's skip basketball for right now). Much like the city itself, Detroit sports have both fizzled and dazzled, but each of its major franchises has left an essential imprint on its sport.
9. You like being ahead of the curve
Detroit is a city full of firsts. The first to install an electric traffic light, the first to build a concrete highway, and (you may have heard), the first city of its size to declare bankruptcy. But despite that most recent first, Detroit is full of new businesses, restaurants, and ideas. So if you like to be the first to try something -- be it a new restaurant or a new car, we've got plenty happening. Or you could be original and book a trip to Florida. Though, rumor has it they eat people's faces there!
10. We need real people to visit
That's people without television cameras and microphones who know what kind of story they're going to tell about the city before they even turn the power on. We need people who understand that this city isn't perfect and neither is theirs. We need people who will visit and tell their friends that this city's far from a lifeless, empty punchline, and while there is certainly work to do before Detroit's gracing travel mag covers, it's already plenty capable of delivering a good time. Let us prove it to you.
Sign up here for our daily Detroit email and be the first to get all the food/drink/fun Motor City has to offer.