If you've ever left Michigan to live in another region, there are probably a few things you were surprised to miss so much while away. Chances are, summer was one of them. There's something to the air during this sweetest of seasons -- the seemingly endless days, a tinge of humidity (okay, fine, maybe more than a tinge), and lush green grass that tickles your toes. This is your reward for the months of grey and cold. Get out and enjoy it, because there's nothing quite like it.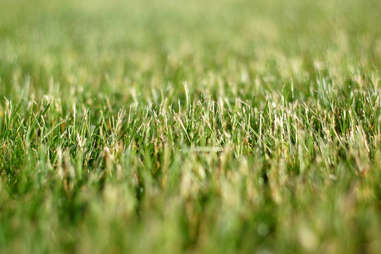 1. It's basically a shire
Ever taught yourself how to play a very bad rendition of "Green, Green Grass of Home" on a beat-up Casio keyboard from the '80s? No? Congratulations, you don't have too much time on your hands. Nevertheless, that traditional tune could easily have been penned about this state. The verdant gardens, fields, forests -- close your eyes and just image the sounds of Hobbit merrymaking in your backyard sometime. Oh wait, that's just squirrels mating.
2. FRESH WATER!!!!
This entry will likely elicit a big, fat "DUH." That's fine. But let's really sit back and honor this glory that surrounds us. When it's more humid out than a gym shower packed full of jabronis, you'll be grateful you're never farther than a few miles from a body of fresh water. We've got more than 300 rivers (most of which with really cool names like the Two Hearted, Styx (!), and the Rifle), which total more than 51,000mi -- that's more than twice the circumference of the globe, for you geography nerds out there. And the big whopdaddydodah: Michigan has the longest freshwater coastline in the country, and the second longest coastline after Alaska. Yes, THE Alaska. It's huge. And we are not too far behind. Suck it, California. (Just kidding, we'll see you in February).
3. Water sports
Get your mind out of the gutter. We are referencing the literal boat (!) loads of fun things to do with the aforementioned precious resource. Jet skis, wakeboards, motorboats, rowboats, party barges, canoes, kayaks, paddle boarding, tubing (aka river lounging), and of course, Super Soaker battles.

4. FISHING!
Now that we've established Michigan's water superiority factor, let us rejoice in the fruits of said resource. Whether you want to catch your own (which we hear tell is pretty damn fun) or just enjoy consuming someone else's hard work, this is the prime season and place to do so. Salmon, whitefish, trout, perch, and walleye are among our good eats here.
5. Sunsets on Lake Michigan
It looks like the ocean. Try recreating your own Corona commercial, but use Oberon instead.
6. Summer festivals
There are hundreds. For everything from classic cars to county fairs to asparagus appreciation. There're a few of the bigger gems thoroughly detailed in this hand-dandy guide here.

7. Concert season
You've got your dad rock, your hillbilly hootenannies, your metal, your jazz, your techno. When the throws of winter's icy terror are upon us, we long for T-shirts with no sleeves, ice-cold parking lot beers, and solid jams.

8. Farmer tans are totally acceptable
Even on the most crowded beaches in the Mitten, you never have to be ashamed of your extra few pounds and your inevitable, permanent white T-shirt (for readers of the lighter skin variety). This is about as far from South Beach as you could possibly imagine. You can get away with beer guts, farmer tans, and K-Mart swimwear -- and you still may be the sexiest person in sight.
9. Unabashed warm weather hysteria
We've already experienced a taste of it -- people zipping around like lunatics on the freeway, driving their Cavaliers as if they were Camaros, passing on the right, with a devil-may-care attitude. There's something about the thaw of the frozen tundra and daylight that lasts longer than seven hours that brings out the glee on people's faces. You'll see flip-flops when it's 50 degrees and rainy. There's lust in the air. People smile a little bit more and everyone's not on the verge of a mental breakdown.

10. Every day is a Bob Seger song
So you're a little bit older and a lot less bolder than you used to be. But in the sweet, summertime, summertime, rock 'n' roll never forgets. You'll wake one night to the sound of thunder. How far off, you'll sit and wonder. You'll steal away to the backroom, the alley, or the trusty woods. You'll make some front-page drive-in news. Out in the back seat of your early '00s Chevy, past the cornfields where the woods get heavy. And you'll ride your bike against the wind, down on Main Street.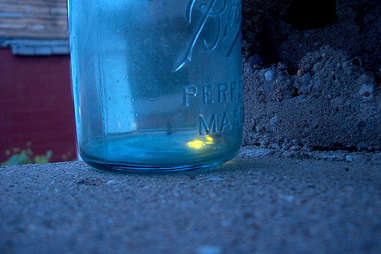 11. Fireflies
Michigan's firefly displays are the stuff of our childhood dreams. OK, so what you're seeing is really glowing genitalia! But that's OK, it's majestic and it holds a special place in our hearts. Unlike your neighbor who strapped the garden solar light to his crotch last year and paraded around your BBQ. This is not that.
12. Coney dogs and Tigers games
Two Detroit staples that go hand in hand with a badass summer. Replenish the lost nutrients from swilling ballpark beers in the hot summer sun with a Coney dog or three. Toss in a Vernors and you're ready for the second game of the double header.

13. Lack of natural disasters
While the rest of the nation spends the summer battling wildfires, stifling heat, oppressive humidity, drought, hurricanes, and any number of odd calamities, Michigan sits pretty with just the occasional tornado and outrageously awesome thunderstorm. Watch the news sometime in August, it's mayhem out there! Then jump on your pontoon boat and enjoy the perfect 80-degree weather.

14. Camping
Between nearly four million acres of state forest, one national park, two national lakeshores, more than 100 state parks -- there is no shortage of places to pitch your tent (snort). You can choose the easy route with electrical hookups, showers, vending machines, etc. Or you can go big and backpack the wilderness of the Manitou Islands with just your hatchet and beef jerky to depend on.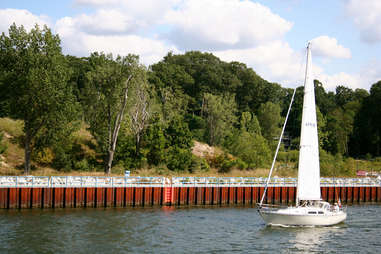 15. Road trips
As the largest state east of the Mississippi River, there is plenty of ground to cover and summer is the perfect time to see what the state offers. Head to the Upper Peninsula for a totally different experience from what you'd find in the lower part of the state. Go west for the sand dunes, east for the forests, south for the cities.

16. Bonfires
Lack of drought risk means you are free to burn stuff to your highest desire. Whether you have a contained pit in your yard (be responsible, people), or you are hosting some major Dazed and Confused-style field party, bonfires are as integral to summer in Michigan as anything else on this list.
Sign up here for our daily Detroit email and be the first to get all the food/drink/fun Motor City has to offer.