To create the perfect Halloween, one needs to combine equal parts ideal-autumn conditions, ghost-town backdrop, and slightly-demented-yet-highly-entertaining residents. In steps Detroit. This city takes Halloween seriously. So come, people from less-interesting and weird cities, and join in the debauchery -- but make sure to bring your A-game. This most unholy of holidays is not taken lightly around these parts.
1. Detroit has more haunted attractions than anybody
Fact: the Detroit area has more haunted houses, corn mazes, hayrides, and such per capita than any other place in the world. Go ahead, disprove that! You can't! So if you happen to be an evil clown, you can find a respectable career path here... for October at least. The rest of the year, please go back to wherever it is you came from, scary clowns.
2. Fall in Michigan = ideal Halloween weather
Michigan is blessed with a distinct autumn. The "sexy" nurses out there may suffer on the walk to the party, but there is nothing quite like the sound of dead leaves crackling under your combat boots -- or hooves, or what have you -- and the chill of a fall night in Detroit. Not to mention, it's a lot harder to get creeped out under warm, sunny skies (Florida is creepy enough already, even without Halloween). Autumn in Michigan also means cider (spiked!) and some of the best pumpkin beer known to man.
 
3. The bands here go big for Halloween, too
A relatively new phenomenon (within the last decade), Halloween tribute shows (now nearly ubiquitous) have local musicians honing their chops in the style of their chosen artists. With major events such as the Crofoot Creepy Cheapy Halloween shows at the Park Bar and P.J.'s Lager House, it's finally possible to see Madonna, Van Halen, Marilyn Manson, and Outkast perform on the same stage.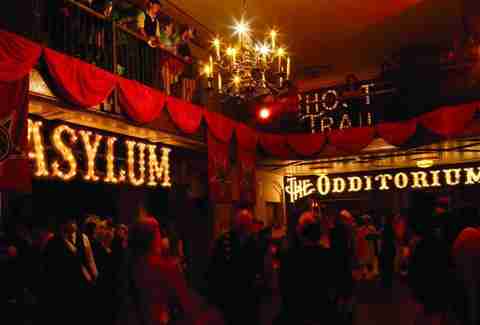 4. Halloween parties to end all Halloween parties
Detroit's Halloween parties will put all others you've ever attended to shame. Theatre Bizarre, the world-famous masquerade with a healthy twist of sideshow, has been exiled from its outdoor carnival commune to the world's largest Masonic Temple – now boasting seven stories-full of thousands of costumed revelers. The party will destroy any Halloween party you've ever attended. A number of other parties exist as well, namely the Damned Exhibition, featuring art and performances that would make the weak weep.
 
5. Devil's Night/Angels' Night
Thrillist does not condone arson, so we're happy to promote Angels' Night, the antithesis to Devil's Night, which for the past decade has benefited from the efforts of peaceful neighborhood vigilantes taking the fire rate from a walloping 180 structure fires on one night in October 1994 to a more "normal" number of roughly 90 over a three-day period. It's worth mentioning, however, that the phenomenon of Devil's Night is linked with Detroit, and at least until our generation kicks the bucket, the day will always be referred to as such.
6. Creepy, old movies in creepy, old movie theaters
Amid the rubble are many gems that still shine in Detroit, including two beautifully restored movie houses that seemingly have the power to take you back in time, and as such, are slightly creepy without even trying. Both the Senate Theater and the Redford Theatre play host to grand Halloween-themed evenings paying honor to all things macabre, with live organ accompaniment.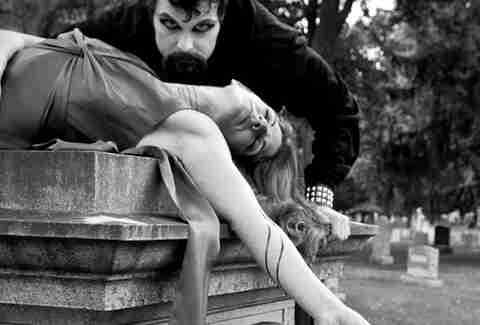 7. Cool, old cemeteries
For the goth readership contingent, it's worth mentioning that Detroit features a number of well-preserved cemeteries with mausoleums, statues, and graves dating back centuries. Elmwood, Woodlawn, Mount Olivet, Mount Elliot – to name a few – are large enough for an afternoon or evening escapade to the dark side. Get weird and check them out for your next Hot Topic photo shoot.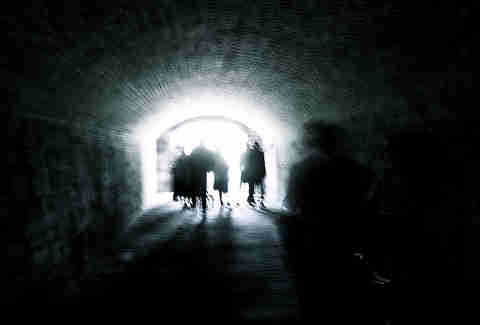 8. Oh, there's also a bunch of stuff that's ACTUALLY haunted
With all the history in this city, there's plenty of rumored haunted locales to explore. The Detroit Bus Company will take you on a tour of haunted places, or you can do it yourself. The Historic Fort Wayne, the Alhambra apartment building, and the Leland Hotel are among the most legendarily haunted places in town.
9. There's also scary stuff people don't even know about
Don't want to pay for a tour? Make your own. Anyone who hasn't spent the past half-century under a rock is aware that Detroit has a plethora of creepy old structures and buildings to explore. Due to legal and safety concerns, Thrillist will not list any specifics. But they aren't hard to find. Just be sure to wear a helmet and carry a switchblade.
Sign up here for our daily Detroit email and be the first to get all the food/drink/fun Motor City has to offer.