The 23 Worst Decisions You Can Make in Detroit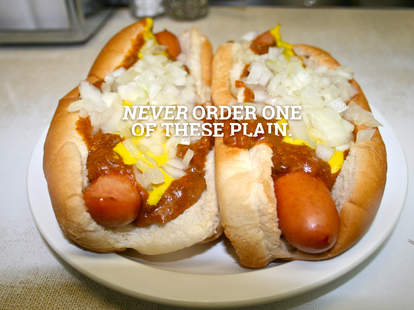 You live in Detroit. Which, despite what some others around the country might tell you, is a damn fine decision. But that doesn't mean you're permanently in the clear -- there are plenty of ways you can still screw up. Like these...
1. Ordering a plain coney
What are you going for here, exactly? Health? Nutrition? It's a hot dog. You already threw all pretensions of health out the window.
 
2. Sticking to the same two or three restaurants every time you go out
2014 alone brought you these gems, and that's just the beginning of all the deliciousness that's out there for the taking.
 
3. Parking at a dysfunctional meter thinking you're off the hook
By all logic, you should be. By Detroit logic, you owe $45.
 
4. Ordering non-Michigan beer
5. Splitting a Bucharest shawarma
"I mean, we could split a 6-pack..."
 
6. Getting Mexican food outside of Mexicantown
It's right there in the name! Go anywhere else and you're setting yourself up for disappointment.
 
7. Shopping at Whole Foods after work
You might find parking by the time you need to be back at work. Tomorrow.
 
8. Ordering a vodka tonic at Sugar House
Look, just tell the bartenders what you like and they'll be happy to point you to your new favorite cocktail. Trust them. They're some of the best.
9. Voting for this guy
Whoops.
 
10. Calling into 97.1 with a garbage comment
Actually, keep those coming for the rest of us.
 
11. Trying to beat traffic on 696
Like "fetch," it's just not going to happen. At least you have the dumb guy calling into 97.1!
 
12. Expecting the refs to make a call in the Lions' favor
Too soon?
 
13. Thinking Stafford could lead that big fourth quarter comeback
Yep, too soon.
14. Taking the Wings for granted
23 playoffs in a row. At least we can count on someone...
 
15. Letting summer pass without joining at least one Slow Roll
Letting TWO summers pass? What are you even doing here?
 
16. Planning to sit right down at Green Dot Stables
The wait is inevitable. At least there are sliders on the horizon.
 
17. Claiming you're from Detroit when you're really from the 'burbs
Stop doing this. 
18. Purchasing inferior booze
When you have Two James, Detroit City Distillery, Valentine, and the like being made right here, you might as well drink the good stuff. Didn't you figure that out with the beer?
 
19. Staying someplace outside of Downtown
If you're visiting Detroit, stay in Detroit. Westin Book Cadillac, MGM Grand, Greektown, MotorCity Casino, the Crowne Plaza... you have options here. That said, see below.
 
20. Relying on public transportation
Yeah, sorry, that's not really a "thing" here. Gonna have to Uber.
21. Eating round pizza
Exception: Supino's. But come on. "Jet's is the truth." As is Buddy's. And Loui's.
 
22. Being afraid
Be smart, not scared.
 
23. Failing to give this city a chance
It'll be your loss.
Sign up here for our daily Detroit email and be the first to get all the food/drink/fun Motor City has to offer.