Actually Cool Things to Do in Detroit This Fall
Make the most of it.
The pandemic brought many of our beloved fall traditions in the D to a grinding halt, but with many venues, bars, and restaurants reopened, people are out and about again. The temps may be dropping, but autumn in the Great Lakes State doesn't mean it's time to start hibernation early when there's so many things to do, from celebrating spooky season to eating top-notch food to perusing world-class art. Yes, we're still in a pandemic, and some events are still canceled this year (RIP Theatre Bizarre, which has been pushed to next year), but there's still plenty to do. Here's the ultimate list of how to maximize your fall before winter comes.
Celebrate Dia de Los Muertos
Various locations
$-$$
Dia de Los Muertos, or Day of the Dead, is observed on November 1 and 2 to honor the memories of loved ones who have passed on, with many people setting up ofrendas, or altars, full of favorite foods, drinks, pictures, and mementoes. Explore a community celebration at the Detroit Institute of Arts; take the fam to Robert C. Valade Park on the riverfront for food, live music, dancing, and more on October 30; or party in style at Lucha Detroit at the Garden Theatre on October 31. The gritty-meets-glitzy event grew out of the Sanctuary Fight Club, an underground entertainment powerhouse that gathered local and international talent to showcase, support and nurture the scene in Metro Detroit.
Thursdays from October 21
The Film Lab, Hamtramck
$$
The Film Lab is hosting a six-week tango series put on by the Detroit Tango Project. All levels welcome, even if you have two left feet. The first 75 minutes will be class time followed by 45 minutes to put your new skills to the test. Beginners will learn the basics and practice with more seasoned dancers, and intermediate dancers sharpen their skills by helping the newbies. Make sure to wear comfortable kicks like well-worn tennis shoes that provide good support.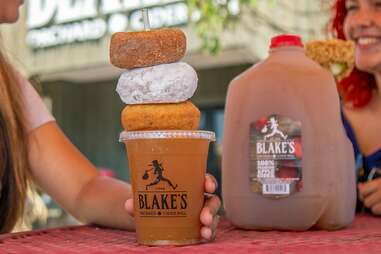 Come for the apples, stay for the cider and donuts
Various locations throughout metro Detroit
$
Michigan is the third top producing state when it comes to apples, with more than 14.9 million apple trees spanning 34,500 acres on 775 family-run farms. There's no shortage of spots to snag your own, whether you pick them or have someone do the work for you, but just to name a few: Blakes Farms, Erwin Orchards, and Apple Charlies are all solid picks for picking. And bonus for your hard work: cider and donuts. Just want cider and donuts? Check out Detroit Farm and Cider, Yates Cider Mill, and several other Metro Detroit spots to get your fix.
Enjoy the great outdoors
Detroit Riverfront
Free
The Riverwalk and the connecting Dequindre Cut greenway were lifelines during the pandemic, providing much needed escape from the confines of our homes. Start your walk, bike ride or run on the Cut, where you can peruse murals and other artwork before finding yourself along the Detroit River where luscious green parks, cute plazas, and some of the city's signature architecture greet you. Head to the East Riverwalk to Robert C. Valade Park and grab some sushi or barbecue or go west on the Riverwalk to admire views of the Ambassador Bridge.
Cheers to Michigan beers
Various locations throughout Metro Detroit
$-$$
Michigan's craft beer game is on point, with homegrown breweries such as Motor City Brewing Works (which just opened a second location on the Avenue of Fashion), Eastern Market Brewing Co., Batch Brewing—there are just so many that trust us, you won't go thirsty. Can't make up your mind? Hit up the Detroit Fall Beer Festival at Eastern Market where you can sample brews from scores of Michigan breweries. Fall is also Oktoberfest time, with events throughout the city, from the local staple Atwater Brewery to the iconic Dakota Inn Rathskeller.
$
From now until January, a fall tradition for football fans is to get excited about the upcoming season only to have their hopes dashed by the historically hapless Detroit Lions. This year the Lions are on a, er losing, streak as of mid-October, piling up a sad winless record. But our shared disappointment is a bonding activity in and of itself so whether you watch from home, at the bar or at Ford Field, you won't be alone in this fall tradition.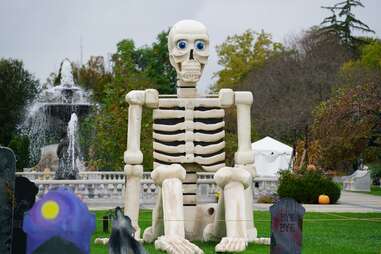 Embrace spooky season
$$
For G-rated fun, put on your Halloween costumes and head to Zoo Boo at the Detroit Zoo on weekends in October until October 24. Enjoy festive pumpkin displays and strolling entertainment, visit with your favorite animals, and snag a goodie bag for the kiddos. There will also be Smashing Pumpkins (no, not the 1990s band). Zoo staff will be treating animals to seasonal goodies in their natural habitats to motivate them to be their natural selves. Advance
tickets start at $13 per person for ages 2 and older. For more mature audiences, head over to the Eloise Asylum in Westland for 30,000 square feet of high-tech horror.
Check out live music
After a year of virtual concerts and spotty livestreams, live performances are back with some high-profile acts coming to town this season. Check out everything from national acts like Nas and H.E.R. to Bugs Bunny and Branford Marsalis at the Detroit Symphony Orchestra.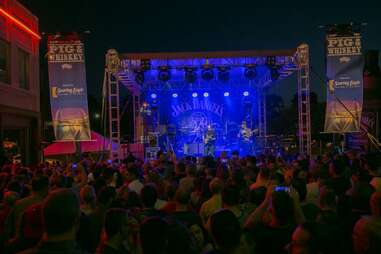 Ferndale
$-$$
Now in its 11th year, Pig & Whiskey in Ferndale is back Oct. 29-31 featuring some of the best barbecue (the pig) and booze (the whiskey) that Michigan has to offer as well as live music. There will be outdoor and indoor locations at Woodward Avenue Brewers, the Emory, and the Loving Touch.
Peruse art indoors and outdoors
Around Detroit
Not into Van Gogh? Detroit is home to a world-class art scene, from local street artists to nationally renowned names stopping in the Motor City so there's an exhibit for every taste. Hit up the Museum of Contemporary Art and explore the works of John Kørner, Jeannette Ehlers, Jane Jin Kaisen, Hannah Toticki, and Jan Tichy. Right now at the Detroit Institute of Arts, you can see over 40 large-scale color and black-and-white photographs by Kwame Brathwaite in the "Black is Beautiful" exhibit. Reservations for the DIA are required. If you are an enthusiast but not an expert in street art, book a tour with Jason Hall (he of Slow Roll fame) of RiDetroit, who will show you some of the latest and greatest street art around town by electric bike.
Feast on culinary delights or tried-and-true Detroit dishes
Various locations
$-$$$
It's been a tough year for restaurants, but many of them have proved incredibly resilient, adapting to the times we're living in. And while some did not survive, many restaurants hung in there by trying some creative things such as setting up yurts and other outdoor structures. In the mood for some local classics? Grab some Detroit-style pizza, coneys, or Middle Eastern in Dearborn or Mexican in Southwest Detroit. Want to try something new? Check out our list of restaurants to eat at right now.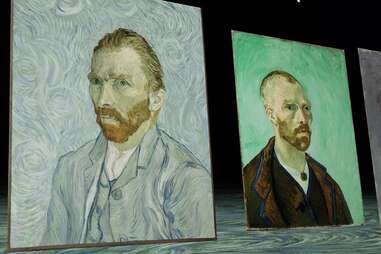 Secret Detroit location (revealed when you buy your ticket)
$$
Vincent Van Gogh is having his moment, with the "Starry Night' artist being the focus of not one but three exhibits in Detroit. This summer, "Beyond Van Gogh: An Immersive Experience" was on display at TCF Center. "Immersive Van Gogh" opens in mid-October with its location shrouded in mystery. And if that's not enough Van Gogh, next fall the Detroit Institute of Arts will host the "Van Gogh in America" exhibit.
Cost: $40 and up
Downtown Detroit
$
The pandemic demonstrated there is a real demand for nostalgic nights at a drive-in, so it's no surprise that the Monroe Street Drive-In returns for the sequel to downtown Detroit. Opening on November 12, the outdoor film venue boasts new open-air seating and updated artwork from Detroit's own Sheefy McFly, whose work graced the outdoor roller rink this past summer. Outdoor seating pods will seat two to four moviegoers who want to get out of the car. Also opening that same week is the Downtown Detroit Markets in Cadillac Square, which will feature 18 local small businesses hawking their wares just in time for the holidays. Tickets will cost $20 per vehicle and can be reserved online at DetroitDriveIn.com starting noon on November 9 at noon or purchased in-person at the Drive-In the night of each show.
Redford Theatre
$
Detroit is home to several independently run movie houses, including the historic Redford Theatre, which opened in 1928 as a neighborhood movie house. The theater (and its Barton pipe organ) has stood the test of time, serving as a reminder of the glorious history of movies. This fall take in classics like Steel Magnolias, Poetic Justice, and more.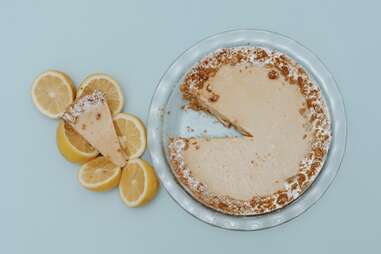 Eastern Market and Dequindre Cut
$$
Fall is prime time for runs, from various 5ks to the Detroit Marathon, but let's talk about a real fun run: the first annual Butta Run, a 2k trek where there's pie at the finish line. Hosted by Lush Yummies Pie Co., the November 23 event will also feature live performances, including a special guest appearance by the Cass Tech Marching Band and of course the bakery's popular pies, including Oprah's Favorite Things Peach Butta Cobbler, Original Lemon Butta Pie, and Salted Caramel Butta Pie.
Detroit
$$
Detroit's original urban health club, The Schvitz in Detroit's North End, is the city's only bath house. Open to members and guests since 1930, this cultural institution (which has quite the infamous reputation as a hotspot frequented by Prohibition-era mobsters followed by swingers years later) offers ancient heat therapies and holistic healing for some serious R&R.