COVID-19 has changed our day-to-day functioning quite significantly, to say the least. But as 2020 rampages on, it's worth remembering that there are still activities you can do around Detroit to get you out of the house and treat yourself. So we thought we'd compile some of the cultural institutions around Detroit that are still open this fall -- just remember to always wear a mask and stay socially distanced!
Charles H. Wright Museum of African American History
$
Especially in this present moment, when the deaths of George Floyd, Breonna Taylor, and so many more at the hands of police have forced a long-awaited national conversation about systemic racism into the limelight, Detroit is incredibly lucky to be the home of the Charles H. Wright Museum. The Wright houses the world's largest permanent exhibit of African American culture -- the 22,000-square-foot, interactive "And Still We Rise: Our Journey Through African American History and Culture." Their newest seasonal exhibit will be Voting Matters, which they describe as "an interactive multimedia exhibition that illustrates the work of African Americans from pre-Reconstruction through the present day, in the development of the basic principles and values surrounding our current understanding of what it means to have the 'right to vote.'"

The Wright is doing timed entry tickets during the COVID era, so make sure to reserve online!
Renaissance Center
$$
Youmacon is Michigan's largest convention dedicated to anime, manga, and video game culture. It'll take place over Halloween weekend virtually this year, but if you love Japanese pop culture, it'll be sure to be a welcome weekend of nerdy joy.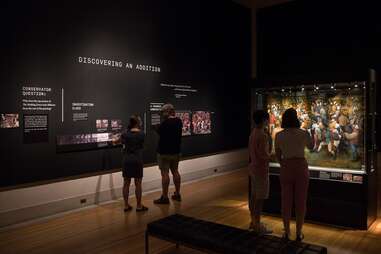 Detroit Institute of Arts
Free to residents of Wayne, Oakland, and Macomb County
The DIA is a world-class museum -- hell, it's the home of an epic 27-panel Diego Rivera mural that's a National Landmark and covers the entire atrium. And as a world-class museum, the DIA is usually quite crowded. Which is why its strict COVID operation guidelines are a plus for more reasons than safety -- turns out, social distancing gives you all the privacy you crave. The DIA is now running on timed entry tickets, so make sure you reserve online.
Motown Museum
$
Another museum where you can actually have a better experience because of social distancing is the Motown Museum. Because tour group sizes are now limited to 10 people, the Motown says that every tour is now like a "VIP experience." What's more, the museum has changed its rules and will now allow you to take a picture anywhere you'd like -- so you can now capture every corner of the magical Studio A.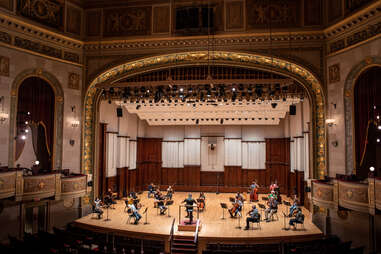 Your living room!
$
Obviously, getting an entire orchestra on the same stage is not quite feasible at the moment. But that hasn't stopped the DSO -- they've programmed a bunch of affordable concerts from small ensembles that you can stream from your home. Even if you're not into classical music, they're programming is worth a look -- upcoming concerts include circus artistry and the world premiere of a new violin piece by Tyshawn Sorey.
Ford Drive-In
$
Drive-in movie theaters boomed over the summer, but most of them will cease operations in the late fall and winter. But not the Ford Drive-In, which, with its five screens, also happens to be the largest in the state. The Ford Drive-In operates year-round, and even brings out heaters when the cold weather descends. Each screen plays a distinct double feature, so go enjoy the movies from the comfort of your car!
The Film Lab
$
If you're not into big blockbusters, check out the Film Lab in Hamtramck. While they are hosting a few drive-in and patio screenings -- at least until it gets cold -- their truly exciting offering comes in the form of their "virtual cinema," where you can rent hard-to-find art films and documentaries from the comfort of your couch. While some movies have actual screening times -- just the normal movie theaters! -- you can rent and then stream most of them anytime within a day-and-a-half of your purchase.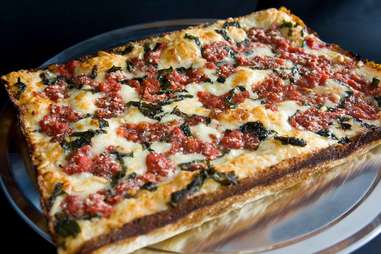 Around Detroit
$-$$
Everyone knows pizza is the classic takeout food for a movie night at home, and Detroit-style pizza is an artform onto itself. It's typically square, thick (but not as deep as Chicago's deep dish), crunchy, and delicious. The best places to find it are Buddy's, Loui's, Green Lantern, and Niki's Pizza. Hell, even the Domino's-style take-out version, Jet's, is good. Sit back, get ready to pack on a few pounds, and enjoy a unique pizza experience.
Drink some fantastic coffee
Around Detroit
$
The Detroit coffee scene has exploded in recent years -- and many of the best coffee houses are still operating with limited hours and/or are offering takeaway. One local favorite, Trinosophes, has opened their adjacent gallery on Saturdays. Other places to really treat yourself include Astro, Red Hook, Germack, Motor City Java House, Chazzano, Roasting Plant, Great Lakes Coffee Roasting Company, and many, many more.
Comfort Yourself with a Coney
Around Detroit
$
Restaurants in Detroit are presently allowed to be open at 50% capacity. If you choose to dine in instead of take out, you should wear a mask until you're seated, of course. And where did Governor Whitmer choose to celebrate the return of safe indoor eating? Lafayette Coney Island, of course! For the uninitiated, a Coney is a hot dog loaded with chili on top, and they'll usually run you about $2 each. Other than Lafayette, you can snag one at its mortal rival, the neighboring American Coney Island, or elsewhere at Red Hots, Detroit One, or Anthony Bourdain's favorite, Duly's Place. There are many, many Coney Islands to check out around the city -- many of which have drive-ins, too!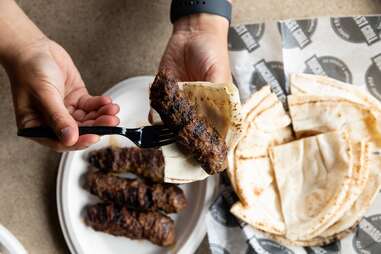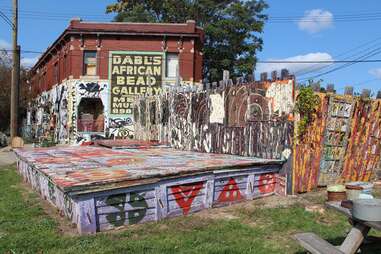 Head to outdoor art installations unlike any you'd find elsewhere
Dabls Mbad African Bead Museum / The Heidelberg Project
Free
The mass exodus from Detroit was part of a very difficult, tumultuous chapter of our city's history. As a way of working through that hardship, two large-scale outdoor art installations arose in abandoned or destroyed areas. One is Dabls Mbad African Bead Museum, which contains an astounding Sculpture Garden of 18 buildings. The other outdoor installation is the Heidelberg Project, which was started when artist Tyree Guyton returned to his childhood home in 1986 and found the whole area in shambles. Believing art could be medicine, The Heidelberg Project grew to incorporate the houses, sidewalks, trees, and everything else into a giant, immersive installation. Luckily, you can still cruise around both in the COVID era.
Take a car tour of some amazing street art
Eastern Market
Free
There are still more incredible works of street art all around Detroit, and Eastern Market is perhaps the best-known, more highly concentrated center of jaw-dropping murals that span entire buildings. It's incredibly easy to drive around the neighborhood and explore all of these amazing works from the comfort of your car.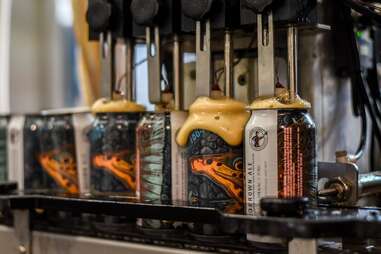 Snag a growler from a local brewery
Various locations
$-$$
Michigan's arguably the best beer state in the country -- any local will tell you that Bell's nationally famous Two-Hearted is just the tip of the iceberg. Even though sitting in a bar and drinking a beer isn't an option at the moment, there are still plenty of ways to enjoy our vibrant local craft scene. Growlers -- or even kegs -- are the classic to-go draft option, but Michigan also allows businesses to get a license for takeout beer, too! Check out your options at Atwater Brewery, Jolly Pumpkin, Brewery Faisan, Motor City Brewing Works, Batch Brewing Co., Brew Detroit, Eastern Market Brewing Co., and others (the list keeps growing).
Grab a bottle -- and maybe even some hand sanitizer -- at a local distillery or meadery
Various locations
$-$$
If small-batch whiskey, gin, and vodka are your thing, you've got plenty of options. Two James Spirits and Detroit City Distillery have delicious spirits for you to whisk away, and Valentine Distilling Company in Ferndale is doing curbside canned cocktails. But Detroit doesn't just stop at spirits -- we also specialize in mead, which is made by fermenting honey. B. Nektar has bottles and limited seating. And while Schramm's Mead just had to close their tasting room, you can still snag bottles of their delicious mead.
Detroit Historical Museum
$
The Detroit HIstorical Museum is offering timed entry tickets, each for one and a half hour blocks. Which means that, even in these trying times, you can still enjoy their most cherished exhibit -- a large-scale replica of old Detroit that you can walk through at your leisure. However, definitely be warned beforehand that they are also home to the "Kid Rock Music Lab," which... sigh.
Henry Ford Museum
$$
The Henry Ford Museum isn't being as strict as other museums in terms of entry guidelines -- there's no timed entry. But if you feel like risking it, there's an exhibit at the Ford that'll make every diehard Marvel fan's heart pound. Marvel: Universe of Superheroes gathers pages, costumes, and props from throughout Marvel's history in both comic books and theaters, as well as offering an in-depth look at the history of Marvel and its most famous heroes.
Greenfield Village (Henry Ford Museum)
$$
While the Ford Museum isn't requiring time-entry tickets, its neighboring Greenfield Village is. In a strange COVID-benefit, Greenfield Village is no longer offering tours, so you're free to walk around at your own leisurely pace and create your own path. The Village's Halloween celebration is certainly a little more kid-oriented, but do we really feel like being picky this year? Plus, they've traded less COVID era-friendly traditions like the Fairy Tale Feast for a timed entry Halloween train.
Eastern Market to Detroit Riverfront
Free
The Dequindre Cut is a two-mile greenway leading from north of Eastern Market down to the Detroit River. It's a place to walk, ride your bike, run, skate, whatever. The point is, it's lovely, it's outside, and it's free. With commissioned street art from some of the best artists in Detroit (and beyond) lining the walls, this magnificent use of an old railway is a great excuse to get outdoors -- as long as you keep up that social distance hustle, of course.
Detroit Riverfront
Free
The Dequindre Cut will lead you right to the RiverWalk, a gorgeous path along the Detroit River. On the other side of the path, you'll find luscious green parks, cute plazas, and some of the city's signature architecture. The Conversancy asks that all walkers maintain social distancing of six feet while enjoying the RiverWalk. And the breeze from the river gets surprisingly cold, so you might want to bundle up, anyway.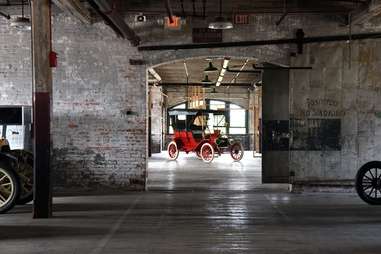 Ford Piquette Avenue Plant / Your living room!
Free
While there's plenty of car industry history nestled all around Detroit, the city's most famous moment was when Henry Ford rolled out the first Model T in 1908. That first Model T was created at the Ford Piquette Avenue Plant. And while you can technically still go to the Plant, the word "COVID" is nowhere on their website. So maybe opt for the free virtual tour of the plant instead, which you can do from the comfort of your couch.
Sign up here for our daily Detroit email and be the first to get all the food/drink/fun the Motor City has to offer.