So there you are sitting on your deathbed, your life flashing before your eyes, a bright light at the end of a dark tunnel, and as you move closer to that light, a figure begins to emerge, and you ask in a hopeful tone, "God? Is that you? Is this heaven?" But it's not. Not at all. It's us. Thrillist. And we've been sent to show you all the things you should have done in Michigan before you died.
So we give you this list, and send you back to earth where you wake up in a cold sweat, relieved to find it was all a dream... and yet... it seemed so real. You check your phone, and sure enough, there, in your browser, is THIS. VERY. LIST. Maybe you were reading it before you fell asleep, or maybe it wasn't really a dream at all?! Either way, you'll want to start knocking this list out...
1. Spend a day on Belle Isle
Between the conservatory, the aquarium, the Nature Zoo, and the swimming beach, it really won't be that hard to spend a full day here. It ain't called the gem of Detroit for nothing.
2. Climb Sleeping Bear Dunes
Kick off your shoes, get your feet nice and sandy, and look out over the mighty Michigan. It's a rite of passage.
3. Bike Mackinac Island then eat as much fudge as possible
Like they say, once you've biked eight miles, you deserve fudge.
4. Choose your coney
American, Lafayette, or other. But probably Lafayette.
5. Snowmobile Up North
When you live in the state with the third most-registered snowmobiles in the country, you kind of have to.
6. Eat at Buddy's
Square, delicious, Detroit pizza is the future.
7. Drink Oberon on Oberon Day
Even if you're not a fan of Bell's, wheat ales, or craft beer, you can at least pretend for a day. Actually, if you're not a fan of any of those things, feel free to stay home.
8. Join in on a Slow Roll
Because there's no better way to get to know Detroit and the people in it.
9. Swim in a Great Lake
But really you should go for all five.
10. Spend an entire day on a lake
It can be a Great Lake or it can be a smaller, inland lake with nothing more than a floaty and a brew; boats can merely be a bonus. Just do nothing but lake all day.
11. Be there for Opening Day
You don't have to like baseball, you just have to like a party.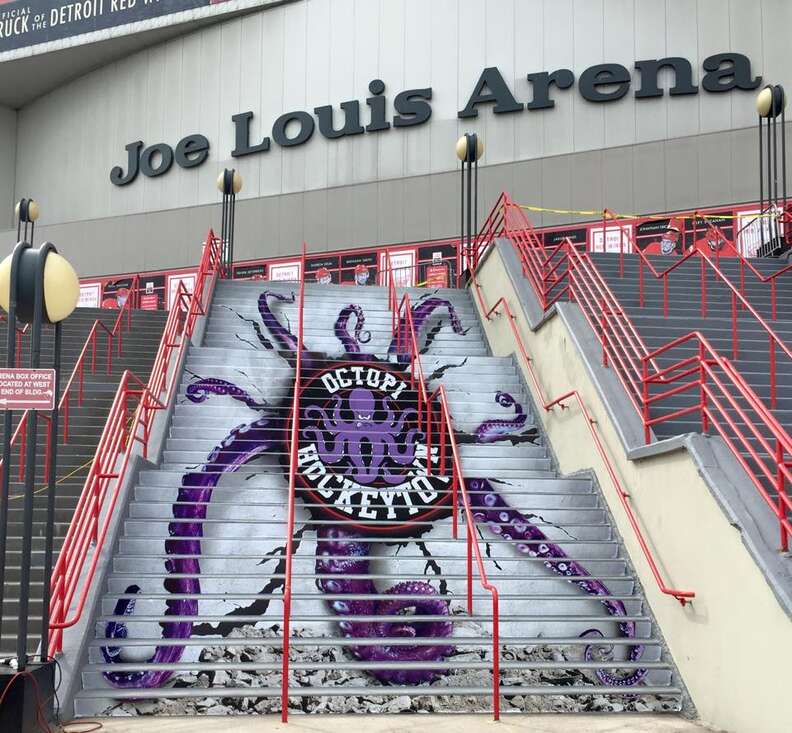 12. Throw an octopus on the ice at the Joe
Only one season left to do this one. Throwing one on the rink-yet-to-be named will also be acceptable.
13. Spend Thanksgiving at a Lions game
Win or lose, there will still be turkey.
14. Dig Grand Rapids during ArtPrize
A little art, a little Grand Rapids, probably a little beer. You won't be disappointed.
15. Drink and eat at Founders
According to our own highly scientific study conducted last year, it's the top craft brewery in Michigan. According to us this year, it's still very, very good.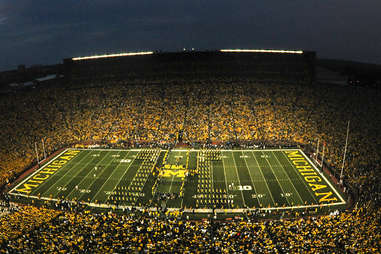 16. Attend a game at the Big House
Sorry Sparty, but 100,000+ capacity > 75,000+ capacity
17. Make the journey to Isle Royale
It's one of the least visited National Parks, and it's the only one in Michigan. Also, there are moose.
18. Get weird at Electric Forest
Bright lights and electronic music in the forest. Good combo.
19. Get weird at Movement
Bright lights and electronic music in the city. Also good combo.
20. Climb a lighthouse
Pick a lighthouse. Any lighthouse... well, unless you're really into that kind of thing, then pick several.
21. Pick and eat fresh morels
You know, like a real hunter-gatherer! Just make sure they're actually morels.
22. Find a Petoskey stone
Because buying one is cheating.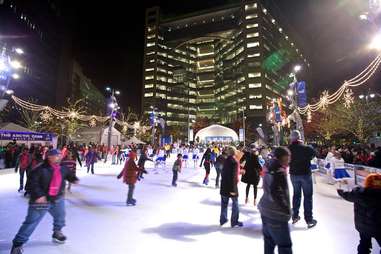 23. Skate at Campus Martius
Don't be deterred by the overly long line. You only to get to freeze your keister off for this once a year.

24. Buy some goodies at Eastern Market
You have a lot of Saturdays to live. Set aside at least one of them for Eastern Market.

25. Get sick, drink Vernors
Don't, like, deliberately get sick, but if you are sick, let Mr. Vernor's sweet concoction cure what ails you.
26. Deliberately get sick by eating too much Sanders fudge, bumpy cake, or ice cream
Also, it's not Saunders, it's Sanders, go ahead and ask them.

27. Eat at a pop-up
Your Instagram shots always have the most cache coming from a pop-up.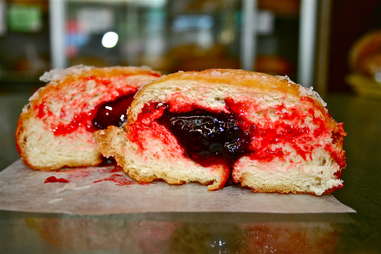 28. Eat a paczki in Hamtramck
A) because Hamtown's got the paczki game on lock and B) once you go outside Michigan, if you say "paczki," you might as well be speaking Polish or something.

29. Get a massive sandwich at Zingerman's
Even if you "don't like sandwiches" or think Zingerman's is "too expensive," you still have to eat one.

30. Go for Mexican in Southwest Detroit
This is the closest you're going to get to authentic Mexican without going to actual Mexico.
31. Hang out at the Dream Cruise
Michigan. Motor City. Woodward. Cars are a big deal here, and you should learn to love them.

32. Tour the Ford Rouge Factory
If you're a Michigander, you should see how cars are made. Simple as that.

33. Attend the North American International Auto Show
Again, cars. Can't stress this enough.

34. Convince someone to visit Detroit
Whether they're from another city, another state, or another country, there's probably someone who could use a little eye-opener.
35. Explore the Heidelberg Project
It's folk art at its finest.

36. See Detroit from the top of the RenCen
It's the tallest building in Michigan, which means it also affords the best view of Detroit; Windsor; and everything the light touches, Simba.

37. Appreciate history at the Henry Ford
They've got the limo in which Kennedy was killed, the chair in which Lincoln was shot, and plenty of more artifacts that have nothing to do with people dying.
38. Spend a day at the DIA
It holds some gems, man. It holds some gems.

39. Appreciate Detroit's musical legacy at the Motown Museum
Where else can you stand in the footsteps of the Supremes, the Four Tops, the Temptations, and the Miracles?

40. Warm up with cider and donuts at a cider mill
Pretty much your top priority come fall.

41. Camp, hike, or kayak at Pictured Rocks
Or you can just take pictures or whatever.

42. Hike the Porcupine Mountains
"Mountains" may be used liberally here, but the Porkies afford some of the best backwoods adventures in the state.

43. Go to Hell (Hell, Michigan)
Do this solely to make the stupid, but necessary jokes.
44. Cross the Mackinac Bridge
Typically, yoopers and trolls like to stay in their own peninsulas, but both have their merits, we swear.

45. Hop the border into Canada
As The Simpsons once put it, Canada is America Junior, but it's still worth paying a visit, if only to get some maple syrup and hear a few "eh"s.

46. Buy a Michigan oven mitt mitten
No home is complete without one.

47. Drive up M-22 and get a sticker that demonstrates you drove up M-22
It's the easiest way to identify that you drove up M-22.
48. See a show at the Fox
You know who else has played at the Fox? Elvis, Sinatra, and a whole slew of Motown stars. Also, it's a damn good-looking theatre.

49. Just like, hang out at Hash Bash, man
The sights, the sounds, the smells... they're one of a kind.

50. Learn how to play euchre
And know the tingle down your spine when you look at your hand and think, "Wait, I could go alone."
Sign up here for our daily Detroit email and be the first to get all the food/drink/fun Motor City has to offer.