Detroit Event of the Week
Cue the Bob Seger, because Whiskey Business is back, and they've got 100+ whiskeys waiting to be tasted and enjoyed this Friday at the Royal Oak Farmers Market. That includes Irish whiskey, Canadian whiskey, Kentucky bourbon, and, as an added bonus, a cigar lounge to complement all that whiskey drinking. Get your tickets here
Recommended Video
Can the NYC Steakhouse Survive?
All Weekend: In January, COBO belongs to cars. In February, it's home to boats. Check out the 56th Annual Detroit Boat Show this weekend and dream of a new Jet Ski and warmer times. Also, you can pet some stingrays. Continue Reading
All Weekend: When you're finished dreaming of warmer times at COBO, head just a few blocks over to Fountain Bistro, where you can practice your Springtime drinking on their newly opened patio. Don't worry -- they've got it weather proofed and heated so you can get your happy hour on without freezing.



Friday, February 21st: Friday at the Masonic Temple is the place to be for the 2014 Motor City Comedy Festival. Comedians include Bruce Bruce from BET's ComicView, "Queen of Comedy" Sommore, and, well, more.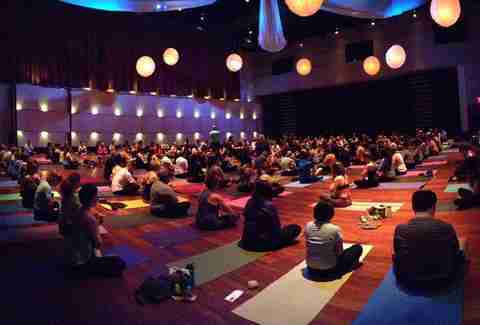 Saturday, February 22nd: On most weekends, Ford Field is home to a spectacle involving a large group of men in tight pants flailing all over the field with relatively no idea of what they're doing. Saturday's Yoga Rocks Ford Field won't be any different, except there will be women, children, and ok, probably some guys, too, who actually DO know what they're doing, as they participate in what could be a record-setting indoor yoga session at Ford Field. See details here