Detroit Event of the Week
Spring's been a long time comin' this year, and even if it refuses to return in the next few weeks, we'll at least have Oberon to get us through, 'cause Monday marks Oberon Day 2014. Midnight tappings (Sunday night) will be going on throughout the state. Ashley's in Ann Arbor will be hosting a release party, as will Uptown Grille in Commerce, and Crunchy's in East Lansing. Keep an eye out wherever Bell's Beer is sold to find it in Detroit.
All Weekend: Thursday kicks off the inaugural Freep Film Festival, where they'll be showing Detroit- and Michigan-themed documentaries like Detroit Art City, about the history of the DIA, and Packard: The Last Shift, about the iconic Packard Plant. Showings will be at the Fillmore and the Detroit Film Theatre at the DIA.

Continue Reading
Thursday, March 20th: Head to the Royal Oak Farmers Market for the Smokin' Jazz festival featuring local jazz musicians, barbecue from all over Metro Detroit (including Famous Dave's), a heap of soul food, and a whole lotta Michigan beer.
Thursday, March 20th: Though Oberon Day may be Monday, Green Dot's going to be celebrating another Bell's Brew with their Hopslam Firkin Party. You can even be the one to tap the Firkin if you can convince them why it should be you.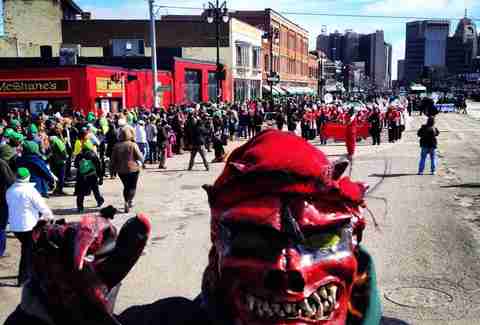 Sunday, March 23rd: If you didn't get enough parade last Sunday, have another dose with the Marche du Nain Rouge to celebrate our liberation from the Nain Rouge -- the fiendish red dwarf that embodies all that holds us back… duh.