The Things You Miss When You Leave Michigan
For a lot of folks (also known as Michiganders), there's no better place in the world than Michigan. Great Lakes, great people, great food -- you might even say it fits like a glove. Get it?!
But shifting gears into more serious matters, sometimes people have to leave Michigan... be it for school, for work, or because they're on the run from the law. Whenever (and why-ever) you leave, these are the things you're guaranteed to miss (especially if you left Detroit), compiled from people who have had to do exactly that.
Food
"Easy access to
Coney Island
. There isn't a single one here. People looked at me dumbfounded when I first moved here and asked about them."
-- James H., Ohio
"I miss local potato chips -- Ray's, Better Made, Downey's, Garden Fresh (and their salsa)."
-- Amy R., California
"Custard paczki on Paczki Day and people who know what Paczki Day is."
-- Nicole R., Nevada
"There is no shawarma here in Minnesota, and the fact that Detroit has attracted so many different immigrant populations over the years has given it more variety than we realized... I miss the fact that you could get a gyro and lemon rice soup at ANY diner in the metro region."
-- Hannah P., Minnesota
"The only food I miss -- and the only one I make a point to get back to when I'm back in Detroit, is the shawarma from Bucharest Grill. Montreal has some of the best food on the planet and lots of shawarma, but nothing like what Bucharest Grill does."
-- Baron C., Montreal
"Fresh and cheap perch/whitefish/etc. (and its varieties like chowder and dip spread)."
-- Haley B., New York
"Coneys -- not just the food but the restaurants... and good diners in general. OH AND SAGANAKI. I would kill for that flaming cheese here in DC."
-- Lauren M., Washington DC
Transportation
"I miss actually being able to drive faster than a snail's pace on the freeway."
-- Amy R., California
"God, I miss driving in the snow."
-- Jonathan S., California
"It sounds counterintuitive, because it's part of the appeal of living in other cities, but I sometimes actually miss having to. drive. EVERYWHERE."
-- Joey G., Washington DC
"Two- and three-dollar car washes!"
-- Richard Y., Illinois
"For some reason I also miss smokey/misty manholes. Always made me feel like I was Batman driving down Woodward. Weird how they do that no matter the weather..."
-- Emily R., Nevada
Drink
"Pop!
Vernors
in particular."
-- Pierce N., Maryland
"Michigan beer -- Bell's and Founders specifically. Also, helping to build a greater Detroit. Living there and making it a better place."
-- Patrick K., California
"Short's Brewery. There is no Short's in NYC. *Tears*"
-- Chiara S., New York
"Cider, mead, Holiday Market's beer selection, and pretty much the melting pot that is Detroit."
-- Todd P., Virginia
"Being able to drink the tap water without filtering it."
-- Allison H., California
"I'd say Michigan beer, now that I'm over 21 it seems that every beer that I truly love comes from Michigan, and it's a chore to find away from the mitten."
-- Tommy M., Ohio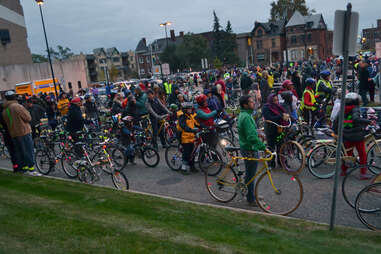 Community
"Detroit's "little big city" feel is what I missed the most while I was away. It's big enough to find everything one would expect of a major US city, but small enough to feel like a community."
-- Kevin D., Maryland
"I miss how Detroit celebrates Halloween for an entire month."
-- Megan F., Mexico
"I miss the normal people. No really. I moved from one of the most inclusive communities in America to New York City, the Self-Center of the Universe... I miss simple conversations with strangers. I miss eye contact. I miss the way people would stop what they are doing to help you."
-- Nathan S., New York
"I also miss people actually being excited about things and events. There is so much in LA and no one gets excited about anything."
-- Amy R., California
"Detroit has the best collection of weirdos. And we all hang out. I miss that culture. Within a social scene, Detroit formed a band of sisters and brothers that nowhere else can battle. Yeah, I'm sure they still all hiss at hipsters, and pretend they aren't one themselves. But truth is, we are all gritty artistic weirdos who are braver than most."
-- Nikole M., Alaska
Sports
"Hockey. Sweet Jesus do I miss hockey."
-- Megan B., Indiana
"I miss the Tigers and their fans. I don't miss Jim Price, but I do miss biking past Comerica Park and hearing a three-staged cheer for a triple (roar, Roar, ROAR!) -- on a Wednesday."
-- Hannah P., Minnesota
"Loyal sports fans."
-- Austin J., North Carolina

"One big thing I really miss? Not having to search out illicit and unreliable internet feeds to watch Red Wings games! Hockey culture as a whole is few and far between out here in Jersey."
-- Kevin W., New Jersey
"The big four Detroit sports teams are truly one of my biggest ties back to home."
-- Tommy M., Ohio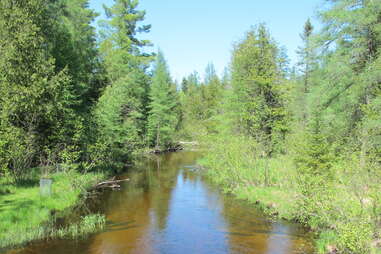 The Great Outdoors
"The 'lake' culture. Nearly everyone has some kind of access to a family or friend's cabin/cottage/lake house/excellent state park."
-- Anna J., New Jersey
"Midwest thunderstorms."
-- Elizabeth W., Massachusetts
"Water, snow, fishing, fall, the smell of leaves burning up North, camping, hunting, family, friends, rain, ice."
-- Ryan C., Arizona
"Four seasons (however short they may be)"
-- Rich C., North Carolina
"Lakes both great and small, road shoulders, Bell's beer, tornado watches."
-- Garnet B., West Virginia
Sign up here for our daily Detroit email and be the first to get all the food/drink/fun Motor City has to offer.