1. Visual artists
Brooklyn's cool and all, but between the cheap studio space and the already existing collection of talented, open-minded creatives participating in projects like Red Bull House of Art and Heidelberg, you'll find plenty of artists who are new to the city, loving it, and, in some cases, are making it look better.
2. Culinary artists
There's a reason chefs like Craig Lieckfelt of Guns and Butter return to Detroit after cooking in the culinary capital of New York. In Detroit, it's not hard to find fresh ingredients, fresh produce, and hungry customers who are great with X-Pro II on Instagram.

3. Ambitious hipsters
That sound you just heard was the opening of another coffee shop and/or vegan bakery.
4. Less-than ambitious hipsters
You will likely find them working at the aforementioned coffee shops and/or bakeries... you know, while they work on their novel. Eventually. See Underachieving Detroit Hipster Guy.
5. Market-savvy real estate investors
With cheap housing in an affordable city, motivated HGTV-viewers around the country are buying, staying, and encouraging more people to do the same -- and don't worry, there's plenty of real estate to choose from. Plenty. You can even buy in bulk!

6. Entrepreneurs. Young, old, black, white, whatever...
*Cue low-budget, late night infomercial graphics* Want to start a small business? Have a great idea for a startup? Want to help grow an industry that has absolutely nothing to do with cars? In Detroit, you can! Call 313-BIZ-IDEA. (Not an actual number, and actually, you should just move here instead, like these people).
7. Techies
Detroit will always have a soft spot for innovators and inventors. Thankfully, as Detroit's community of coders, programmers, and start-up generators (formerly known as nerds) grows, places like TechTown are there to help.

8. Familiar college grads
Maybe they're Detroit suburbanites who studied urban planning or PoliSci at U of M or MSU or Wayne State. Maybe they're native New Yorkers or Angelenos who like the smaller, big city vibe. Regardless, they stuck around, and you'll find them everywhere.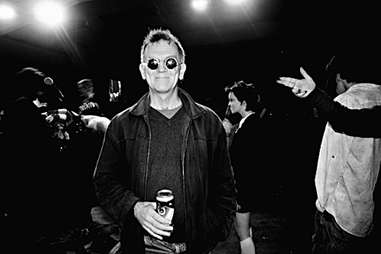 9. Radical retirees
You don't have to be "down", "hip", or "where it's at" to keep up with all the young folks moving to Detroit. Empty-nesters from near and far are investing their time and energy in the city as homeowners, volunteers, business owners, and more.

10. People who just want to be a part of something, man
It's true, Detroit is a city rife with opportunity. Many newcomers are setting down roots and learning what Detroit has to offer them, and what they can offer the city. At any rate, it's an exciting time to be a Detroiter, and an exciting time to become one.
Sign up here for our daily Detroit email and be the first to get all the food/drink/fun Motor City has to offer.