The Rock n' Roll history of NYC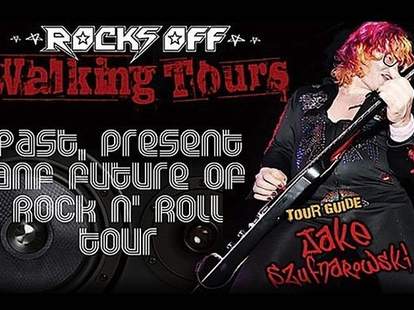 It's no secret that New York's gritty underbelly is disappearing, with gentrification cleaning up its streets, and the trans-fat ban totally ripping its abs. Taking you back to a time when NYC had the stones to rock: Rocks Off Walking Tours. Launched by a veteran promoter who 1) booked CBGB's last 100 shows, and 1a) has a tattoo of himself as half-man/half-motorcycle covering most of his back, ROWT offers the eager an LES-pavement-pounding education in everything that once made (and sometimes still makes) this city terrifyingly great, both through deep historical learnings and oft-insane personal anecdotes, some involving blood, Lucha Libre masks, and candy.
The launch offerings: THE PAST, PRESENT and FUTURE of ROCK 'N ROLL, during which the founder expounds on everything from why Iggy Pop's responsible for The Continental's front windows, to why when a punk rocker says he wants an "egg cream" from the corner of St. Marks & 2nd, he actually means "H needle" -- and if not, it's only because he's in Simple Plan, and he's Addicted to you.
THE HISTORY OF ART, CRIME, DRUGS and PUNK ROCK, led by John Joseph: frontman for local legends Cro-Mags, he started living in Tompkins Square as 14-year-old runaway, and since the '70s has sold fake drugs to dangerous people, lived next to a murderer who served his girlfriend to homeless people, and lain flat in the dark while Miami dealers shot up his apocalyptically communal apartment complex (which actually sounds fair considering the rent was only $50). To take the experience back to your own squat, you can grab Joseph's Evolution of a Cro-Magnon, deemed by some sources to be the 2nd-raunchiest rock memoir ever, right behind The Dirt -- because if there's one underbelly that's in no danger of disappearing, it's Vince Neil's.