Your Hamptons 4th of July fireworks viewing guide
America's birthday is upon us, and she deserves better entertainment than a creepy clown with a checkered past. She deserves really pretty explosions! Come celebrate July 4th (which is even an option on days that aren't July 4th) with a few of your favorite things: burgers, beer, and a whole lotta rockets' red glare. And other colors, too.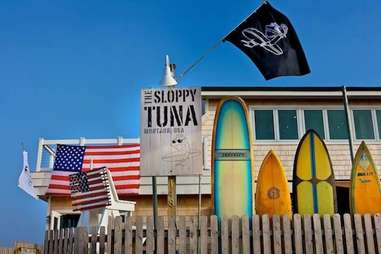 Montauk: July 4th, 9:30pm
Umbrella Beach
If you'll be celebrating July 4th by getting sloppy all day at our favorite Montauk dive bar, The Sloppy Tuna, or chowing down lobster rolls and cheers-ing Miami Vices with the golden-toothed pirate himself at Cyril's Fish House, then make sure to stick around for the Stars Over Montauk Fireworks display.The fireworks, which will be launched from Umbrella Beach at 9:30pm, can be viewed from any beach in town. Figure out parking early in the day and you'll be set for the night.
Southampton: July 3rd & 6th, 10pm
North Sea Fireman's Field
Although July 4th technically takes up only one day of the year, the party lasts all weekend. The town of Southampton, specifically, the North Sea Fire Department, understands this perfectly and has planned a Thursday and Sunday double threat. There are also rides and carny games to set up your inevitable failure to impress some young lady via winning a plus-sized stuffed animal.
Westhampton: July 4th, 9pm
The Westhampton Country Club (address and info)
Amagansett: July 5th, 9:15pm
Devon Yacht Club (address and info)
So, both the Westhampton Country Club and the Amagansett Devon Yacht Club put on firework displays that are members-only (so you know they'll be good). More importantly for you, they're both visible from respective nearby public spots. Remember, non-members are American citizens too!
For the Amagansett show, pack up some beers, bottles of rosé, and blankets and head to Fresh Pond Beach. The Westhampton display is visible from various locations in the village itself. Book a reservation at a Westhampton restaurant such as the Saltwater Grill for an early dinner on Saturday night and get out in time to spot the fireworks from the village.
Sag Harbor: July 5th, 9:30pm
Sag Harbor Yacht Club (address and info)
The Sag Harbor Yacht Club sponsors a fireworks display that can be viewed from your magnificent 100ft yacht on the docks of the Sag Harbor Bay. Oh, you don't own a yacht? Weird... well, don't worry you're still covered. While the show can be seen from Havens Beach, Marine Park, Long Wharf, or from the harbor, we recommend booking a reservation at Harlow East, the new restaurant from the mastermind behind New York's Nobu, Richie Notar. Situated on the water in Sag Harbor, Harlow East will also amp up your holiday with branzino served with wasabi gremolata, crispy hearts of palm, and other stuff you couldn't make on your crappy charcoal grill. But wherever you end up, plant your flag early as parking can be nightmarish.
Shelter Island: July 4th & 5th, 10pm and ALSO July 12th, at dusk
Shelter Island: a hop, skip, jitney ticket, car ride, ferry journey, and short walking distance away. However you choose to arrive, you'll want to do it in style and spend the day at Sunset Beach, Andre Balazs' famed boutique hotel and restaurant. Always unique in a Euro-chic kind of way, Sunset Beach's firework display takes place on July 12th at dusk. However, on July 4th and 5th at 10pm, The Greenport Fire Department fireworks display is visible from Sunset Beach's restaurant. There's nothing un-American about some steak frites on the 4th of July.