Prepare to split your stomach at this all-you-can-eat grilling tournament hosted by Geoffrey Zakarian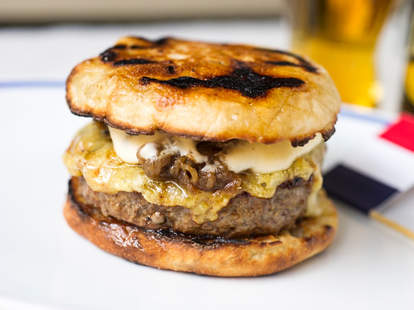 What happens when you take eight of the best executive chefs from New York City and pit them against their equally badass Hamptons counterparts in the grilling battle royale to end all grilling competitions? Who cares -- you'll be too busy shoveling some perfectly charred meats and cold beer down your piehole to even realize a competition is going on. After the sold-out success of Dan's Taste of Two Forks, they've decided to add a Friday night event that screams Summer: GrillHampton, for which Blue Moon's providing the beer, Pat LaFrieda's providing the meat, and you'll be providing the stomach for 16 delectable dishes.
Food Network staple and chef/partner of The Lambs Club and The National, Geoffrey Zakarian will be your host. As an Iron Chef, he's no stranger to culinary combat, which will be waged between Hamptons joints like Delmonico's, Old Stove Pub, and Peter Ambrose's Wainscott Seafood, and city mice including Red Rooster, the little owl, Stanton Social, and Hill Country.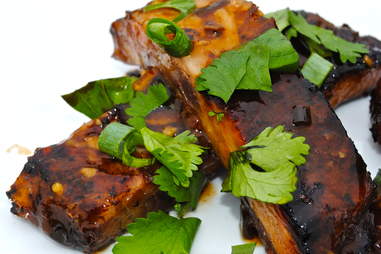 You'll get to sample as many items as you want as many times as you want, as long as supplies last. Just remember: it's a marathon, not a sprint. Neither of which you will actually be able to run in after you're completely pumped full of delicious meats and beer.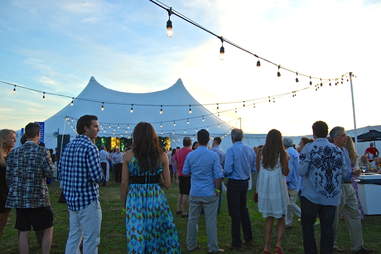 Meanwhile, a panel of celebrity judges will be doing the same. At the end of the night, one chef will be crowned GrillHampton's Master Chef, and a crowd favorite will be given the honor of Grill Bite Crowd Pleaser. Regardless of who wins, your stomach is the real victor here.
While many of the dishes are being kept under wraps, Billy Oliva from Delmonico's of Southampton has revealed his: a classic Delmonico's steak (pictured here) that's deconstructed before adding oysters, charred corn, wild mushrooms, and garden basil. And that photo back up top is Le Rivage's French Onion Soup Burger with Emmental, Béchamel & stewed onions.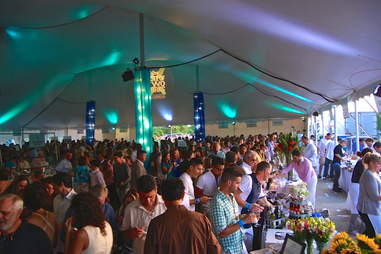 There'll be plenty of Blue Moon on tap including the Belgian-style Blue Moon Vintage, plus drinks from Tito's Vodka and Miami Cocktail Co.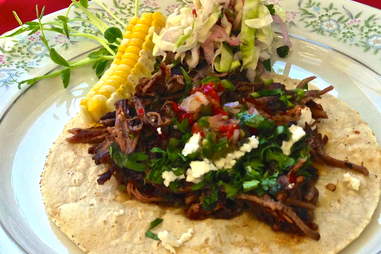 With chefs whipping up charcoal creations using fish, poultry, beef (like Estia's Little Kitchen's shredded beef tacos here), and pork, there'll be something to satisfy everyone. Except for vegans, they might want to stay home and watch Whale Wars or something.