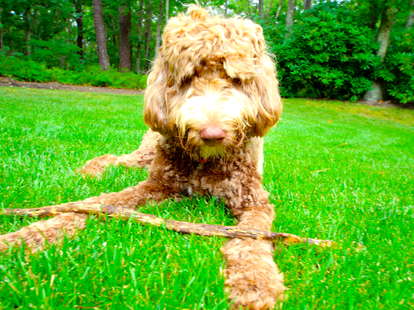 We're officially in the dog days of Summer, and nobody relates to that more than actual dogs. While some pups spend all Summer cooped up in a tiny, sweltering apartment back in the city, these canines prefer to trade city blocks for sandy beaches. We walked around the Hamptons to meet some four-legged friends, and were surprised to find that they're not so different from you or me! Except that they're dogs.Who's your favorite pooch? Let your voice be heard in the comments!
Lucy (Yellow Labrador) isn't giving in to pressure from friends and family to settle down. "I'm young and I like being single and having fun. Is there anything wrong with that?" Not in our book, sister!
This little flirt is Callie (Tibetan Terrier). She's been Summering out in Water Mill for years. When not prancing through East Hampton (her favorite place to shop), she can be found cowering under tables during thunderstorms.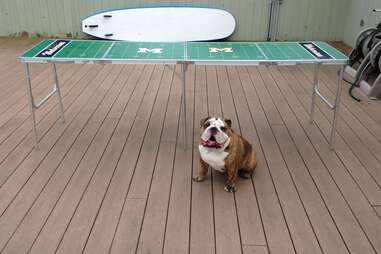 Pancho (Bulldog) isn't letting his age dictate his behavior. He may technically be an adult, but when the weekend comes, "It's Pancho time..." he says with a smirk as he throws on a pair of Oakleys and whips out a beer funnel. He loves the fine dining the Hamptons has to offer, but he's truly in the zone when he's fratting out poolside listening to gangster rap and Waylon Jennings' "Rainy Day Woman".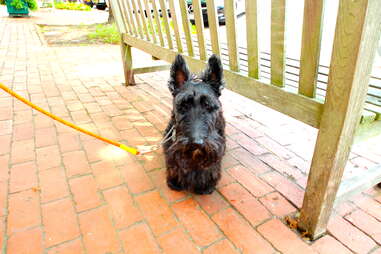 This proper pup is Tucker (Scottish Terrier). He loves to roam the streets of Southampton, but when asked about what draws him to the Hamptons, it was more about the culture than the clubbing. "I'd rather buy a book than a bottle. If that makes me weird, then I guess I'm weird."
Blue (Irish Water Spaniel) feels like he's finally home when he gets to chill on the beach. We couldn't help but ask if he hears any celebrity comparisons -- "Yeah, yeah, Rick James, I know. I get it from everyone."
Luna (Havanese) isn't a fan of how difficult it is to find parking in Sag Harbor on a weekend night, but she thinks it's worth it for the amazing restaurants.
As the dog of Southampton Mayor Mark Epley, Sami (half Border Collie, half Springer Spaniel) knows what it's like to be in the public eye. "You're always on. It can be exhausting at times. People come here for vacation, but for me, the Summer is when I work." So how does Sami relax? "You're looking at it," she giggles, as she marks yet another tree as her tree.
Rudy (Long-Haired Mini Dachshund) thinks the Hamptons attract a specific type of dog. "It's just a certain level of class you don't get in the city. I've seen city dogs eat gum right off the street. It's disgusting."
Buddy (Yorkie) explains his Hamptons motto with a coy smile: "Soul Cycle, Hampton Coffee, SL East, Repeat."
Jackson (Mutt) acknowledges that the restaurant prices out East can be a little outrageous, but insists that's why he busts his tail all year long. "I deserve it."
Bella (Jack Russell Terrier) explains it's her first Summer in the Hamptons, and she never wants to leave. "Just walking around, you feel like you're part of something special, ya know?" She went on to tell a funny story about how her and some friends were able to get a last minute table at The Palm in East Hampton when she was mistaken for Uggie from The Artist.
Jackson the Wonder Dog (German Shorthaired Pointer) loves two things about the Hamptons: "the beaches and the bitches". Your ideal day? "Both at the same time." You dog!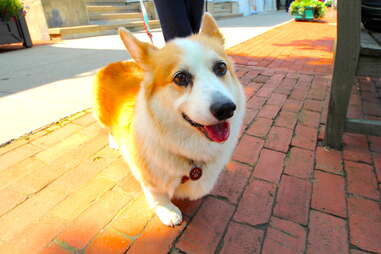 Humphrey (Corgi) loves his Hamptons days of fun in the sun, but the nights are another story. "Every Summer, I ask myself how many times I'm gonna wait on line for over an hour at these clubs before I realize I should stop going. Whatever, that was never really my scene anyway. I'm just as happy to stay home and bark at the TV whenever there's a dog on screen."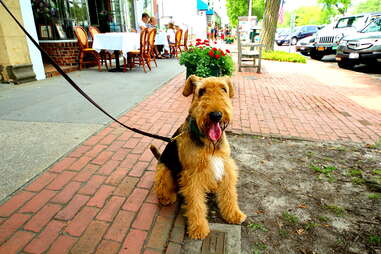 This Airedale, who disappeared before we caught his name, is known for throwing extravagant doghouse parties in an attempt to try and win the love of the one that got away.
Max and Morty (both miniature Schnauzers) may not be related by blood, but don't you dare tell them they're not brothers. These best friends, while a year apart, do everything together. As the older brother, Max (white) is very protective of Mort, although you wouldn't know that by the way he beats up on him. "He's my brother, only I can get away with that," he says with a chuckle.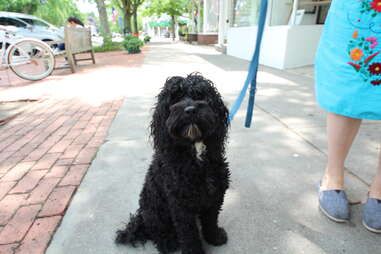 Young newcomer Albus (Cockapoo), put all other dogs on notice when he entered the social scene. "The DogHamptons community is like high school, and honestly, I just don't have time to get stressed about petty jealousy. People love me or hate me, but there's no inbetween."
Hello there, Sierra (English Cream Golden Retriever)! She admits that, in her younger days, she used to be a show dog. "What can I say, I needed the money. And, truth be told, it was great for my self-esteem. Do I regret it? Absolutely not. It's made me the dog I am today."
This shy little devil is Nina (Shichon). She's a local who thinks the proliferation of share-houses for twentysomethings is taking away some of the charm of the Hamptons, but concedes that it's great for the local economy.
Hank (French Bulldog) loves the European feel of the Hamptons, explaining that it takes him back to his French roots. "I grab a croissant at Golden Pear, let it all hang out with some nude sunbathing at Cooper's Beach, sip some vino from one of the local vineyards around sunset, and finish off my day with some filet de boeuf angus au poivre at Pierre's in Bridgehampton. C'est magnifique!"
Blueberry (Australian Shepherd) would live in Southampton all year long, but admits the scene can get "a bit cliquey" and, come September, it's kinda nice to have a return to normalcy.
Charlie (Shih Tzu) loves having his Hamptons house because of its ability to bring the family together. "We all have busy lives, I get that it'll never be like when the kids were younger, but at least I know that, come Summer, everyone will be here on the weekends."
Schutze (Dachshund) keeps a packed social calendar. He wasn't shy to admit that he's a fixture of Hamptons nightlife, and is someone all dogs have on speed dial. "If they have trouble getting into a club, they call me. Is it annoying? Yeah. But I like being that go-to dog."
Ginger (Labradoodle) knows she's hot, and isn't afraid to admit it. Biscuits, stuffed animals, pigs ears, you name it and she's been offered it by some of the Hamptons' most eligible pups.
Best buds Walter (Bulldog), Dudley (Goldendoodle), and Ashby (Terrier Mix) would spend all weekend playing golf if their wives would let them. "And if Walter would quit taking dumps in the sand traps," adds Ashby with some playful ribbing.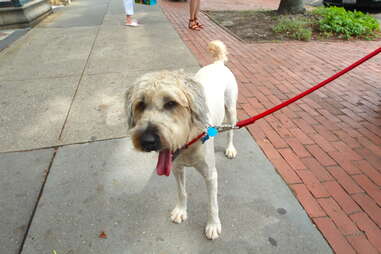 Darwin (Wheaten Terrier) explains that his name couldn't be more apropos for the Hamptons, claiming that it's survival of the fittest out here. "It's really dog-eat-dog. Seriously. I once saw a Pitbull actually try to eat a Boston Terrier after an argument in line at Talkhouse. It will forever haunt me."
Freddy (Havanese) is all about having fun. Craziest Hamptons night? "One time, after coming home from a long day at Ruschmeyer's, I ate an entire high heel I found discarded near the front door. The next day I was like what did I do last night?!"
This camera-shy Shiba Inu ran away before we caught her name. We saw someone pose for a picture with her down the street though. Is she a reality star or something? If you know, please speak up in the comments.