Meet the dogs of the Hamptons
What does your dog do in his spare time? (Cue British narrator voice) Well, that's nothing compared to the lavish lifestyle these Hamptons pups are leading.
Back by popular demand, "Dogs of the Hamptons" brings you the biggest, smallest, and fluffiest inhabitants in New York's luxe Summer destination. Hamptons pups have life figured out: long walks on the beach, relaxing days by the pool, and endless bunnies to stare at/fail to catch. Time to meet them!
Elizabeth Melnitzky
Bailey
The age-old question: do blondes have more fun? Well Bailey is here to tell you that yes, yes they do. To make things even worse for the more homely looking dogs on the block -- Bailey is a natural blonde who enjoys long runs on Sagg Main Beach and stealing scraps from Round Swamp market.
Elizabeth Melnitzky
Skyy
Spending the night in the doghouse? Not this lucky canine. Skyy loves having her own Hamptons residence in Sag Harbor, away from her parents, but complains, "The property taxes are difficult for a puppy to keep up with, even with my money from modeling."
Elizabeth Melnitzky
Lola
Lola ain't a showgirl, but she certainly is a Hamptons girl, through and through. She might be small, but Lola has bite in her -- just ask her neighbors who used to play their music too loud and not mow their lawn.
Elizabeth Melnitzky
Shlomo
After moving from East Hampton to get away from what he called all the "commercial nonsense", Shlomo has found a new home in the expansive farmlands of Bridgehampton, where he is king of his Bridgehampton castle. Shlomo enjoys the finer things in life: a big plate of his pasta at his regular Saturday night table at Nick & Toni's, enjoying the New York Post on a Sunday morning by the pool, and making sure his hair is perfectly styled each and every day -- Shlomo has never met a mirror he doesn't like.
Elizabeth Melnitzky
Jazzy
This hot dog, Jazzy, ironically is a mean and lean grill-master. Jazzy is a proud property owner in Wainscott, which he says is "truly the last untouched area of the Hamptons, away from all the noise and tourists". Jazzy enjoys the low-key life. He comes out to the Hamptons to fire up the grill and relax, cooks "fresh fish, steak, and burgers, and of course, hot dogs". He's a jokester.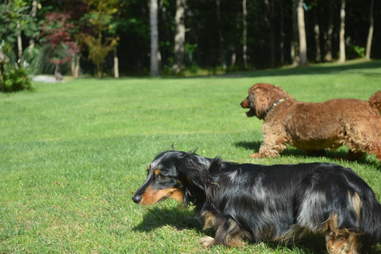 Elizabeth Melnitzky
Lily
Lily and Jazzy have been happily married for going on 72 dog years. "Maybe he's getting old?" she chimes in, "He's constantly forgetting which tree is his favorite to pee on." However, she does attest to his cooking, "We love staying in and watching all those HGTV cooking shows and getting new ideas, it's a shame not many of them focus on hot dogs, such an underrated protein."
Elizabeth Melnitzky
Lily
Such a popular Hamptons dog name! Aging with grace, Lily scowls at all the plastic surgery she sees around the Hamptons. She has decided to retire to the Hamptons in her old age, and swears that the fresh air, beautiful flowers, and crystal water at the beaches keep her looking younger than half the "bimbo" dogs prancing around town.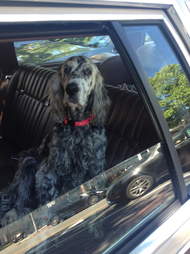 Elizabeth Melnitzky
Lady
This lady knows how to get what she wants, when she wants it. Accustomed to being driven around the Hamptons in style, Lady loves the beautiful properties and luxurious shopping in the Hamptons, but insists the service fails in comparison to New York. "These townies can't get anything right, I mean, how hard is it to make a double French roast hazelnut and sugar-free vanilla Americano latte with soy milk and low-fat whipped cream and caramel drizzle on top?"
Elizabeth Melnitzky
Frank
Frank has been a resident of the Hamptons for more than 50 dog years; he has seen it all and to be perfectly frank, he's kind of over it. "I remember when the Hamptons used to be a place of rest and relaxation, now you have all these nightclubs and Europeans. There are Europeans everywhere, it's as if French Bulldogs run the show out here!"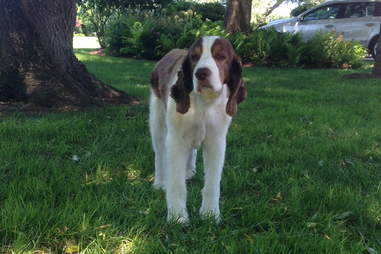 Elizabeth Melnitzky
Nick
Nick likes to be a recluse when he's out in the Hamptons. I mean, if you had a beachfront property in Sagaponack, would you ever want to leave? He prefers to entertain at home, with what Nick describes as "classy lunches and cocktail hours". However, we hear that Nick actually prefers these parties to be more "Who Let the Dogs Out?" than A Dog Day Afternoon.