Your Hamptons Labor Day bucket list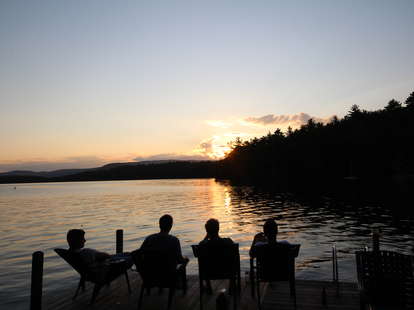 It's that time of year again: time to put away your boat shoes, break out your Seasonal Affective Disorder medication, and start the search for a girlfriend to watch movies in bed with during the upcoming cold Winter months. But, before that, there is Labor Day weekend. Woo. It's the adult version of prom -- our last shot to accomplish all the things we didn't get to during high school the Summer. To make sure you head back to the city with no regrets, here's your bucket list for conquering the Hamptons over the long weekend.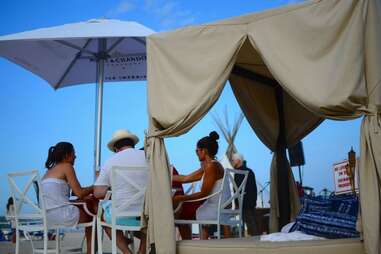 Drink from a bottle of champagne in bed
The worst part about the Winter months is that if you booze in bed, you're "troubled", but if you do it during the Summer, surrounded by other people drinking in beds, it's considered European! Bring out your inner Jean-Luc by hitting up Gurney's Inn's new Beach Club, which brings the best of European beach club flare to the East End of Long Island.

Take your (or a) dog to the beach
As we learned earlier this Summer, our dogs enjoy the Hamptons high-life just as much as we do. Don't deprive them of the joy that comes from feeling the sand in between their paws before they head back to the glass-strewn city streets. They deserve a trip to the beach just as much as you do. Use this handy list to find a pooch-friendly beach near you.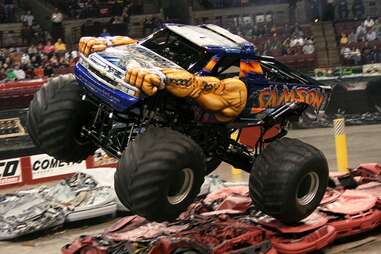 See some monster trucks crush cars
There are monster trucks in the Hamptons. Do we actually need to sell you on this?

Hit up a concert at Stephen Talkhouse
If you've been going out to the Hamptons all Summer and haven't been to a Stephen Talkhouse concert at least once, you're like the guy who went to Paris and didn't check out the Eiffel Tower because it was "played out". Talkhouse is bringing the heat this weekend with '80s cover bands Rubix Kube and Jessie's Girl, and ultimate pop 2k cover band Party Rock.

Attend a Powwow
Did you know that there are powwows going on in the Hamptons that are even more authentic than when you and your friends pass around a peace pipe in your backyard? Labor Day weekend marks the 67th Annual Shinnecock Indian Powwow -- we're talking music and dance performances, sunset fire lighting, smoke dances, and food vendors!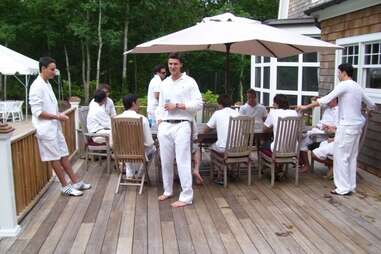 Wear the hell out of your Summer whites
If you wear white after Labor Day, it's considered a despicable offense of Quran-burning proportions. Don't let those white jeans you bought back in May join your fedora among the ranks of "purchases you never even had the balls to attempt pull off". It's now or never!

Get brunch at Estia's Little Kitchen
Yes, the line is long and the place is barely big enough to fit one bedroom worth of people from your share house, but the food is worth it. Covertly snag a friend or two without alerting the rest of your house.

Actually enjoy yourself at a Montauk bar instead of waiting on line for one
Montauk has become the spot for Hamptonians looking for a fun night (or day) out. But so many people agree with this sentiment that some of the go-to hotspots have become an unbearable mad scene. Enter Moby Dick's, which we told you about LAST YEAR. Combine great food, a good looking/fun crowd, no lines, a three to one girl to guy ratio, strong drinks, sweet surf decor, awesome music, and... you stopped reading after the girl ratio thing, didn't you?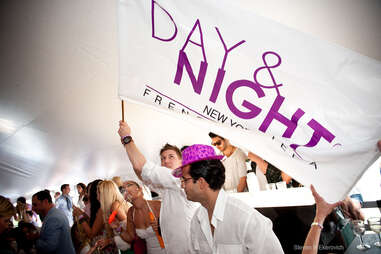 Attend a Day & Night Party
To give you an idea of what goes down at a Day & Night party, check out this video -- it's like a well-produced movie trailer of what people who have never been to the Hamptons think goes on here. A ridiculously over-the-top day party complete with bottle-popping Europeans is something that every Hamptonian needs to experience at least once.

Go fishing in Montauk
Go back to Montauk's roots and take advantage of all this seaside fishing community has to offer by heading out on a fishing excursion with your friends. Check out this list to start you off.

Partake in some ferocious late-night eating
We're proud that you were able to spend all Summer staying away from late-night food binges, but, on Labor Day weekend, you owe it to yourself to let the college you out of its cage. You have all Fall for "spin classes" and "not dipping burritos in mayonnaise". May we suggest our favorite late-night food spot, Lucky J's?
Hit up a club that's more than a club
Some clubs are... clubs. And others put on a show. For the latter, this Friday, Sienna Restaurant & Ultralounge is hosting the world-renowned cabaret show The Box, which is sure to mystify and potentially confuse. But whatever, food, drinks, and dancing!

Eat a lobster roll
You know it's Summertime because of the endless stream of lobster roll pictures on Instagram, AND because you're aware of how months work. If you haven't added to the lobster food porn, this is your last chance! We gave you some guidance earlier in the Summer, but, if Montauk's too far of a drive for you, check out The Dock House in Sag Harbor.
Have a clam bake on the beach
For those who have ever tried a clam bake on the beach in any season other than Summer, you know why there's a time crunch on this one. If you're overwhelmed by the idea of setting it up, hit up Captain Karl and he'll take care of all the dirty work for you.

Ask your Summer crush out on a real date
You've been flirtily applying sun tan lotion to each other's backs all Summer, and, despite your bacne, she doesn't seem completely disgusted by you. It's time to ask her out on a legitimate date back in the city before you become nothing more than a distant Summer memory like so many Summer camp social grind partners. It's now or never!