Plan B: How to salvage your Hamptons night out if you don't get into a club
You're all dolled up for a big Saturday night out in the Hamptons, and after spending roughly seven thousand dollars on a cab, you arrive to find a line extending half the distance of NY-27. And even these (almost) foolproof tips for how to get in can't work every time. Here are some ways to salvage your Hamptons night out and be hailed as a savior by all your friends who refuse to have good ideas.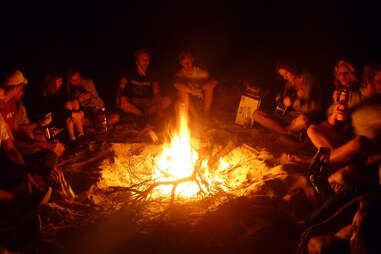 Beach Bonfire: The best part about the beach is that there aren't any pesky guys with a list out front telling you whether or not you're allowed in, except for Crazy Earl who wanders Flying Point Beach with a beaten-up old clipboard muttering something about Studio 54. Hit the beach with your group and spark up a bonfire. Prepare for a night of secret telling, potential skinny dipping, and monitoring the person in your group who's had too many Red Dogs and is currently stumbling dangerously close to the fire.

High-Class Ping-Pong: Ping-pong nightclub (it's a thing!) Spin opened up a pop-up at the Maidstone in East Hampton for the summer. The place has a full bar. And ping-pong! Nothing like working out the ill will you have towards the bouncer who turned you away like smacking around some balls.
Riverhead Raceway: Sometimes you're so fed up with the pretentiousness of Hamptons nightlife, you need something that is as far from that as possible. Look no further than Riverhead Raceway. Monster truck rallies, demolition derby, stock car racing -- every Saturday night, Riverhead Raceway has something to satiate the inner Southerner in all of us.

Massage On Demand: Our old friends at Massage on Demand are always at your service. Within 10mins of your massage outside the club, you'll be saying, "What club?" And your friends will be saying, "I'm worried about Jeff, he can't even remember places we're currently getting massaged in front of..."

Impersonate A Valet In Order To Talk To Girls: The only real reason to go to a club in the first place is to talk to girls. Impersonating a valet lets you get to them before any other brute at the club has even had the chance! It's a good move to always keep a suitcase full of assorted valet attendant uniforms in your car, so that you can adapt to a variety of venues.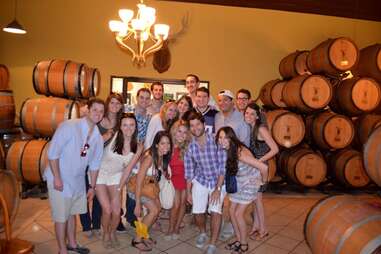 Wine Tour/Day Drinking: One way to avoid dealing with Hamptons nightlife is to never even make it to nightfall. Hit up a wine tour at Wolffer, Duck Walk, or one of the many other vineyards and take full advantage of the tasting. Or just play beer pong on your deck, you uncultured heathen. Whatever.

Childhood Pranks And Assorted Bedlam: While grinding on to Robin Thicke is pretty damn enjoyable, you haven't truly experienced fun until you've engaged in some of the old childhood pranks that provided you hours of entertainment in your younger years. Prank calls, ding-dong ditching, TPing someone's house -- let your inner child run free for a couple hours. You'll have plenty of time to reflect on how fun the night was when you're sitting in jail.
Karaoke: If you can, make the trip to Liar's Saloon in Montauk as they're one of the only shows in town when it comes to getting your karaoke fix. You can also just throw on the ol' iPod and sing into a banana if you wanna get savage with it.

Go To A Swingers Club: This website will connect you with other Hamptonites looking for some sexy, responsible fun with other like-minded couples! Without a doubt, all the people you find on this website will most likely be attractive, young people such as yourself, and not weird, gross old people who just want to bang your gf, so go nuts!