With our great weather, year-round Instagram-worthy sunsets, and beach views, Honolulu is an idyllic place to fall in love (or keep the flame alive)... unless you live here and are, like, totally used to it. Don't worry, that's why we've rounded up 21 fun Honolulu date ideas to put you back in the mood for love, and give you more to do than talk about the admittedly great weather.
While Brad and Angelina made spontaneous-angry dancing look so effortless, the beautiful Latin dance is anything but easy. Try Paradise Tango's Drop-In Tango Fundamentals class, then slow-slow-quick-quick-slow those newfangled skills wherever you deem fit: the studio's monthly Wine & Tango event, your next dinner party or beach barbecue, or maybe even waiting in line for Sunday brunch.

Whisk your date out of the house and into a cooking class at Kapiolani Community College and hone your Top Chef skills together. Let experienced chefs walk you through baking mini cakes, kneading dough, or making pasta from scratch. Classes fill up fast so book quickly, and don't let this date idea simmer for too long.
It doesn't have to be Valentine's Day to enjoy a hunk of chocolate with your, ahem, hunk, because Madre Chocolate holds weekly chocolate-making classes that let you custom design the chocolate bar of your dreams. Or, opt to sign-up in advance for one of the monthly wine/rum/whiskey and chocolate pairing events, and discover what flavors make a good match.

Curl up with your date in a cozy booth at the Station Bar and Lounge on Monday nights to listen to aspiring musicians show off their stuff. You never know -- maybe someday you'll get to humblebrag that you heard the next Jake Shimabukuro or John Mayer play live (and with no cover charge) before they hit it big.
Stroll through art exhibits, sip cocktails, listen to live music, and munch on catered food at the Honolulu Museum of Art's Art After Dark every last Friday of the month (excluding November and December). Each event features a special theme like Heroes & Kings, Modern Love, or Wig Out, so put on your best outfits and show off your sophisticated side without having to brush up with your Art 101 notes.

Couples that laugh together may not necessarily stay together, but it can't hurt, so let the hilarious men and women at Ong King Art Center tickle your funny bones with a night of unscripted sketch comedy. Or, get in on the action yourselves during Wednesday night improv classes or Sunday's open stage night, where, really, anything goes. And by "anything," we mean a mixed bag of burlesque dancers, gymnasts, pole dancers, slam poets, jugglers, singers, hula hoopers, drag performers, comics, and more. So much more. Supplement the evening with $5 all-you-can-drink kava and thank us later.
Bolstered with acrylic paints and alcoholic spirits, Paint Nite's two-hour workshops encourage you to drink/think creatively. The paint parties pop up at neighborhood bars and bistros around the city as local artists talk you through transforming your blank canvas into a work of art. Chopping off ears not necessary.

Without any major league sports teams on the islands, our local-sporting hopes and dreams fall on University of Hawaii's Rainbow Warriors. Put on your best green and black gear and take your sports fan to the Stan Sheriff Center. Bust out your best canoe-paddle dance moves during the band's rendition of the Hawaii Five-0 theme song and dance-cam your way to your date's heart. And, if all else fails, there's always garlic fries.

Sure, there's glow-in-the-dark bowling and mini-golf, but that's so date-night-circa-1997... like back when your dad dropped you off at the strip mall to hang with that guy you met in an AOL chat room. Once a month, The Modern Honolulu and Power Yoga Hawaii take getting illuminated to the next level with their Glow Flow yoga parties. Don your bright-whites and doodle your date from head-to-toe with fluorescent paint, then stretch the night away as a DJ spins under the glow of black lights.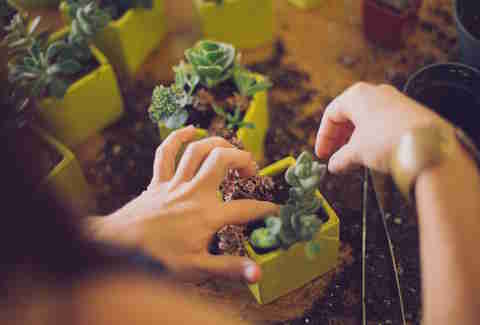 Kick your plant-killing days to the curb and learn to build a woodland terrarium, succulent garden, or kokedama bonsai at a Paiko workshop. Impress your date by getting your hands dirty and show off your artistic plant-decorating skills (BYOB optional for added creative inspiration). Bonus points if your botanical concoction is still alive by your next date.

Sure, we have real mountains you can scale at your leisure, but if the great outdoors aren't your jam, opt for a day pass inside the air-conditioned Volcanic Climbing & Fitness and get vertical. Without a belay system, you and your paramour must exercise trust to make sure the other doesn't totally eat it. Or break a leg. After an hour or so of endorphins and adrenaline pumping through your veins, give those muscles a break and heat things up in the Jacuzzi downstairs.

Where else can you sing karaoke, play video games, and drink cocktails under one roof? Well, besides your house, because it's date night! Head to Nocturna Lounge and bring out your date's competitive side. Challenge them to a few games of Street Fighter II or Mario Kart, and let the winner choose which song the loser must sing on the main stage. Or, more demure couples can take advantage of the lounge's date night special and book a private karaoke room... for singing.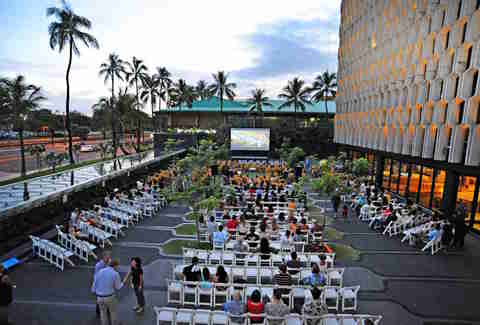 Sure it's a movie -- with meals available for purchase from local food trucks -- but it's at Ward Village's Courtyard Cinema and it's free! That's right, free. Every second Thursday, movies at the old IBM parking lot are 100% complimentary. With free popcorn and free al fresco seating, taking your date to watch artsy or independent films curated by the Hawaii International Film Festival is practically a no-brainer.

So, you haven't ridden a bicycle in 20 years? Luckily, riding a bike is like... riding a bike... after a few shaky seconds, you and your date will be cruising like your carefree 10-year-old selves. For a jaunt down memory lane, take your date to Holoholo Bicycles for a half-day rental. For added fun, pack some old Costco cardboard in your bike basket and pedal down to hilly Kakaako Waterfront Park, and spend the afternoon tandem cardboard sledding to your heart's content.

For an evening of Broadway-caliber shows, take your date to Diamond Head Theatre for great community theater. Shows at this local institution tend to sell out before opening night, so buy your tickets now and ask questions later.
No that's not what you tell your date. If the great outdoors are your jam, it's what you say when they ask what you want to do. For ancient ruin viewing, travel north from the Pali Highway and trek through bamboo forests to find the remnants of King Kamehameha III's summer palace and a 50ft waterfall. Or, for a quick fix, drive to the Nu'uanu Pali Lookout at sunrise for panoramic views of the Windward coast, and get cozy as wind tunnels can cause gusts up to 80 miles per hour.

Grab a few other couples to form a super team of trivia geeks and head to Manifest for its Stump Trivia showdown, held every Tuesday night. Battle against other teams to win a round of drinks on the house, plus the priceless admiration of quizmaster glory.

Maybe you don't believe in ghosts... but you could still put your arm around your date as Mysteries of Hawaii takes you on a paranormal tour and Lopaka Kapanui reveals legends and ghost stories about the ancient supernatural beings that haunt the island.
Take advantage of Hilton Hawaiian Village's weekly fireworks, where the views are free and the magic is what you make of it. Come early and perch along Magic Island or the Hilton Hawaiian Lagoon for a sunset picnic, then after dark watch pink, green, and gold pyrotechnics light up the night sky.

With tourists being ushered in by the busload, Kapiolani Community College's Saturday morning farmer's market can be far more overwhelming (and sweatier) than desired. For a more intimate experience, stop by on Tuesday evenings, when the air is cooler and the people are fewer. Although there are fewer vendors and food booths than its weekend counterpart, you can have dinner on a grassy knoll and listen to live music, giving you space to talk with your date without elbowing someone in the face while perusing bags of Manoa lettuce.

If you and your partner love the ocean but fear the deep seas, head to Island Watersports Hawaii and strap on a self-propelled, underwater-submarine scooter, which lets you explore tropical reefs without any scuba or diving experience. Spring for a disposable waterproof camera or a photo package, because you won't want to forget the image of you and your date riding vaguely astronaut-looking underwater vehicles while pedaling through a school of tropical fish.
Sign up here for our daily Honolulu email and be the first to get all the food/drink/fun in town.