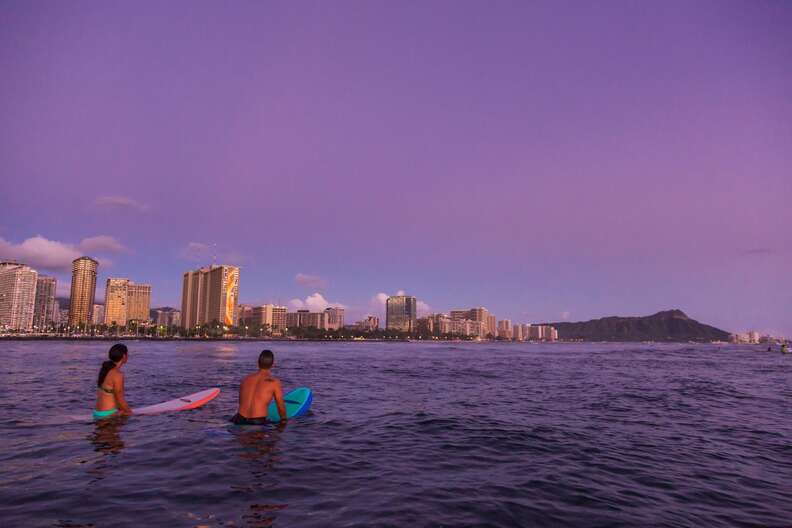 ©Hawaii Tourism Authority (HTA)/Tor Johnson
©Hawaii Tourism Authority (HTA)/Tor Johnson
Keeping the flame alive is hard work no matter what city you're in, but on a landmass that clocks in at 597 square miles, there's only so many dinner-and-a-movie combo dates you schedule do before your relationship starts to get island fever. To shake things up, we've rounded up our favorite date ideas to keep your romance burning as hot as a Honolulu winter day. Here are some of the best dates you still go on in Honolulu and Oahu.
Go ice skating, even in the warm weather
Salt Lake
Just because we're on a tropical island doesn't mean we can't partake in a classic winter pastime -- like fumbling over your feet on a sheet of ice. Take your scarves out of storage and cool down at Ice Palace, a skating rink where the temperature is a cool 58 degrees inside. Take a leisure spin around the ice for less than $12 (including the skate rentals), then cozy up with a cup of hot cocoa and enjoy the frigid wintry escape.
Watch the whales on the open ocean
Various locations
Winter in Oahu is prime time for catching sight of these magnificent aquatic mammals migrating through the Pacific waters to mate. Just book a catamaran tour or a boat cruise in February or March, and you're practically guaranteed to see the humpbacks up close and in the wild.
Road trip to the North Shore
Waimea
Check the surf report before you fill up your gas tank, but typically the winter swell brings big waves as big as 30 feet at Waimea Bay, Sunset Beach, and the infamous Banzai Pipeline, where it's a full sensory experience. You can watch experienced big wave surfers tackle the massive waves, listen to the rushing water, and feel the powerful waves hammering against the sand. After winter is over, the swell softens to a placid swimmable beach day, so get in your ocean ogling while you can.
Sip a super fresh farm-to-cup smoothie
Kahuku
If you're in Kahuku and don't want to wait in the long lines for the shrimp trucks, head across the street to Kahuku Farms where the food and smoothies are so fresh you can see it grow on trees. If you've got some extra time, hop in a wagon, and take a 30-minute tour though papayas and apple banana fields with a Papaya Power smoothie in tow, all included in the cost.
Watch the sparks fly on Friday nights
Waikiki
Every Friday night, the Hilton Hawaiian Village puts on a fireworks show at 7:45pm. Soak in the free pyrotechnics show on the beach or go the extra mile and see them from the water with Nocturnal Adventure's Hawaii's stand-up paddleboard sunset paddle.
Take in stunning architecture and Hawaii history
Tantalus
No, you don't have to commit to buying a house together quite yet, obviously. But if you're in the mood to look at great architecture without actually putting down roots, the Vladimir Ossipoff-designed Liljestrand House is a thing of mid-century modern Hawaiian beauty -- and a great way to spend an afternoon going back in time.
Spend time among the shockingly colorful cherry blossom trees
Wahiawa
Hundreds of Oahu's Japanese sakura trees bloom in the beginning of February each year for a limited time. Admire the pretty pink blooms together in Wahiawa Heights, then grab some sushi or ramen after to pretend you're in the land of the rising sun. Don't sleep on the official Hawaii Cherry Blossom Festival itself either -- "one of the oldest, uninterrupted ethnic celebrations" in the state of Hawaii.
See coffee grow on trees
Wahiawa, Waialua
Elevate your coffee date to the great outdoors and see the beans before it becomes your favorite latte or cortado. Stop by Waialua Estate Coffee for a mini tour, or Green World Farms for a self-guided tour, where you can sample the goods for free.
Island hop without a plane
Lanikai
Take a two-person kayak and use your combined arm strength to tandem paddle to Moku Nui island -- a small islet off Lanikai Beach. Try nearby Kailua Beach Adventures for a kayak rental you can split or a guided tour option.
Chill with Hawaiian monk seals
Waikiki
This endangered species spends its days lounging and foraging for food, and at the Waikiki Aquarium, the monk seals spend the day outdoors basking in sun. For just $12, you can both squeal at the seals and check out any of the other aquatic life on display. After the aquarium visit, do as the seals do and relax on any of the nearby beaches.
Put your heads together at trivia night
Various locations
Nothing says getting to know someone like finding out what kind of esoteric bits of knowledge they have locked in their brain. Try Trivia Nights at Osoyami Bar and Grill, and find out if you both have the combined brainpower to take down other teams and win prizes.
Break the ice by laughing your butts off
Downtown/Moiliili
Couples that laugh together... probably have a similar sense of humor -- which is typically a good thing. For one of the best comedy evenings around, check out Jose Dynamite & Friends Comedy Show on Wednesdays at Anna O'Brien's and Fridays at O'Toole's Irish Pub. The price of tickets, $10, is super affordable, too.
Bike together as you decide what to do next
Various locations
For a fast, endorphin-pumping, and cheap way to get around town with your date, you can't beat biking together. Rent any of the three-speed bikes from the self-service docking stations around Honolulu. It's just $3.50 for a day pass, and you can both tour the town, stop at the beach, or have lunch without having to deal with parking -- and the added bonus of naturally windblown hair.
Get dirty chasing waterfalls
Manoa
The best part about a post-rainy day is rainbows, but the second-best thing? Waterfalls. After a moderate-to-big rain, slather on the mosquito repellent and head to the gorgeous Manoa Falls, where the trail is short, the forest is green, and the waterfall is an amazing 150 feet tall.
Hike for a sunrise view
Lanikai
Set the alarm, bring your hiking shoes and a flashlight, and trek up the steep path up the Kaiwa Ridge Trail to the Lanikai Pillboxes, where you can perch and see the sky transform from black to purple to blue. It's free, of course, and staggeringly pretty if you can get there early enough.
Challenge each other to a day of indoor climbing
Waipahu
Of course, Oahu's mountains means outdoor hiking options abound, but if you're looking for an indoor alternative or rainy day activity, the Arch Project Climbing Center gives you 2,000 square feet of terrain to explore without layering sunscreen and mosquito repellent. Full day passes are just $19.
Do yoga together at one of the cheapest spots around
Ala Moana
Stretch your partner in new shapes at Power Yoga Hawaii's acroyoga class, where you can learn to balance in positions you never thought possible, like flying your partner on your feet or thighs. Classes are donation-based, with a suggested $15 donation.
Sing like everyone's watching at karaoke
Various locations
Because they are, after all. There's nothing like springing yourself out the dating jitters by adding public singing to the equation. With public karaoke, you can show off those vocal skills without spending the big money on a private room -- and maybe endear yourself to your date while you're at it. Let loose at Café Duck Butt, Air Park Karaoke, or Nocturna Lounge and spend the money you saved on a little (or a lot) of liquid courage.
Take a farm-to-bottle tour
Kunia
The small-batch distillery responsible for Kō Hana rum, Manulele Distillers, uses heirloom sugarcane and hand presses and distills the cane to make their sweet, sweet agricole rum. Upgrade your happy hour plans with a tour of the distillery to taste its fresh cane juice and sample the selection of white and aged rums.
Go on a train ride with a view
Ewa
Venture to the Oahu's west side and hop aboard the only working train on the island at the Hawaiian Railway Society. The 90-minute, round-trip route is narrated to teach you about the historic railway. Cars are open-air and breezy as they choo choo along the oceanfront into Ko'olina, where you can stop for a scoop of ice cream before journeying back. Sure, the train is likely to be filled with kids, but if neither of you minds a little chaos, it makes for a lovely ride.
Spend a night at the museum
Makiki
After a holiday hiatus, ARTafterDark is back on the last Friday of each month. The Honolulu Museum of Art kicks of the year with Kiss Kiss Bang Bhangra, a Bollywood-themed exhibit with henna tattooing, mini massages, and DJ Mr. Nick spinning Bollywood classics. Exhibits inside the museum are also open for viewing. Admission is $25, but you could also fill out the paperwork to join as a member and go to the remaining ARTafterDARK events for free for the rest of the year.
Make your own chocolate bar
Downtown/Kailua
Hawaii is the only state in the United States to grow cacao and maybe the best place to learn about the bean-to-bar process. At both Madre Chocolate locations, you can craft your own chocolate bar made from local chocolate, Hawaiian sea salt, toasted coconut, or a selection of fruits and nuts.
Spend sunset at the beach
Various locations
If all else fails, taking a long walk along the beach couldn't hurt. Sure, it may be a little cheesy, but with Oahu's breezy evenings and picturesque beaches, watching the sun sink into the horizon and seeing the sky explode with color could make the most aromantic partner give beach walking at sunset a begrudging pass.
Sign up here for our daily Honolulu email and be the first to get all the food/drink/fun in town.
Summer Nakaishi is a freelance writer for Thrillist, and her favorite date is a day that's not too hot and not too cold, when all you need is a light jacket.