For most people, just visiting Oahu is on their bucket list, but what do you do once you're here? The truth is, sometimes not much: our endless summers mean it often feels like time stands still, and pretty soon you haven't been to Pearl Harbor, gone night surfing, toured shrimp trucks, or done any of the other things on our list of 50 things you need to do on Oahu before you die...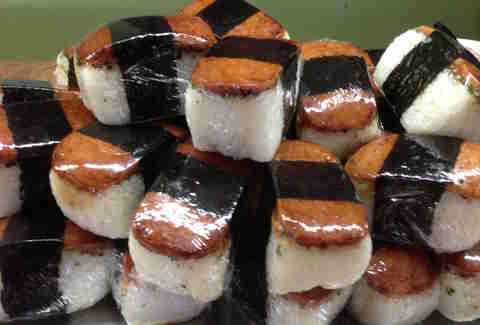 We're not the world's biggest consumer of the lovable mystery meat for no reason.
2. Night surf during a full moon
Don some glow sticks, grab some friends, and head to Waikiki, where the city lights and glow of the moon mean the ocean is bright enough to spot swells, but it's still dark enough to see the stars.
Pack up your pop-up tent, hibachi, and beer cozies and grill the afternoon away at Aloha Stadium. Sure, the traffic getting there may seem borderline apocalyptic, but potlucking in the parking lot with your friends and family, at least once, is absolutely necessary.
4. Take a dip in the Makapu'u tide pools
Venture off the paved path, and cool down in one of Mother Nature's rocky inlets. Be aware of sharp lava rocks underfoot and the occasional unpredictable rogue wave, even on the calmest of days.

5. Visit Pele's Chair
Adventurers with rock-climbing experience can attempt to scale the prominent rock formation on the South Shore, but novice hikers can sit back and appreciate the spot where the Goddess of Fire is said to have last sat before departing Oahu for Hawaii Island.

6. Attend a summer Obon festival
You don't have to be Buddhist or own a yukata to enjoy this local community event... especially not if you're there for the deep-fried donuts, stir-fry noodles, and teri beef.

7. Drink kava
A traditional drink of Polynesians for centuries, this herbal concoction made from the pulverized root piper methysticum, may look like dirt, but is known to relax the mind without decreasing mental sharpness. Try it in a smoothie at Diamond Head Health Cove, coconut flavored at Ong King Art Center, in chocolate form at Smokey's, or at an authentic kava bar like Fiji Kava.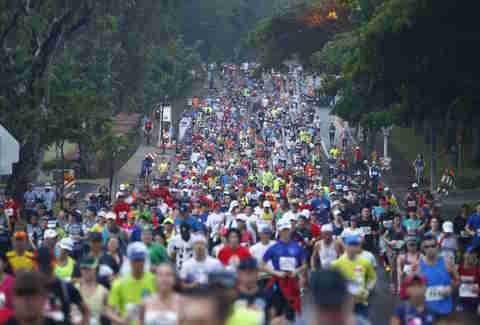 Earn your bragging rights by completing all 26.2 miles of one of the largest marathons in the world.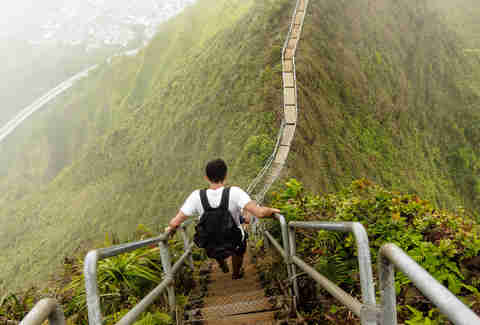 9. Climb the Haiku Stairs
So scaling the stairs to this former naval facility isn't exactly legal (and by "not exactly," we mean incredibly not legal), and a storm earlier this year wiped out part of the stairs, making the dangerous climb even more risky, but should the state ever open the park to the public, and you see the sun emerge through the clouds over the lush Ko'olau Mountains, you'll understand why this hike is also known as Stairway to Heaven.

10. Rock jump at Waimea Bay
During the summer months when the surf is flat, climb up the 25ft monolith and relive this childhood rite of passage and cannonball into the cool crystal waters below.

11. Frolic in the sunflower fields
At the end of the year, acres of towering sunflowers bloom on a private farm in the North Shore. Leave your bee-allergic friends at home (sorry) and take time to smell the flowers.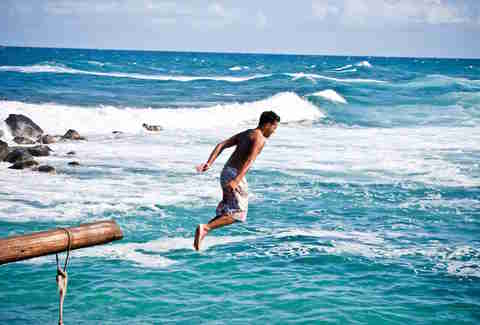 12. Walk the plank at Alan Davis Beach
After spending time on Pele's Chair, make your way to the beach during high tide and jump off the 6ft-high plank wedged into the rocky coastline. Back flips and twisting forward tucks, purely optional.

13. Find the bench built into a tree overlooking the ocean...
... and sit in it. Somewhere on the South Shore, exists this secret outdoor chair.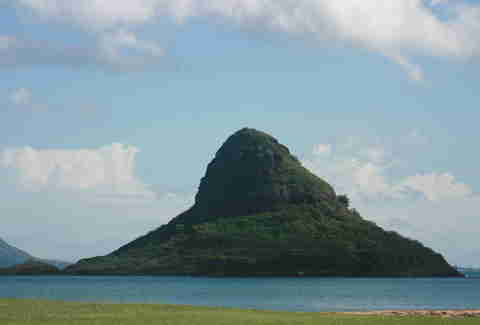 14. Picnic at Chinaman's Hat (Mokoli'i Island)
Toss your lunch in a waterproof bag, and paddle, swim, or walk (only during low tide) to the conical hat-shaped island, but be aware of the strong current, and the hammerhead sharks rumored to breed nearby.

15. Find Mermaid Cave
And keep it a secret.
16. Find your favorite garlic shrimp truck
A trip to North Shore or Kahuku almost isn't complete without succumbing to the aroma of garlic and butter wafting through the air. Sure, the bevy of shrimp trucks may seem like a tourist trap, but the local freshwater shrimp are downright delicious, so try 'em all until you find the best.

17. Splurge on a fancy dinner
Maybe it's the ultra-fancy private dining society at Vintage Cave, or taking orders omakase style from the Sushi Nazi at Sushi Sasabune, or an eye-catching seven-course meal at Nanzan Giro Giro. Either way, treat yourself to an over-the-top dining experience for at least one special occasion in your life.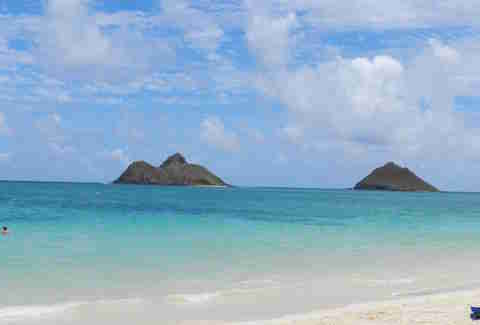 18. Explore Moku Nui Island
Better known as "Mokes," you can get to the larger of the two islands off of Lanikai Beach by kayak, paddle board, or canoe. Bring a barbecue and spend the day soaking in a natural pool, or rock climb and cliff dive at your own risk.

19. Go Christmas tree hunting
Get in the holiday spirit and pick out your Norfolk pine at a Christmas tree farm in Wahiawa, or better yet, apply for a permit with the forest reserve and chop down your own.

20. Venture through a lava tube
Go on a mini spelunking adventure, and wind through cave-light pathways, where hot lava once flowed to the sea. Don't forget to bring a flashlight!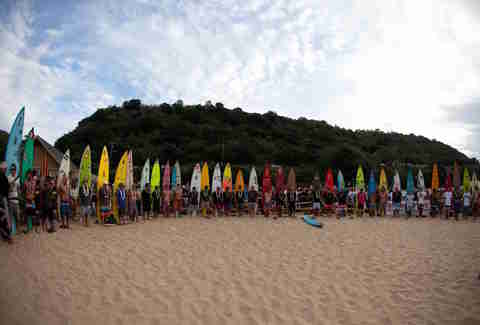 Only held when when the swells hit 40ft, this North Shore tournament honoring the famed local waterman, has gone down just eight times in its 30-year history, so watching big-wave riders compete for the trophy will be one to tell the grandkids.

22. Taste the ocean while eating fresh opihi
Only extremely seasoned foragers and swimmers should pry the gritty limpet off ocean rocks themselves, if you can find them. The popular ocean snack is a rarity on Oahu's shores. If you don't want to get taken out by the turbulent ocean waves that typically surround these jagged rocks, find them freshly shucked at Tamashiro Market or Alicia's Market.

23. Take a dip in Black Point pool
The infamous salt-water infinity pool is in a private gated community. But if you don't have the $3.8 million median asking price for one of its homes, most likely someone you know knows someone who has a friend, whose dad's co-worker can get you the coveted key for a day. Or something like that.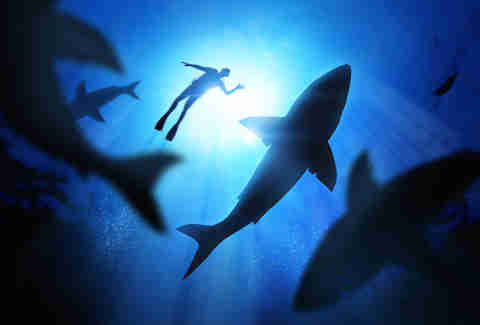 24. Swim with sharks
Sure you could swim with the ocean's friendliest creatures, but why not amp it up and share the sea with its scariest? For best life expectancy, please opt to do it with professionals.

Take a guided tour of Doris Duke's modernist 14,000sqft Honolulu estate, and take in the heiress' beautiful collection of Islamic art.

26. Be an extra on Hawaii Five-0 or a movie filmed in Hawaii
Get your two seconds of fame, and be part of a blurry background scene.
27. Snorkel at Electric Beach (Kahe Point)
Across the street from a power plant, a pipe discharges warm, bubbly water into the ocean, drawing in schools of fish, dolphins, and turtles.

28.Visit Goat Island (Mokuauia)
When tides are low, you can walk to this goat-shaped bird sanctuary (or paddle board over when they aren't), where you can hunt for crabs and shells, bird watch, or just splash in the surf and pretend you're on your own deserted island.

29. Find the swings and treehouse hidden around the island
They're out there somewhere.
30. Hike to the Koko Crater arch
Instead of climbing Mother Nature's homemade StairMaster, journey away from the overpopulated Koko Head railroad tracks and relax under this natural arch leaning against the mountain.

31. Pay your respects at a heiau...
Learn about the islands' history and the significance of the ancient places of worship at Pu'u o Mahuka Heiau or Ulupo Heiau and acknowledge Hawaii's spiritual past. Remember to be respectful and don't touch or move any ancient rocks.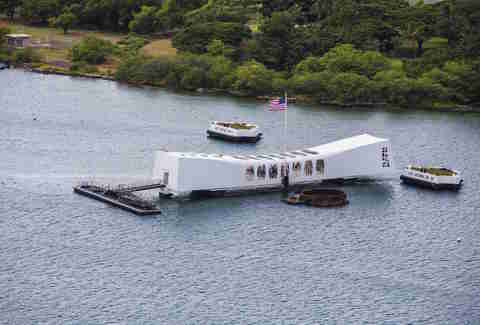 32. ... and Pearl Harbor
When bombs fell on December 7, 1941, American history changed forever. Honor those injured and fallen at the national monument.

33. Find a sunrise shell
Leave the metal detectors at home and scour the beach for one of the rarest seashells in Hawaii.

34. Hear the wind whistle through a bamboo forest
Depending on the weather, the sound of a breeze passing through bamboo can be a cross between a house falling down and a beautiful wind chime.
35. Watch the sunrise from Lanai Lookout
Listen to the waves hit the rocks as the sun emerges. On a clear day, glimpse Lanai, Molokai, and Maui in the distance, but even on a cloudy day, the view is always Instagram worthy. Pro tip: don't leave your valuables in the car.

36. Spend the night under the stars
In a tent, in a cabin, take your pick. Whether it's between the shady ironwood trees at Malaekahana, the open meadow at Mokuleia Forest Reserve, or the white sands at Bellows, turn off your cell phone, and take advantage of the great outdoors.

37. See a green flash
Does it exist? Watch the sunset every cloudless night and wait for the fleeting, intense burst of green before the horizon swallows the sun.
38. Go whale watching
If you're lucky, you've seen the majestic ocean creatures breaching the water, just by chance. But if the gentle giants elude you, book a boating tour between December and May during their mating season to better your odds.

39. Take a scenic drive around the entire island
Wake up early, fill up your gas tank, and embark on a circle tour around Oahu. Check a few items off your island bucket list and still make it home in time for dinner.

40. Discover the Maunawili hidden bridge and moss slides
But as always... if you have open cuts, stay out of the island's freshwater ponds. Leptospirosis is probably not very fun.
41. Attempt a yoga pose on a stand-up paddle board
Challenge your core and take your Warrior One to the ocean. Rent boards with friends or take a class to boost your chances at sticking an inversion.

42. Hike to a waterfall
Get away from the city and into a rainforest, where you can go chasing waterfalls at Manoa Falls, Likeke Falls, or Waimea Falls... just don't forget to bring the mosquito repellent.

43. Listen to legendary local performers play live
Enjoy the smooth sounds of iconic Hawaii music artists like Willie K, Henry Kapono, Cyril Pahinui, Sean Na'auau, or Na Leo Pilimehana as they serenade you with their classic and award-winning songs.
44. Walk to Ka'ena Point
Pack a snack and enjoy mountain and ocean views as you journey to the island's Westernmost tip, and see Oahu from a new perspective.

45. Bar hop at First Friday
It's crowded and there's usually a line and a cover at the door. But there's art! And drink specials! And people-watching!

46. Snorkel or free dive to the blue room
Swim past the tide pools and duck into an underwater cave, where the sunlight slices through the ocean and bounces off the walls and sea floor.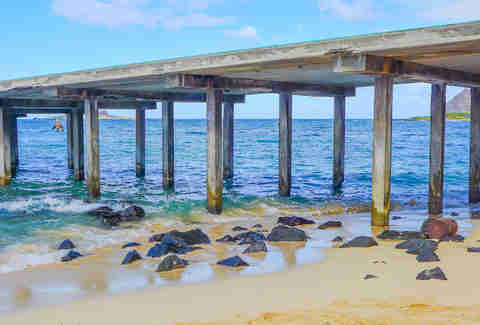 47. Take photos under the Makai Research Pier
Open on weekdays, the clear blue waters and long, shaded underside of the Makai Ocean Engineering office provide a picturesque frame.

Order a Hawaiian plate lunch with your favorite staples, and if you're lucky, you can watch workers hand-pounding fresh kalo outside the shop.

49. Go rock running underwater
Maybe you've seen pictures of your friends majestically trotting on the ocean floor, clutching a giant boulder in their arms, but it's harder than it looks. Start in the shallow end with a smaller stone and work your way up to rock-running glory.
50. Go island hopping
Get off the rock! Explore the other rocks and build a brand-new bucket list.
Sign up here for our daily Honolulu email and be the first to get all the food/drink/fun in town.