Dating in Houston can be pretty costly, and not just emotionally; a steakhouse dinner here, a craft cocktail there... it all adds up. But don't worry! We came up with 20 ways you can have an awesome Houston date for under $20, then we added one more for luck.

Bring a box o' wine to Miller Outdoor Theatre
There's no glass allowed, but boxes are more fun anyway. Bring a blanket and some of that good good to enjoy while you catch a completely FREE show at Miller Outdoor Theatre. Current schedule here.

Go on a DIY taco crawl
Nothing says "I love you" more than a breakfast taco in the morning. But why not take things up a notch with an ultimate taco showdown? Hit up a few of your favorite taquerias to decide once and for all whose cocina reigns supreme (that doesn't have the same ring, does it?). We can get you started...

Take in the city on a bayou ride (with snacks!)
Grab some cheese and fresh fruit from the Waugh Whole Foods, then head to the Buffalo Bayou for a leisurely ride along the banks, complete with a completely necessary stop for snacks. If you don't have bikes, you can easily pick some up at the B-cycle station by Spotts Park for $5/bike. And if you do have bikes, that's just more money for cheese.
Go from yogi to wino at Discovery Green
Get hot, sweaty, and twisted like a pretzel (or in your case, a pretzel stick) during a yoga sesh at Discovery Green (Tuesdays & Saturdays). Afterward, cool off with a glass of sangria at The Grove. Something tells us you'll need it.

Take down "No Minors" milkshakes & chili cheese fries
Channel you're inner Danny Zuko and take your date for some old-fashioned shakes & fries. But then make them not old-fashioned by ordering the ones with booze. Little Bigs makes a White Russian "No Minors" shake for $5.67. Get two and tack on four-minute fries smothered with chili and cheese for another $5.32. Now pat yourself on the back.

Smash the city's best burgers (and chase them with beer)
The Hay Merchant runs a truly killer burger special every Monday. You'll need to pony up a few more bucks for tip, but for $18.36, you can get two Cease and Desist Burgers and two cans of Buffalo Bayou 1836.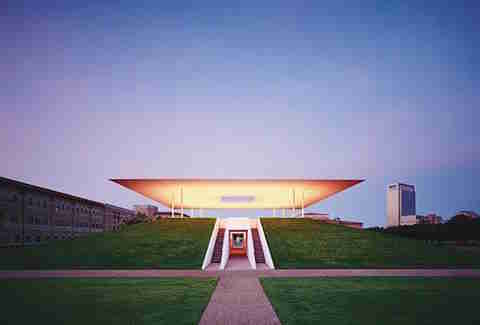 Relive those college years
Stroll the beautiful grounds of Rice University, hit up the free "Twilight Epiphany" light show at James Turrell's Skyspace, then get three sheets to the wind for next to nothing at Valhalla, the not-so-secret "secret" bar helmed by Rice graduate students.

Plenty of watering holes -- like Rudyard's, Boondocks, and Christian's Tailgate, for instance -- host free open-mic nights for aspiring comedians. You'll either witness the rise of a star or the crushing of someone's dreams. Either way, $20 is enough to get you a nice buzz while doing so.

Take yourselves to midnight Margaritaville
At midnight, Pistolero's margaritas are $2 each until close. You may want to save a few of those dollars for your inevitable cab ride home.
Throw down a few oysters
At Caracol's happy hour, $13 will get you a dozen of the most glorious Gulf oysters -- either served raw with salsa bruja and lime or wood-roasted and smothered in chipotle butter. Alternatively, you could go for the $7 half-dozen and get two glasses of an even better aphrodisiac in the form of $6 wine (3-7pm Sun-Fri and Saturdays before 5pm).

Share some late-night pie
Because House of Pies is open 24/7. And somehow, Bayou Goo tastes even better after dark.

Do you know what trivia nights cost? Nothing. OK well, nothing but the beers you consume while partaking in said trivia night. Keep it light on the wallet with Lone Star, whose caps just so happen to add even MORE FUN with the riddles inside.
Take a stroll through the Historic Heights
Take a leisurely stroll down the streets of the Heights as you point out Victorian-style dream homes to each other. Make your way to 19th to pop into the antique stores and eclectic shops that line it. Now finish things off by eye-banging over coffees and sweets at Boomtown Coffee. You're welcome.

Go Greek for movies at the park
Pack a blanket and grab some gyros and falafel at Niko Niko's in Market Square before settling in for a free show on the big screen.

Do breakfast & a movie
And by breakfast, we mean bottomless popcorn. You have until 2pm to get out of bed if you want to catch the $5 movies at Alamo Drafthouse. That means you can also pack in $7 bottomless popcorn and still keep the date under 20 bucks. The offer runs seven days a week all summer long. Note: at some point, the deal may switch to a nighttime offer, in which case change "breakfast" to "midnight snack" and this list still works.
Take a badass hike
Brazos Bend State Park is less than an hour from downtown. Enter it for a $7/person fee and hit the trails. Don't want the date to end? Take her to date #2 at the George Observatory, where you get a front-row seat to the stars for another $7 per person. Bonus: 10 more awesome hikes to try.

Taste alllll the cheese
Local cheese purveyor Houston Dairymaids hosts FREE cheese tastings every day it's open. But on Wednesdays and Saturdays, things get real when the shop pairs them with a sample of wine, cider, or beer. Taste away, then use that cash money to take home your favorites.

Roam the Serengeti and hang with dinosaurs
Entrance to the Houston Museum of Natural Science usually costs 20 bones (get it!?), but on Thursdays from 3-6pm, that ish is FREE! Which means you can spend your hard-earned cash on $8 tickets to the planetarium instead... or on happy hour at nearby Bosta Wine & Coffee.
Go from Little Italy to Japan in the park
Hit up Two Guys Pizzeria (the go-to of any well-respected Yankee in Houston) to grab a couple of slices and some sodas, then enjoy them in the fresh air at Hermann Park. Afterwards, work off those carbs with a walk through the Japanese gardens.

Hit the flea market
Shop for spices, fruit, and all kinds of good stuff from 1,000+ vendors at the 35-acre Sunny Flea Market, open weekends from 8am to 7pm. If anything, do it for the sticky-and-sweet freshly fried churros that you can get on site.

Do the brew
Hit one of Houston's fine-as-hell breweries. Plenty of them offer tastings for around $7 to $10, which gets you a tour, pint glass, and tasting tokens. Pro tip: you can also do this at a whiskey distillery.

Sign up here for our daily Houston email and be the first to get all the food/drink/fun in town.