10 Amazing Hikes Near Houston
Sure, exploring the sprawling Guadalupe Mountains and expansive trails of Big Bend sounds like a good idea. But both spots are also really, really far from Houston. These 11 dope hikes are a little bit closer to home (and by a little bit closer, we mean you'll be taking a drive with one Whataburger stop, two tops).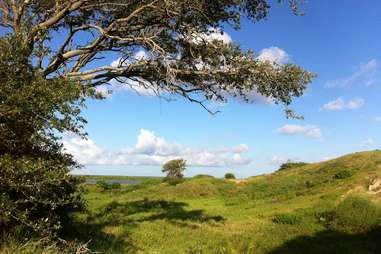 Galveston Island State Park
Distance from Houston: 60 miles
Yes, that Galveston Island. The 2,000 acre state park replete with wetlands, sand dunes, and coastal prairies is actually quite beautiful. Plus, its wildlife -- from armadillos and coyotes to an impressive mosaic of birds -- is on fleek (because if eyebrows can be on fleek, so too can a marsh rabbit).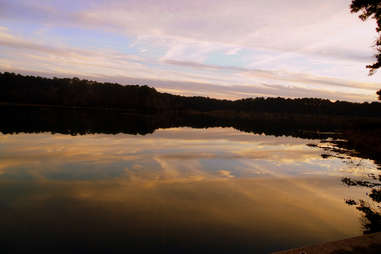 Sam Houston National Forest
Distance from Houston: 50 miles
Just 50mi north of Houston lies this massive, 163,000 acre national forest that spans three counties and shows evidence of human occupation dating back to 12,000 years. Channel your inner Indiana Jones by hitting up the winding 128mi Lone Star Hiking Trail.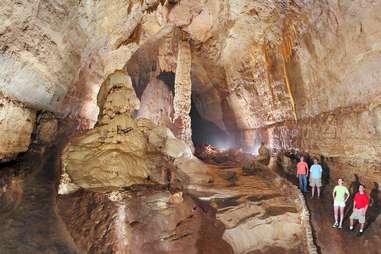 Natural Bridge Caverns
Distance from Houston: 190 miles
In 1960, four college students discovered two miles of cavern under a 60ft limestone bridge. Formed by an underground river that dissolved the limestone, the huge 180ft below-ground passage and surrounding caves are now open to explore through guided hikes that are pretty cool, despite the fact that they're tourist attractions.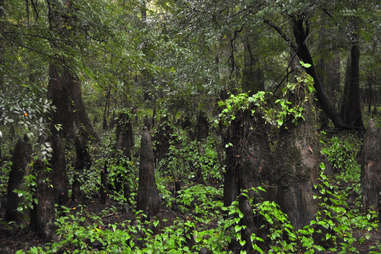 Big Thicket
Distance from Houston: 90 miles
Described as "one of the most biodiverse areas outside the tropics," this heavily forested area has over 100 species of trees and shrubs and 1,000 species of flowering plants and ferns. Head here to hike, bird-watch, and scare the crap out of yourself every time you step on a twig and think it's a snake -- the park has all four groups of North American venomous snakes present.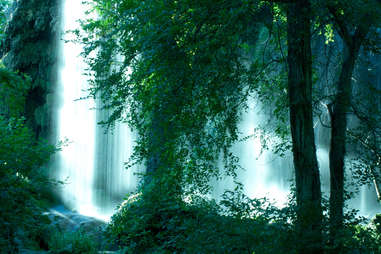 Colorado State Bend Park
Distance from Houston: 250 miles
Pack a compass. This 5,000+ acre park has 32mi of sinkhole, cave, and springside trails for you to get lost on. Don't miss the rugged 1.5mi hike to Gorman Falls, where you'll be treated to a 60ft-high waterfall cascading into a fern-covered grotto at the end.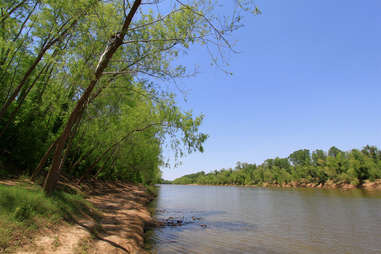 Stephen F. Austin Park
Distance from Houston: 50 miles
For a bit of isolation without the travel, hit this peaceful 12 acre park located just 30 minutes from town on the Brazos River. The site is home to Texas' first colony, where Stephen F. Austin --- aka "Big Daddy" (ok, fine, aka "The Father of Texas") -- settled with the Old Three Hundred under a contract with the Mexican government. Relive Texas history on the 6mi hike and bike trail, then hit up a Taco Cabana and relive it again on the way home.
Enchanted Rock
Distance from Houston: 255 miles
The nation's second largest granite dome, this massive pink batholith is about a half-mile to the top. Hike up at sunset or at night to star-gaze and catch the sexiest views. But be warned: native tribes once believed the rock to be haunted, giving it magical powers. Anyone who stays overnight is said to become invisible. Which is actually way more awesome than it is scary.
Bastrop State Park
Distance from Houston: 130 miles
This 660 acre park hosts the famous "Lost Pines." The 13mi forest of 18,000-year-old loblolly pine and hardwoods is over 100mi from the Piney Woods that cover almost 55,000sqmi of East Texas, Southern Arkansas, Western Louisiana, and Southeastern Oklahoma. Get exploring, and be sure to spend some time at lookout points like Fehr's Overlook.
Palmetto State Park
Distance from Houston: 142 miles
The closest you'll get to the rainforest in Cental Texas, the nearly 500 species of plants blanketing this swampy park can look impressively verdant after a nice rain. Hit it up to plant-scout and bird-watch, then cool down with a tube ride down the San Marcos River.
Hamilton Pool
Distance from Houston:
190 miles
This mammoth natural pool was created when the dome over an underground river caved in. There are only about 1.75mi of steep hiking trails around the limestone grotto, but you don't need much longer in the heat of the Texas sun. Especially when you know that an awesome swimming hole and 50ft waterfall are waiting for you at the end.
Sign up here for our daily Houston email and be the first to get all the food/drink/fun in town.