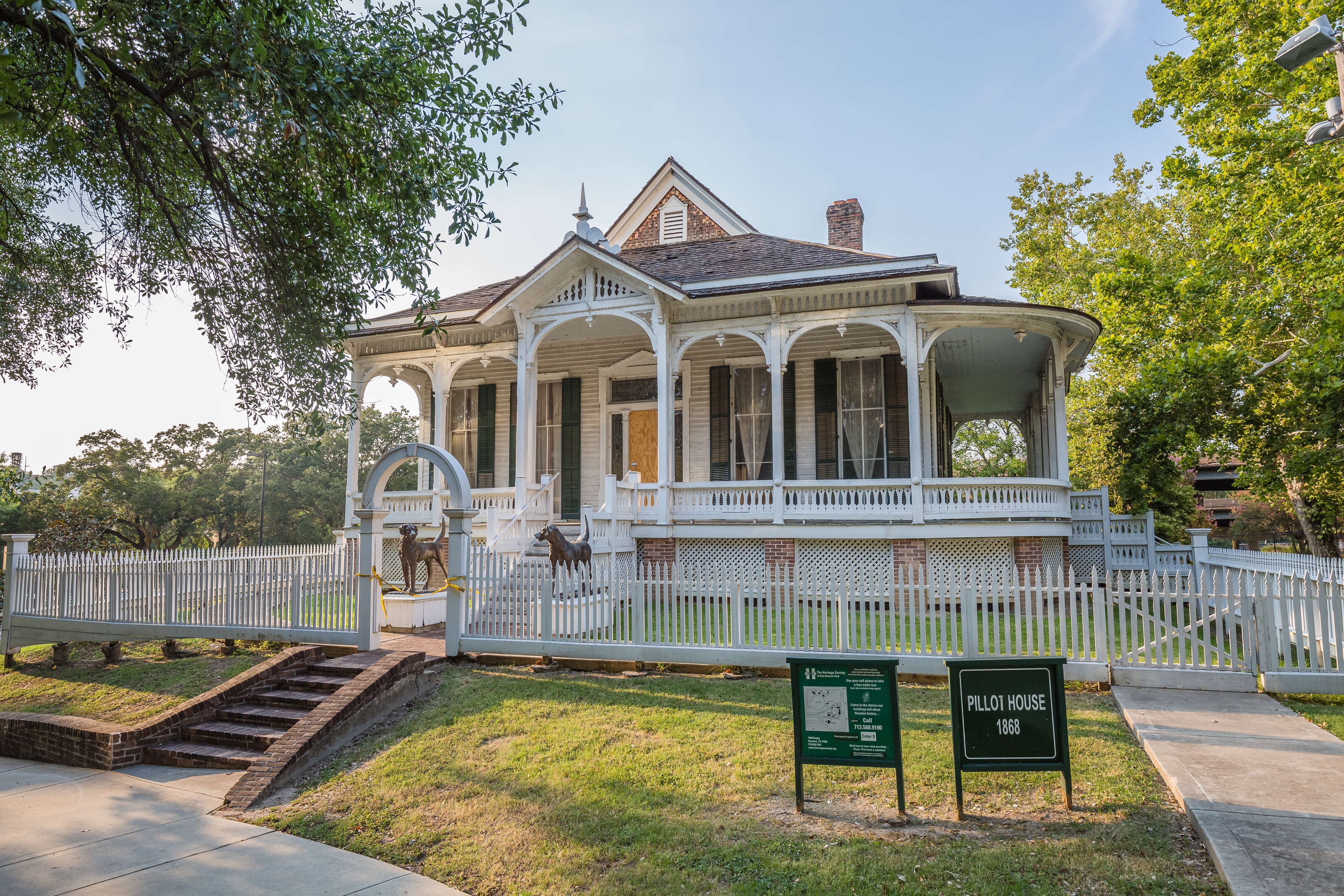 Houston is home to a world-class Museum District, and while we totally believe culture is priceless, we also think it's pretty great that you can grab some of that culture for free. From always-free galleries, halls, and institutions to donation-welcome exhibits that will let you in even when you're late on rent, here is how to experience Houston's load of museums for free.
Montrose
Hours: Wed-Sun, 11am-7pm
Notes: Over on the 30-acre Menil Campus lies one of Houston's most prized art collections, featuring art from antiquity, the Byzantine world, tribal cultures, and the 20th century. It's always free, but donations are suggested. Also always free? The Live Oak-shaded park right outside the gallery, the four other buildings on campus: the Cy Twombly Gallery, Dan Flavin Installation, Byzantine Fresco Chapel, and Menil Drawing Institute.
Heights
Hours: Wed-Sun, 11am-6pm
Notes: Great news! You don't need to wait until the spring's Houston Art Car Parade to check out Houston's nuttiest art cars -- instead, see the wacky wheels on display at this gratis museum. Also known as "Garage Mahal," the gallery features the most imaginative, elaborate art cars, lowriders and mobile contraptions, plus revolving exhibitions by local, national and international artists of all media.
Museum District
Hours: Tues & Wed, 10am-7pm; Thurs, 10am-9pm; Fri, 10am-7pm; Sat, 10am-6pm; Sun, noon to 6pm
Notes: Open since 1948, this innovative art museum is always fresh and always free (though donations are totally accepted). Visit to get a glimpse at the best and most exciting international, national, and regional art of our time via exhibitions, lectures, educational programs, and cool events.
Montrose
Hours: Rothko is closed for renovations through spring 2020, but when it opens, expect regular hours 10am-6pm, every single day.
Notes: This spiritual sanctuary on the Menil campus has offered visitors a tranquil, meditative environment since 1971. In that time it's gained some serious accolades, including a spot on the National Register of Historic Places and National Geographic's list of 500 of the World's Most Peaceful and Powerful Destinations. Donations would be pretty zen of you.
Downtown
Hours: Sam Houston Park is open daily from dawn to dusk; Museum hours are Tues-Sat 10am-4pm, and Sun 1-5pm
Notes: While there is paid admission to the Heritage Society's Museum Gallery (which gets you a closer look at Houston's fascinating history), you can use your cell phone to take a free guided tour of its Historic Buildings in Sam Houston Park. Instructions for taking the free cell phone tour are posted on signs in front of each building.
Third Ward
Hours: Tues-Sat, 10am-5pm (Thurs to 8pm)
Notes: This University of Houston contemporary art museum presents and creates six to eight art exhibits every year. Plus, there's a lineup of free and open-to-the-public lectures, film screenings, conversations, and events. Double plus, there's a Frenchy's on campus.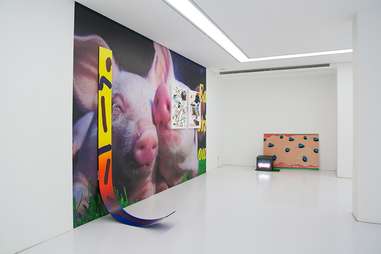 Museum District
Hours: Wed & Thurs, 11am-9pm; Fri, 11am-5pm; Sat & Sun, 11am-7pm
Notes: Hit HCP's free galleries (donations appreciated), where you'll find some truly fine works of contemporary photography that will have you second-guessing yesterday's #burritogram. Don't worry, it also offers over 300 photography classes and workshops year-round, though you'll have to shell out some cash for those.
Third Ward
Hours: Tues-Sat 10am-5pm
Notes: Over at Rice University, the building for the The Moody Center for the Arts is striking in its own right, with bold geometric shapes and contemporary design. It serves as an experimental platform for creative thinking and original expression, with a library of exhibits and rotating installations open for free public viewing.
Third Ward
Hours: Wed-Sun, noon to 5pm
Notes: While this row of restored shotgun houses-turned-community-based art studios is totally free to check out, you may want to donate some cash so the seriously cool project can keep on keepin' on. Sitting in the Historic Third Ward, one of Houston's oldest African-American neighborhoods, the community platform puts a spotlight on cultural identity and its impact on the urban landscape.
Midtown
Hours: Wed-Sun. 11am-6pm
Notes: Fun fact: This culturally diverse museum was formerly an auto shop, making the local and global art exhibits arguably the prettiest things you'll ever see in an auto shop. With an emphasis on the fine arts that reflect the cultural diversity of Houston's communities, the museum has held comprehensive exhibitions from Mexico, Peru, Venezuela, Colombia, Congo, South Africa, Czech Republic, Austria, Palestine, Iraq, India, Afghanistan, and Russia.
Museum District
Hours: Wed-Fri noon-6pm; Sat 11am-5pm; Sun noon-3pm
Notes: This contemporary art museum serves H-town quite well, putting the spotlight on local and regional artists (as it should) and engaging the community with exhibitions that explore the aesthetic, critical, and social issues of our time. Admission is free for all exhibitions and public programs.
Museum District
Hours: Wed-Sat 10am-5pm; Sun noon-5pm
Notes: Looking at all the cool stuff made of clay, fiber, glass, metal, wood, and recycled materials is totally free at this craft museum; purchasing said cool stuff from the gift shop is totally not. Visit to see the full range of the creative process, see the living connection between how plant materials are grown and used in the Craft Garden, and check out the Resident Artist Hall to explore its artist studios.
Museum District
Hours: Wed-Sat 11am-6pm (to 8pm on Thurs)
Notes: Hit this learning-driven museum experience to explore the culture of Africans and African Americans in Houston, the state of Texas, the southwest, and the African Diaspora. Look out for events that focus on everything from Black Feminism to the Impact of Legacies.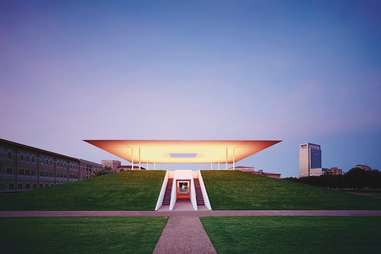 Rice University
Hours: Tues-Sat 10am-5pm
Notes: Found next to the Shepherd School of Music on the Rice University campus, this light installation and acoustically engineered masterpiece isn't exactly a museum. It is a work of art, though, dubbed "Twilight Epiphany" thanks to a trippy LED light sequence that projects onto and through the structure's open roof just before sunrise and at sunset. Money isn't needed to check it out, but reservations are.
Midtown
Hours: See individual calendar listings for specific locations and hours
Notes: This gallery space shows off some pretty diverse works (get it... GET IT?!). Head to the 2nd floor of MATCH (Midtown Arts and Theater Center Houston) in Midtown, where many of its exhibitions, performances, and programs occur in the various gallery and theater spaces.
Museum District
Hours: Mon-Thurs, 9am-7:30pm; Fri, 9am-4pm; Sat, 10am-4pm
Notes: Explore your inner psyche at this always-free center for the human spirit. It's been serving the Houston community for 50+ years, offering a forum for dynamic conversations on psychological, artistic, and spiritual topics via art exhibits and programs.
Museum District
Hours: Tues-Fri, 11am-6pm; Sat & Sun, 10am-6pm
Notes: Rocking 14 locations around the world, Asia Society seeks to promote partnerships among the people, leaders, and institutions of Asia and the West, offering enriching, innovative, and relevant programs in arts and culture and community outreach. Admission to its building and Grand Hall exhibition is free for all (as are cool events like the Lunar New Year festivities), while the Sarofim Gallery will cost a steep $5 for non-members.
River Oaks
Free hours: Third Sunday of the month (select months), 1-5pm
Notes: You'll have to cough up some cash (or credit) to visit the gorgeous grounds and former home of philanthropist Ima Hogg, which showcases American furnishings, silver, ceramics, and vintage paintings and 14 acres of organically maintained gardens. You can, however, get a gratis looksie on Family Day, featuring crafts, music, games, and giveaways for the kids (or the grown adult kids), plus guided tours of select rooms.
Midtown
Free hours: Thurs, 1-5pm
Notes: Explore historic memorabilia detailing the history of the Buffalo Soldiers: the brave African American soldiers who overcame extreme adversity to serve from the Revolutionary War to the present soldiers who serve today. Exhibitions range from the Civil War and WWII to Artillery and Tech.
Museum District
Free hours: Thurs, 5-8pm
Notes: Bring your mini-me to see who can hit the Power Play playground harder at this imaginative children's wonderland. Your kiddo can also crack codes in the Secret Spy Game, geek out on science experiments at the Genius Station, and hit the ropes at the Challenge Course. Hit Family Night on Thursdays to get in for free.
Museum District
Free hours: Thurs 2-5pm
Notes: One of Houston's most popular museums houses dope stuff like the Burke Baker Planetarium, Wortham GIANT Screen Theatre, Cockrell Butterfly Center and permanent exhibit areas that cover everything from astronomy and space science to paleontology and wildlife. Permanent exhibits are free to explore Thursday afternoons, so you can save your hard-earned cash for the Dark Side of the Moon laser show at the Planetarium.
Museum District
Free hours: Last Thursday of the month
Notes: In case you couldn't tell by all the kolaches around the Lone Star, Texas has a large Czech community -- there's even a Texas Czech Belt! This museum offers a glimpse into the Czech experience via art, music, stories and more. Visit for free the last Monday of the month; and you can, ahem, Czech out all the FREE events, too. See what we did there?
Museum District
Free hours: Thurs 2-5pm, also free on International Holocaust Remembrance Day, Yom HaShoah, Memorial Day, D Day, Veterans' Day (for active servicemen and veterans), and Human Rights Day.
Notes: This significant look into history remembers the 6 million Jews and other innocent victims of the Holocaust, honoring the survivors' legacy, and teaching the dangers of hatred, prejudice, and apathy. Visit to join in its mission and build a more humane society.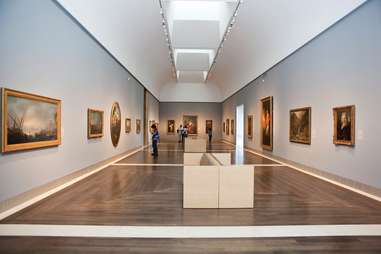 Museum District
Free hours: Thurs, 10am-9pm
Notes: Visit to explore the exceptional fine art exhibitions and installations, from a look at the iconic Norman Rockwell to A History of Photography, and selection of Spanish Colonial Paintings. In addition to the free hours, there are also freebies like the Lunch + Look program, and a stroll through the gorgeous Cullen Sculpture Garden is always free.
Museum District
Free hours: Thurs, 2-7pm
Notes: Go on a deep dive into all things health-related (including a look at the latest medical science and a glimpse into the human body) at this interactive museum. All exhibits (excluding the DeBakey Cell Lab) are free during Free Family Thursday.
Museum District
Free hours: Free daytime admission typically falls on the first Tuesday of each month, September through May, from open to close; in January, free Tuesday is the second Tuesday
Notes: Is a zoo a museum? We really don't care, because LOOK AT THOSE MONKEYS. As the Zoo gears up for its 100th anniversary in 2022, it has committed to redefining what a zoo can be, rocking "beautiful and immersive habitats, compelling guest experiences, and an unyielding commitment to saving wildlife." And like we said, there are MONKEYS.
Sign up here for our daily Houston email and be the first to get all the food/drink/fun in town.