We all know Texas is the best damn state in the country. We're not here to argue that. We are here to argue something else. And that is that Houston (not Austin, not San Antonio, and definitely not Dallas) is the best damn city in Texas. Here's why:
1. Fajitas. You're welcome, everyone ever.
2. We wouldn't even think about having a plastic bag ban.
3. We aren't loathed by an entire nation of NFL fans.
4. We don't rely on old standbys. Our 'cue game gets better everyday.
5. Two words: oil money.
6. Even our hipsters have real jobs.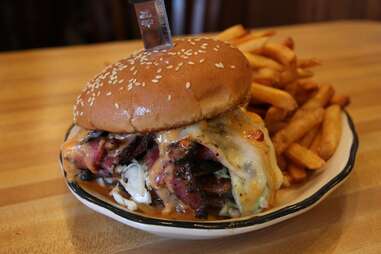 7. All of these.
8. People watching. Just check out the crowd at one of our ice houses.
9. Here, millionaires really do have millions.
10. Our tacos go unrivaled. Don't even.
11. Our zoning laws are lawless… and that's just plain cool.
12. We're pretty sure that flower-in-your-beard thing won't become a trend here. Can't say the same for certain other cities.
13. Nobody does Tex-Mex better.
14. We have Beyoncé… and by transitive property, Jay-Z. Dallas has Vanilla Ice… and by transitive property, herpes.
15. Houston's Med Center FTW!
16. Even Uchi wanted to come here.
17. Our paychecks go further than yours.
18. We're the most ethnically diverse city. Not just in Texas. In the ENTIRE country.
19. Do you understand what that means for our food? We. Have. Everything.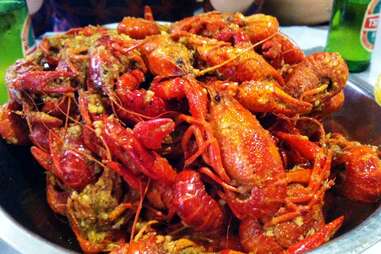 20. Vietnamese crawfish… pretty sure we invented it.
21. Our sports teams actually play IN the city.
22.Shipley Do-Nuts.
23. Mission Control.
24. We create so many jobs that even our jobs have jobs.
25. We don't have an entire "dirty" street that smells like vomit.
26. We have the best breweries. Hands down.
27. Our margaritas are legitimately better and we have an entire bar devoted to vintage tequila and mezcal because we're cool like that.
28. What housing bubble?
29. Hippy festival goers only invade us once a year.
30. We raise about 20k/month for local charities just by drinking.
31. We're closer to the oysters.
32. The fact that this entire list could have been about allllll the food.
33. This year's Texans' defense. Hopefully.
34. Have you been to our Livestock Show & Rodeo? We know you have because it's the biggest and the best.
35. Air-conditioned baseball.
36. From NASA engineers to cancer researchers at MD Anderson, we've got an overload of super-smart science happening.
37. Quite frankly, the world needs us.
Sign up here for our daily Houston email and be the first to get all the food/drink/fun in town.