Every good or even half-assed Houstonian has seen the Bat Bridge, walked the underground tunnels, and at least thought about visiting the Beer Can House (which would be cooler if the beer were drinkable). But have you ever pressed the BIG RED BUTTON or seen the 40ft golden dome in the middle of a residential neighborhood? You should. Here are 10 Houston secrets, revealed:
This Hindu temple was assembled like a jigsaw puzzle
Stafford
People may call us an ugly city, but we do house some seriously fine architecture. Like the BAPS Shri Swaminarayan Mandir, a traditional Hindu temple made of 33,000 pieces of hand-carved Italian marble and Turkish limestone. BOOM!
You can make the bayou burp
Downtown
As if the bayou wasn't dirty enough, you can legit make it burp. It's called the Big Bubble. All you need to do is press the big red button hidden inside one of the pillars on the Preston St Bridge (which, despite our wishes, doesn't detonate some sort of catastrophic device) and watch as the bayou bubbles and belches before your eyes. Bonus points if you time it just right to scare the crap out of a kayaker passing by.
A crypt from the 1800s can still be seen under the Franklin St Bridge
Downtown
Cool story: the Buffalo Bayou was once full of unexploded artillery from Confederate days. Well, in 1866, the Donnellan brothers found one of the unexploded bombs and accidentally blew it up while handling it. Their crypt was built right into the south bank of Buffalo Bayou, and while their remains were removed in 1901, the Donnellan Crypt's red brick entrance can still be seen under the bridge to this day. Also, we should note: there's never been a professional cleanup to find the rest of the weaponry, soooooo you may actually need to be careful when you press that button we mentioned earlier.
There's a bunch of dead president heads sitting outside next to Target on Shearn
Washington/Heights
The guy that made the giant "We <3 Houston" sign on I-10 has made a lot more than just the giant "We <3 Houston" sign on I-10. Just take a walk over to his studio (Adickes Sculpturworx Studio) after your next Target trip, where you'll find the 20ft busts of several deceased presidents alongside 36ft sculptures of the Fab Four that you're totally going to illegally climb on.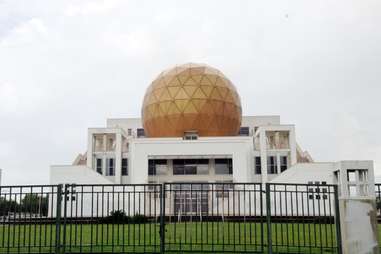 This abandoned palace in the middle of a neighborhood on Ashford Point
Westside
With a 40ft gold dome that looks like something out of an Austin Powers movie where Dr. Evil takes Epcot, the unfinished and abondoned Chong Hua Sheng Mu Holy Palace is one of the more bizarre things in Houston (and we have The Orange Show for God's sake). Also known as the Palace of the Golden Orbs, the $6 million fortress was built by members of a Chinese universalist religious organization that had plans to complete the temple complex before the sect's leader was deported in 1999. So much for world domination.
The National Museum of Funeral History is a thing... and we have it
North Houston
We aren't sure why, but our fair city hosts the largest collection of "funeral service artifacts" in the ENTIRE country. Just in case you ever wanted to look at a bunch of 1830s hearses and stuff.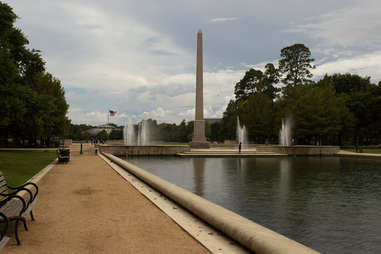 There may be a treasure chest buried somewhere in the city... and the map is a book
We don't know where
Rumor has it that before Byron Preiss wrote 1982's The Secret: A Treasure Hunt, he traveled the country hiding 12 keys (which in turn unlock a safety box housing one of 12 precious gems) and basically mind-effing everyone into reading his crappy book. According to what we see on Reddit, it's working. Hint: If you're into it, we hear the starting point is at Hermann Park.
There's an 87,500sqft underground cistern below the lawn on Sabine St
Fourth Ward
Built as the city's first underground drinking reservoir in 1927, this 87,500sqft, 25ft tall cistern was rediscovered just four years ago. The totally-creepy-but-pretty-dope cavern is only reachable via tiny hatches that open to 14ft ladders (It is currently closed to the public but will be turned into an art museum in the near future).
We have a drive-thru "exotic animal" safari
Alvin
Can't afford an African safari? You're in luck, because Bayou Wildlife Park is the poor man's version. Head here for a real live tram that will take you to see real live rhinos, camels, lemurs, and some pretty underwhelming deer.
There's an awesome graffiti mecca called the "Kingspoint Mullet"
Kingspoint
This sweet as hell graffiti space – housing some of the biggest and baddest murals in Houston – may be the only legitimate reason to go near the Almeda Mall. It's certainly the coolest mullet we've ever seen.
Sign up here for our daily Houston email and be the first to get all the food/drink/fun in town.