12 Fun Things to Do in Houston During Dry January
Get into mocktails, Taylor Swift parties, pickleball, and more.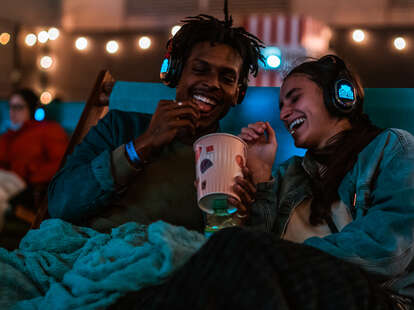 Rooftop Cinema Club

| Rooftop Cinema Club
Rooftop Cinema Club

| Rooftop Cinema Club
With the holidaze officially over, January ushers in the urge to reclaim your wellness. For many, improved health comes in the form of Dry January, and if you've never partaken before, perhaps this guide of still totally fun sober activities in Houston can entice you. Now's the time to try something new (rock climbing, anyone?), explore a part of the city you never have before (we hear the Buffalo Bayou's pretty nice), or join one of those Taylor Swift sing-out parties. Here's how to have a blast during Dry January in Houston.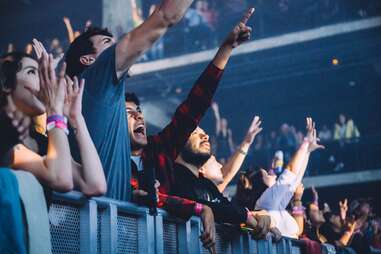 Jam out at all the live concerts
Various locations
Houston's got a bunch of awesome live music venues—713 Music Hall, Bayou Music Center, The Continental Club, House of Blues, Stereo Live, Warehouse Live, and White Oak Music Hall to name a few—drawing acts from nearby and across the nation. From Taylor Swift parties at House of Blues to Future at Toyota Center, scout sites like Bands in Town to find your next jam.
See why pickleball is all the rage these days
Various locations
Did pickleball have one helluva glow up or what? Seemingly the "it game" of the moment, pickleball hubs have popped up all around Houston. Find public courts, join a league, or break a sweat and grab some eats at fun spots like Bumpy Pickle or SpindleTap Brewery.
Galleria/Uptown
In need of a cool sober date night? Rooftop Cinema Club takes your 'flix and chill night next-level with an al fresco movie experience complete with rooftop views, deck chairs, cozy blankets, and personal headphones, drinks and bites, and a lineup of films both new and classic.
LYAO at stand-up comedy
Various locations
The Riot Comedy Show at Rudyard's, Comedy Open Mics and Thursday Laughs sessions at The Secret Group, and Live Improv and Sketch Comedy at Station Theater and Comedy Sportz Houston are some of the live comedy nights to hit up. Big name acts often roll through Houston Improv, which has got Jay Pharoah, Atsuko Okatsuka, and Craig Robinson in the lineup this January.
Skip the booze and try a mocktail
Various locations
Zero-proof cocktails come packed with all the flavor and absolutely none of the hangover; and Houston's top mixologists have perfected the game. Bludorn's French-inspired Gulf Coast cuisine pairs wonderfully with drinks like the Dove's Nest (a grapefruit, lime, Seedlip Garden, vanilla, and chili kissed number); GJ Tavern's got drinks like The Noontime ($7) refresher with cucumber, pistachio orgeat, lime, and tonic; Kin Dee invites you to sip booze-free Butterfly Tea Margaritas alongside your Thai eats; and self-serve wine bar Roots is growing its selection of alcohol free options, like the Eins Zwei Zero Sparkling Riesling and Luminara Red Blend from Napa Valley.
Experience underground local arts and theater
Various locations
Yes, you can check out Houston's Museum District and Theater District (and you should, they are both world-class), but there are some more under the radar talent to get acquainted with, as well. Over in the Arts District Houston, Second Saturdays at Sawyer Yards gives you the chance to meet local artists and explore their open studios throughout the six repurposed warehouses. Project Row Houses is a game-changing art experience in the Third Ward, creating art installations that enrich the community and delve into the complex history of the neighborhood. Theater geeks will want to check out funky and energetic EaDo venue, Rec Room, intimate storyteller Stages Houston, or cutting-edge live theater troupe 4th Wall Theatre Company in Arts District Houston.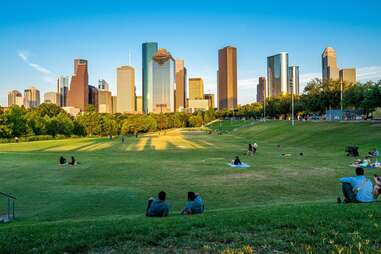 Buffalo Bayou Park
With gorgeous landscape and up-close views of the city skyline, Buffalo Bayou's Eleanor Tinsley Park is a prime locale for a picnic—plus, it's pretty cool to stroll around, with a Dog Park, Skate Park, and super mysterious Underground Cistern all in-park. As for the picnic, we suggest snagging some luxe provisions from local cheesemongers Houston Dairymaids or Montrose Cheese & Wine.
Various locations
Social cycling group HTX Bike Social provides a hub for local cyclers of all experience levels. Group members post public rides daily, from bike crew meetups lifting off from local parks to the group's ride from Whole Foods on Waugh each second Friday of the month.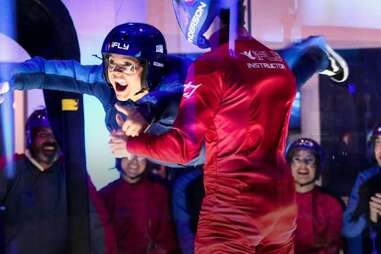 Get endorphins flowing with a new activity
Various locations
This month is all about doing. Break a sweat at a free Hatha Yoga or HIIT class at Discovery Green, or hit The Ice. Throw some axes at BATL Houston or Houston Axe Throwing. Get a thrill without the fear at indoor skydiving experience iFly. Scale the soaring terrain at bouldering gym Momentum Indoor Climbing. Or glide through the treetops at Geronimo Zipline Skytrails and Adventure Park.
Galveston
Make your way to Galveston's Historic Strand District for the 13th annual Yaga's Chili Quest & Beer Fest (minus the beer fest part, which is separate anyway), going down Saturday, January 21. A roster of legit cookoff teams will be serving chili samples from noon to 3 pm as you have the super difficult job of tasting them all and voting for the winner. Chili tasting tickets cost $13.
Shop for local, in-season ingredients for dinner
Various locations
What's it like to wake up early and get first dibs on all the goodies at the epic Saturday morning Urban Harvest Farmers Market? You're about to find out. Or you could make your way over to the newly reimagined Houston Farmers Market off Airline, which is open seven days a week and hosts a variety of merchants and star local chefs—there's Crawfish & Noodles, Wild Oats, and Underbelly Burger—throughout its sprawling campus.
Various locations
With or without the booze, high-tech golf game TopGolf is just plain fun. Reserve a climate-controlled bay and let those micro-chipped golf balls fly at your targets. Loser buys the next round of chips & guac.