8 Reasons to Drive to Galveston, Texas
Gear up for some Gulf Coast fun with a trip to this prime Texas beach getaway.
We'll not besmirch the East and West Coasts, but when it's time for a weekend getaway from Dallas, Houston, or Austin or simply some much needed R&R, Texas travelers will find a compelling beach scene just a few hours away. The scenic Gulf Coast stretches for 367 miles and offers several options for sunny family-friendly vacations, but when it comes to active island fun in the sun it's hard to beat Galveston. The barrier island is teeming with food, drinks, and attractions, plus some of Texas's very best beaches. So whether you're reliving your spring break boardwalk dreams or need a quiet weekend on the sand, it's time to load up the car and point south. Here are eight reasons to visit Galveston, Texas.
Any trip to Galveston should start and end with a solid beach plan. The island spans more than 30 miles and offers an abundance of sandy options for spreading your blanket—and it's worth choosing a hotel or Airbnb based on the type of beach experience you want. East Beach is usually where the party's at. It hosts concerts and festivals during the summer months, plus an annual sand castle competition each August. It's also home to a boardwalk, stage, and concession stands, and it allows alcohol in open containers—no glass, of course. Crystal Beach, stashed on the Bolivar Peninsula, can be accessed via ferry and sports soft sand, shallow waves, and a family vibe. Jamaica Beach, on the other hand, skips things like lifeguards and chair rentals, inviting you instead to pack your own supplies and steer clear of the crowds.
Located downtown, the Strand is a National Historic Landmark consisting of 19th century buildings and Victorian architecture in an area that once dubbed "The Wall Street of the South." It's also Galveston's primary shopping district, with antique stores, souvenir shops, and boutiques lining the streets. Take a leisurely walk through the neighborhood and pop into whatever window catches your eye. You can stock up on clothes, art, gifts, and other ephemera, but make sure to leave time for La King's Confectionery and Ice Cream Parlour. This Strand institution opened in 1976 and is a throwback to old-school soda fountains, serving malts, shakes, sundaes, and floats galore. If you need something more substantial than ice cream, nearby bars and restaurants offer everything from Tex-Mex favorites to Gulf oysters.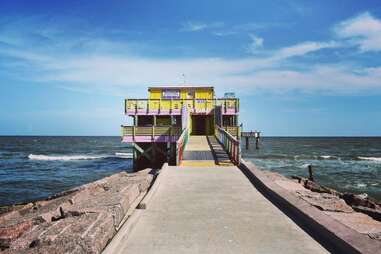 Galveston has several fishing charter services primed to take you out to the depths to wrestle the sea monsters or, you know, mackerel. But if you're less into sport fishing and more into killing a couple hours before happy hour commences, head to the 61st Street Fishing Pier. Bring your own gear and bait, or rent what you need from the onsite tackle shop. They'll outfit you with a rod, so you can drop a line and try to catch some dinner. You can also score snacks, beer, and Margaritas right on the pier—all the hallmarks of a successful fishing experience.
You don't have to go to Egypt or Mexico to see the pyramids. Galveston's Moody Gardens is home to a trio that's much easier to access. The massive entertainment and education complex encompases a hotel, golf course, lazy river, white sand beach, and water park, so there's more than enough to do and see. But back to the pyramids. The Rainforest Pyramid houses more than 1,700 exotic plant and animal species from the rainforests of Asia, the Americas, and Africa, plus free-roaming monkeys and macaws. The Aquarium Pyramid contains one of the largest aquariums in the US and hosts penguins, sharks, seals, and thousands of tropical fish. And the Discovery Pyramid features traveling science exhibits. Nary a pharaoh's tomb in sight, though—just a whole lot of immersive fun.
You can't visit Galveston without gorging on seafood until your mercury levels reach dangerous highs—that's just the way it goes. So lean into it, and pop into some of the area's best restaurants. You can go high-end or low-key, with options laced throughout downtown and breezy patios lining the 10-mile seawall. Gaido's opened in 1911 and still plies locals and visitors with shellfish towers, fried catfish, stuffed shrimp, and a rotating daily catch. Shrimp 'N Stuff lives up to its name, serving both shrimp and stuff, including po'boys and gumbo. Black Pearl Oyster Bar is a neighborhood hit, featuring various oyster preparations, ceviche, fish tacos, and Cajun-style dishes like crawfish etouffee and fried alligator. And Fisherman's Wharf serves up waterfront views alongside beer-battered fish, crab cakes, redfish, and lobster tails. And that's just scratching the surface. You can also leave your dinner up to chance by closing your eyes, spinning around, and throwing a piece of calamari like a dart—you're bound to peg an outpost serving up top-notch sea creatures.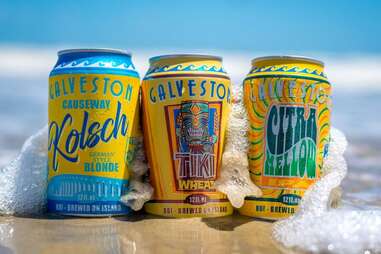 Galveston's 50,000 locals and millions of annual tourists are a thirsty bunch. Fortunately, they're not relegated to mass-market beers and cheap well liquor.
Galveston Island Brewing is the largest operation in town, and everything pouring from its 13 taps is brewed right on site. Mainstays include Causeway Kolsch, Tiki Wheat, and Citra Mellow IPA, each perfect foils to hot, balmy weather. Each season gets one or two special releases, like spring's Flip Flop Lager and an Oktoberfest come fall. Also on the seawall, Beerfoot Brewery sports 33 craft beers on tap and more than 100 in bottles and cans. Their claim to fame? They let homebrewers use their equipment to make batches that the public can sample and critique. Back toward downtown, Devil and the Deep serves a menu of Belgian and American-style beers in a tap room stocked with shuffleboard and arcade games. Hang out and down a couple pints between rounds, or grab a few crowlers for your beach cooler and hit the sand.
If it's the hard stuff you're after, Texas Tail Distillery has your whiskey, vodka, and moonshine needs covered. Try a flight or choose something off the extensive cocktail menu, then camp out on the sunny patio and order bites from the resident food truck, loaded with enticing pub grub like Chimichurri Nachos, Brisket Grilled Cheese, and Pulled Pork Sliders.
If you're into nautical history or just feel like touring some old seafarers, Galveston is where it's at. 1877 sailing vessel Elissa is parked alongside the Texas Seaport Museum. Hop aboard this floating National Historic Landmark to see how sailors lived in the 1800s. Then make a day of it with a trip to Pelican Island's Seawolf Park. That's where you'll find the USS Cavalla, which served as a WWII submarine, and the USS Stewart, which is one of only three destroyer escorts in the entire world. There's also a fishing pier and picnic sites, so you may as well stick around for a while.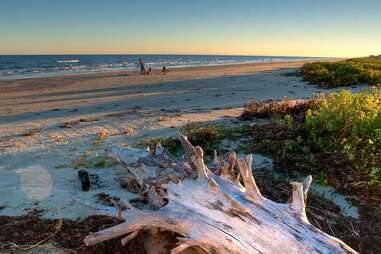 The al fresco attractions continue at Galveston Island State Park, which boasts 2,000 acres of wetlands, dunes, coastal prairies, and shoreline. Bring some binoculars and watch for birds, including hawks, egrets, and great blue herons. Fish for flounder, sand trout, redfish, croaker, and black drum. Rent a kayak and paddle through designated trails dotted with secluded bayous, open coves, and seagrass beds. Or stay on dry land and hike or bike along four miles of serene paths. When it's time for a rest, the beach is on hand to accommodate you and your blanket for a snooze in the sun before heading back into town for a well-deserved dinner.