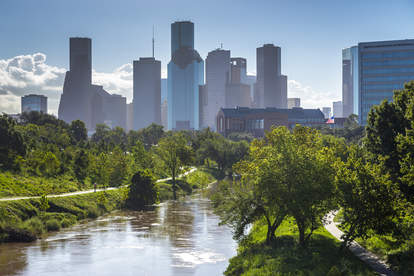 23 Actually Cool Things to Do in Houston During Quarantine
All social distancing approved.
Houston is dipping its toes into the reopening phase, as Texas Governor Greg Abbott has set Phase 1 into motion with the opening of restaurants, retails stores, malls and movie theaters in the beginning of May, with hair and nail salons (and soon, gyms) following. That's not to say that the city is not still in hunker down mode, however. While we all do our part to practice safe social distancing and fight the spread of COVID-19, it's hard to explore all the cool things Houston has to offer. Hard, but not impossible.
So we're bringing you a fresh take on our usual "Actually Cool" lineup, zipping through virtual and at-home experiences, offering seasonal activities you can partake in from a safe social distance, and covering all the really, really good food and drink you can still procure (because at its core, Houston is a really, really good place to eat and drink).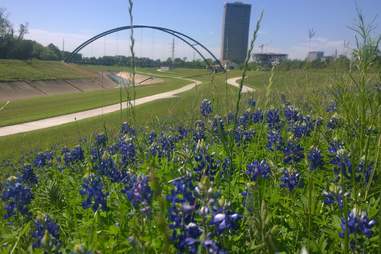 Brays Bayou Greenway

| Tom Flaherty
Have a photo sesh among Texas Bluebonnets
Free
Houston
Spring in Texas means its Bluebonnet season, which in turn means it's time for you to break out your most obnoxious sunhat and have yourself a good ol' fashioned photo shoot with your quarantine crew (partner, roommate, kid, dog, ferret… whatever you got). You'll likely find little patches of the pretty blue flowers blooming in nearly any Houston park, including the city's big three: Buffalo Bayou Park, Memorial Park, and Hermann Park.
Free
At-home
Every spring, the most wackadoo art cars in all the land converge for the annual Houston Art Car Parade. And every spring, locals grab some road sodas and watch them parade along the streets. This year, you can still have that road soda, only this time, it'll be more like a house soda as you check out the cars that would have been in this year's lineup; and we're absolutely sure there is some sort of drinking game you can make out of it.
$$$
At-home
While it's a beautiful time of year to wine hop around the vineyards in Texas Hill Country, that likely ain't happening this year. Instead, Messina Hof invites y'all to schedule a private, one-on-one tastings with one of its tasting room managers. Choose from wine packages like "Raving for Reds" and "Pass the Bubbly," then place an order for home delivery, curbside pick-up, or shipping before your Virtual Vino experience.
Feges BBQ

| Robert Jacob Lerma
$$-$$$
Montrose (& Spring Village)
Pork ribs by the rack. Five-pound briskets. Smoked, pulled chicken. Links on links of sausage. It's all chilled, vacuum sealed, ready-to-heat, and available for preorder from one of Houston's finest BBQ joints (and there are quarts of braised collards, sweet potato-banana mash, and loaded potato salad, too). For the time being, Feges BBQ will be dishing out the bulk BBQ at the Spring Branch Village Shopping Center (home to its soon-to-open new location) on Saturdays and its pop-up outside of Montrose's Roost on Sundays.
Free
At-home
Unless you are quarantined up with a bunch of world-class classical musicians, a live orchestral performance is not in the books right now. But if you check out the Houston Symphony's Listen at Home live concert series, it kind of is. Previously aired recordings are archived for 30 days, and you can also tune in on Spotify or you can listen live every Sunday at 8pm on Houston Public Media News 88.7 FM. It's free to tune in, though donations are always appreciated.
Shop for dinner at virtual farm stand
$-$$$
Houston
Houston food is really best experienced via seasonal produce and locally sourced meats. Place an order at urban farm Finca Tres Robles and you can get a "plow" produce basket, pastured eggs, ground sausage and beef, raw honey, and pint of ice cream (we're sure you can Chopped yourself a dinner outta that, right?). Urban Harvest is still running its open-air market (going cashless, and adding sanitization stations) on Saturdays, and you can also preorder online and pickup your goods at the drive-thru. And Hope Farms has got goods from rainbow beets and seasonal squash to locally made fresh egg pasta that you can order online for pickup.
$$
Arts District Houston
While it awaits its re-opening in BLVD Place, the Rooftop Cinema Club is going retro over in Sawyer Yards, offering film fanatics a super cool, contact-less drive-in movie experience. Now through May 17, there will be two screenings every night, from classics like The Rocky Horror Picture Show to sing-a-longs like The Greatest Showman to the movie you likely rented everytime your parents let you stay home, The Sandlot (no, that was just us?). Cost is $28 per vehicle, regardless of occupancy, and you can tack on concessions from Rooftop Cinema, food and drinks from their partner, Buffalo Bayou Brewing Co., or bring your own goodies
Nama-stay away from others with a sunrise yoga sesh 
Free
Buffalo Bayou Park
Imagine this: It's early morning, before the sun and your fellow Houstonians rise. You wipe off your wine mouth from last night's Zoom session and get your bottom over to Buffalo Bayou Park, where you can set your yoga mat down for a responsible, socially distant yoga sesh under the Houston skyline. Several Houston workout studios have online workout classes available for streaming, including Black Swan Yoga, DEFINE Body & Mind, and BIG Power Yoga; and you can check out our Virtual Workout Guide for even more fitness options.
$-$$$
At-home
One of the reasons Houston is so cool is its culinary community, and the open, collaborative nature of our local chefs is a huge part of that. While we're all doing our best to stay home, a bunch of top chefs are sharing recipes that will take you on a culinary tour of Houston from your kitchen. Visit Houston has curated a fantastic list, providing the instructions to make a pretty rockstar dinner out of dishes like chef Hugo Ortega's flautas de pollo, Coltivare chef Ryan Pera's Gulf snapper, and Fluff Bake Bar sugar fair and pastry chef Rebecca Masson's strawberry pie. Need more inspiration? Underbelly Hospitality mastermind and ace chef Chris Shepherd's new cookbook, Cook Like A Local, is a badass purchase that tells the story of Houston's diverse culinary scene (and it was just nominated for a James Beard Award, NBD).
Suck down mudbugs from the comfort of your own home
$$
At-home
Pinching, twisting, and eating your through crawfish is a Houston rite of passage (as is sucking the head),  and while you're usually doing it out on a patio bar or restaurant, it is possible to still pull off the feat at home. You can purchase the bugs by the pound and make a boil of your own, or you can order seasonal takeout boils from spots like BB's Tex-Orleans, Eugene's, King's BierHaus, Phat Eatery, and Saigon House, the Viet-Cajun crawfish favorite that just recently resurrected in its new location on FM 1960. 
$$$
At-home
The team over at Houston's Well Done Cooking Classes has launched a series of virtual cooking classes, running around $49 to $69 per person and featuring experiences like "Date Night: Dinner on the Bayou" and live "Gnocchi Making" and "Sushi Rolling." Each comes with a cooking class kit featuring all of the food items that you'll need for the class, with delivery up to a 30-mile radius from its Well Done location in The Heights or pickup available up to two hours before the scheduled class.
Pull off a brewery Triple Crown, by taking out
$-$$$
Houston
The current state of affairs may have canceled your usual weekend brewery hopping plans, but it hasn't canceled your right to great beer. Some of Houston's greatest local suds spots are making it easy to snag their brews while avoiding the grocery store crowds, including Eureka Heights, 8th Wonder, Buffalo Bayou Brewing Company, Ingenious Brewing Company, No Label, and Saint Arnold (a few of which are running some pretty convenient beer to-go drive thrus, too). Ready to pick up your bevies? Your best bet is to check social media for the latest updates on how you can procure some fresh crafts.
Buffalo Bayou Partnership

| Jonnu Singleton/SWA Group
Take a hike
Free
Houston
Some say Houston's not the prettiest city, and to that we say, "Ok, you're probably right." But we DO have some pretty picturesque hikes and running trails. Lace up and break a sweat on one of the most beautiful runs in Houston, including but not limited to the winding hike and bike trails of Buffalo Bayou Park, the even more discreet Buffalo Bend Nature Park, and the 1,700-acre George Mitchell Nature Preserve. If you don't mind venturing a bit further out, you'll also want to check out these amazing hikes near Houston.
Go on a DIY takeout taco crawl 
$-$$
Houston
Have some extra time on your hands these days? Spend it wisely by embarking on a takeout taco crawl. Start with chorizo y huevo-loaded breakfast tacos one day, then move onto chicharron, al pastor, and carne asada kissed numbers via the most important tacos in Houston. By the end, you'll finally be able to proclaim your H-town taco allegiances.
Dish Society

| Kimberly Park
$$-$$$
Houston
Second only to inviting yourself over to the home of literally anyone you know with a pool, a Houstonian's favorite leisurely weekend activity is brunch. While you can't (and shan't) be brunching with your usual crew of 10+ of your rowdiest friends, you can still do brunch justice by ordering it to-go. Don't know where to start? We got you covered with a lineup of all things boozy and benny, available for pickup, delivery, and dine-in (if and only if you can do so responsibly).
Explore Chinatown's to-go options
$$
Chinatown 
The entire restaurant industry is hurting right now, including Houston's Chinatown which started seeing steep declines in business early on (sadly, we have false rumors and xenophobia to thank for that). Now's a great time to continue showing your support by calling in to-go orders at your go-to dumpling spot, noodle purveyor, vegetarian joint, ramen bar, crawfish stop, and pho shop. 
Free
Montrose
True story: when the Waugh Bridge was built, no one realized it was the perfect structure to host a whole bunch of Mexican free-tailed bats. Well, apparently it was, because locals started noticing a bat colony around '99. Before Hurricane Harvey, the bridge hosted about 300,000 of the little guys, and though some didn't make it through the devastating storm, the colony remains. Today, you'll find the bats hanging tight until they spiral out from the bridge's crevices on warm nights around sunset. Head to the viewing platform and you may just catch a bat show, which never fails to both fascinate and creep the hell out of anyone you bring along.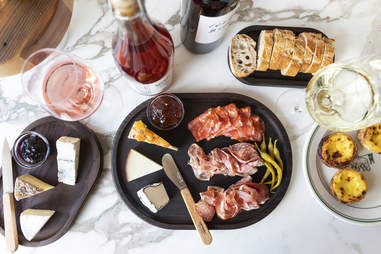 Montrose Cheese & Wine

| Julie Soefer Photography
Pretend you're out in wine country
$-$$$
Houston
It might not be Napa, or even Fredericksburg, but Houston's got some solid options for the wine-obsessed. You won't miss the inhouse sipping when you order curbside and delivery from spots like Montrose Cheese & Wine (which also offers fine cheeses and charcuteries that make for the perfect picnic opportunity, too) and Light Years Natural Wine Shop and Bar in Montrose, and micro-winery Houston Winery and the stellar Mutiny Wine Room over in the Heights.
$
Houston
One of the best ways to get to know a city is by biking it, and if you don't have a bike of your own, you can hit up one of B-cycle's 80+ (and counting) stations to rent a bike. It'll run you $3 per 30 minutes, or you can go full-on Tour de Houston and sign up for the $13 monthly membership, which will unlock unlimited 60-minute trips for the entire month (or more like the entire weekend for your visitors). Note: To prevent the spread of COVID-19, B-Cycle has currently closed the 12 stations at or near overcrowded parks: Buffalo Bayou Park, Hermann Park, Memorial Park, and Stude Park. In-use bike stations have posted signs reminding riders to wash hands before and after riding and wear gloves if they can, and strict disinfecting and sanitizing protocols are in place.
Go big on seafood
$$$
Houston
One of the reasons Houston totally rocks is its proximity to the Gulf Coast, which in turn means we have some pretty badass local seafood. Over at Brennan's of Houston, the Gulf Fish Pontchartrain comes with a blanket of crispy Louisiana oysters, jumbo lump crab, shrimp and Creole butter; and the Texas shrimp & grits are pretty much legendary. Local darling Goode Company Seafood has Gulf oysters, campechana, seafood gumbo and po' boys, and grilled red snapper, all available for online ordering and takeout. And if you want to cook at home, you can order U12 Gulf shrimp, unpeeled and with the head removed, from Georgia James.
Free
Downtown
Stretching from Shepherd to Sabine between Allen Parkway and Memorial, Buffalo Bayou Park is the Crown Jewel of Houston's greenspaces. Take a walk along the winding hike and bike paths and you'll find grassy plateaus framed by trees, bike, and kayak rentals, a giant dog park and skate park (that are currently closed, but you can still walk by 'em), picnic spots and pavilions, and plenty of cool art installations -- from the Dandelion fountain to the six 4-foot-tall "Monumental Moments" sculptures along the Kinder Footpath. Just be sure to respect the 6-feet-away rule.
Go mural hopping
Free
Houston
You can kill at least a couple of hours Insta-storying yourself in front of some of the city's coolest local art attractions. Stops include but are not limited to Market Square's "Houston is..." mural, the Biscuit Paint Wall on Westheimer, the We <3 Houston Sign, the 10-foot tall Midtown letters in Bagby Park, the "Greetings from Houston" wall on White Oak, Synchronicity of Color in Discovery Green, Downtown's Art Blocks, and all the cool stuff over in the Arts District Houston.
See why we win James Beard awards
$$-$$$
Houston
Our JBA-winning chefs and restaurants continue to prove their worth even in the current dining climate. Over at his modern bistro, Theodore Rex, Justin Yu has launched a refreshed takeout-friendly menu that is paying homage to everything from noodles to Houston's Restaurant; and his partnership in neighborhood spot Squable might have something to do with the reason it's one of the best restaurants in town at this very moment. Chef Hugo Ortega is currently dishing out fantastic to-go eats at Hugo's (Xochi and Caracol are currently closed) and Backstreet Cafe. Chef Chris Shepherd's upscale, diverse riff on classic comfort foods are available to-go with Underbelly Hospitality's to-go menu. Irma Galvan's namesake spot fresh, homestyle Mexican haunt Irma's continues to be an American classic; and Robert Del Grande, who won in 1992, continues to impress with his recent takeout truck pop-ups at The Annie Cafe and Bar.
Sign up here for our daily Houston email and be the first to get all the food/drink/fun in town.