Houston's been gaining traction as an actually cool place to visit for a couple of years now, and as a Houstonian, it's YOUR job to keep that reputation alive and valid. Sure, you can take a three-hour tram tour of the Johnson Space Center or spend all day checking out the city's many, many museums, but we're pretty sure your friend is never coming back if that's all you do. Instead, take 'em out to some of our best restaurants to show off Houston's culinary prowess… and then go to some of our best bars, where they'll surely forget the names of our best restaurants.
Below you'll find the best things to do in Houston, no matter if you've lived here all your life or are in town for five minutes. Ranging in price from "free as hell" to "hope you got paid today," here's the coolest stuff H-Town has to offer.
Get wonderstruck at the James Turrell Skyspace
Free
Rice University
Not many tourist attractions are actually worthy of your time, but this totally rad light and sound installation definitely is. Found right next to the Shepherd School of Music on the Rice University campus, the acoustically engineered masterpiece is dubbed "Twilight Epiphany" thanks to a trippy LED light sequence. It projects onto and through the structure's open roof just before sunrise and at sunset. Money isn't needed, but reservations are.
Take a picnic to the stage
Free
Museum District
From March through November, the open-air Miller Outdoor Theatre puts on lively stage productions -- think live jazz, ballet, and musical theater -- that are absolutely cool and absolutely free. It very obviously draws a crowd, so join that crowd along with a blanket, some boxed wine & local cheese, and your super-impressed guest of choice. In the off-season, a picnic at Downtown's urban park, Discovery Green, is another smart choice.
Teach them how to Topgolf
$$
Katy (& Webster & Spring)
It's kind of like teaching them how to dougie, but way cooler. Instead of looking like an idiot, you'll be smacking golf balls at colored targets, dominating life-size Connect Four, and drinking a decent amount of beer buckets. Don't let its outside-the-loop location stop you from this good time (there's always Uber to kindly provide transport if you plan to booze).
BYOB to Chinatown
$$
Chinatown/Sharpstown
A trip to Asiatown is never not a good idea, but when you tack on BYOB options, things get a little bit extra. You'll want to pair something hoppy with the fiery curries at Mamak Malaysian, fork-tender lamb shank masala, and Pakistani-spiced fried chicken at Himalaya, garlic-butter Vietnamese-style crawfish at Crawfish Cafe, and hot peppercorn beef and pot-roasted fish at Mala Sichuan Bistro (which offers an excellent in-house wine list in case you totally blank and forget your bottle, as well).
Free
Montrose
True story: when the Waugh Bridge was built, no one realized it was the perfect structure to host a whole bunch of Mexican free-tailed bats. Well, apparently it was, because locals started noticing a bat colony around '99. Before Hurricane Harvey, the bridge hosted about 300,000 of the little guys, and though some didn't make it through the devastating storm, the colony remains. Today, you'll find the bats hanging tight until they spiral out from the bridge's crevices on warm nights around sunset. Head to the viewing platform and you may just catch a bat show, which never fails to both fascinate and creep the hell out of visitors.
$
Downtown
The Buffalo Bayou Partnership has done a lot for this city, and one of the raddest of its contributions was re-imagining this 1927 industrial relic into a public space, hosting docent-led walking tours and a series of art installations (the current of which is a trippy optical experience from world-renowned artist Carlos Cruz-Diez, on view through April 7, 2019). With 200 concrete columns soaring 25 feet and 87,500 square feet of open space, the cavernous structure is reminiscent of ancient Roman cisterns in Istanbul. Historical tours cost $5 ($10 for the art installation) and you can sign up for $5 meditation sessions on Sundays from 10 to 11am.
$
Multiple locations
One of the best ways to get to know a city is by biking it, so hit up B-cycle's 80+ (and counting) stations to rent a bike for $3 per 30 minutes. Or go full-on Tour de Houston and sign up for the $9 monthly membership, which will unlock unlimited 60-minute trips for the entire month (or more like the entire weekend for your visitors). Since you'll have to check the bike in once an hour to avoid extra charges, we suggest taking a ride along the bayou and into Downtown and Midtown, where you'll find a cluster of stops and a whole bunch of places to "quench your thirst" in between; or head straight for Houston's tree-lined Museum District.
Pull off a brewery Triple Crown
$-$$$
Multiple locations
Houston's brew scene is having a moment, so it stands to reason that you should partake as heavily in that moment as your liver will allow. Start at Houston's (and Texas') oldest craft brewery, Saint Arnold, which opens the beer hall for free tours and a la carte food and drink purchases Monday through Saturday. In EaDo, 8th Wonder Brewery rocks a sprawling backyard, on-site food truck and a seven-day-a-week taproom. Pair a Hopston IPA with some smothered elote fries from Eatsie Boys. Once you've conquered those, expand your sudsy horizons at your choice of microbrewery, including spots like Buffalo Bayou Brewing Co, Brash Brewing, Eureka Heights or Under the Radar.  
Bar hop on Downtown's megablock
$$-$$$$
Downtown
While Houston is known for its sprawl, that's not the case Downtown, where inviting drinking establishments sit so close together, we're surprised there haven't been any turf wars. See how nicely the bars play together by embarking on a DIY bar crawl, starting with drinks for a cause at OKRA Charity Saloon, hopping your way to expertly crafted libations at Captain Foxheart's Bad News Bar & Spirits Lodge, mezcal-laced cocktails at The Pastry War, whiskey shots at Boots 'n Shoots, and circling back to end the night with dancing at Nightingale Room or weirdness at notsuoH, because those are the only ways to end the night. Oh wait no, there's also pizza Roma's or Frank's.
Spend all day at an ice house or beer garden
$$
Montrose (& Midtown & Upper Kirby & EaDo)
Show guests how Houstonians really live by chillin' out at the city's most laid-back watering holes ALL DAY LONG. Over in Montrose, the West Alabama Ice House is absolutely legendary. Cheap booze, hoops, and some of the city's most excellent tacos al pastor help keep it that way. In Midtown, Axelrad Beer Garden is the kind of place you actually can hang out all day because you'll probably fall asleep in one of the garden's many nap-inducing hammocks. When you wake up, grab a slice from the neighboring Luigi's Pizzeria. At  Kirby Ice House, folks under 23 aren't allowed, and everybody seems to be OK with that; and though EaDo's Truck Yard looks and feels like an actual truck yard, everybody seems to be OK with that, too.
Splurge on the seafood tower
$$$
Multiple locations
Prove to visitors why Houston totally rocks with a gargantuan seafood platter. At Georgia James, that comes in the form of all of its raw bar favorites, from oysters and colossal shrimp cocktail to nuoc mam marinated crab fingers. Over at Brennan's of Houston, the Grand Seafood Platter busts out the big guns with a creole spread featuring Blue Crab ravigote, Zatarain's jumbo shrimp, Creole lobster "on a stick," West Indies crab claws, tuna and citrus poke, and Louisiana half-shell oysters. Or there's the jewel that is Mastro's epic seafood towers, dropped on the table covered in smoking cold ice.
Take a chef-recommended tour of the city
$$-$$$
Multiple locations
Some of Space City's finest chefs have helped curate handy guides to show off our culinary scene from their super-knowledgeable point of view. Triniti vets Ryan Hildebrand and Pat Sommers look at destinations along Airline Drive, including longtime seafood haunt Connie's Seafood and Mexican bakery El Bollilo, unrivaled home of the best tres leches. Chocolate fiends can follow along a Chocolate Lovers Tour from pastry chef and self-proclaimed "sugar hooker" Rebecca Masson of Fluff Bake Bar, featuring Fat Cat Creamery, Cacao & Cardamom, and Hugo's.
Live that suite life
$$$$
Museum District
We're sure you hit up Houston's luxury hotels mostly never. But what if you did? Well, then you'd enjoy a luxurious staycation with five-star accommodations like Hotel ZaZa's super-sexy, 2,000sqft Rockstar Suite ($2,500/night) or much more affordable regular suite; plus access to a sick pool, skyline views, spa services, and a swanky fine dining restaurant and bar. Those looking to live the suite life in Downtown should check out the Marriott Marquis, which has just-about the most coveted pool in Houston in the form of a seriously awesome lazy river in the shape of Texas.
$$$
Downtown
Turns out, you don't exactly have to be an overnight guest at the Marriott Marquis to hit up its famous Texas-shaped lazy river. If you book a 50 or 80-minute massage or facial in the Pure Spa, you're granted day access to the pool areas. Note: only the person receiving the spa treatment will have access, so you'll each have to bite the bullet and get a luxurious spa treatment to partake. The hotel also offers access during pop-up parties on select Second Saturdays throughout the year, so be on the lookout for upcoming events.
Get Chinatown-worthy food without trekking to Chinatown
$$
Multiple locations
If you live in town and are not down for a ride outside the loop (we get it), fret not. There are still excellent Asian options closer to the city. Asiatown favorite Mala Sichuan Bistro has an outpost in Montrose, offering the same mouth-numbing hot peppercorn beef and red oil dumplings. You'll also find hot diving fish and "Mr. and Mrs. Smith" husband and wife lung at Sichuan spot Pepper Twins, which hosts locations in Montrose, River Oaks,. Looking for soup dumplings? Some of the city's best sit at Midtown's Wanna Bao; and Montrose's Les Noo'dle is known for its spot-on pho.
Free
Museum District
Hilariously dubbed the "refried bean" by someone on the interweb, Cloud Column is a light-reflecting stainless steel sculpture by Anish Kapoor, the same guy who created Chicago's famous Cloud Gate. The soaring, 32-foot-high, 21,000-pound column was acquired and installed at the The Brown Foundation, Inc. Plaza at the MFAH in early 2018. Continue the art crawl at the adjoining Glassell School of Art building, which features loads of studios and public gallery spaces with works from students and alumni. The plaza also gives your access to the really cool Cullen Sculpture Garden, where sculptures are set among native trees, bamboo, and flowering crepe myrtle.
Free
Downtown
Stretching from Shepherd to Sabine between Allen Parkway and Memorial, Buffalo Bayou Park is the Crown Jewel of Houston's greenspaces. Take a walk along the winding hike and bike paths and you'll find grassy plateaus framed by trees, bike and kayak rentals, dog and skate parks, picnic spots and pavilions, and plenty of cool art installations -- from the Dandelion fountain to the six 4-foot-tall "Monumental Moments" sculptures along the Kinder Footpaths. Don't forget to stop for cheese plates and wine at The Dunlavy, a gorgeous glass treehouse and counter-service kitchen overlooking the Buffalo Bayou.
Hit three of Texas Monthly's "Top 10 Barbecue Joints"
$$
Tomball (& Spring & Washington
Texas takes its barbecue pretty seriously; as does Texas Monthly's take its top barbecue guide. So when not one but two Houston area spots make the elite "top 10" list, you should probably pay attention and then humblebrag whenever your friends come to visit. Tomball's Tejas Chocolate Craftory snagged the No. 6 spot thanks to its first-rate USDA Prime brisket and Saturday-only short rib. Not far behind at  No. 7, Spring's Corkscrew BBQ wows with its silky, perfectly rendered and blackened brisket (order it moist for best measure). Earlier in 2019, No. 10 spot Truth BBQ opened up shop inside the loop, drawing crowds to the old J. Black's space on Washington Ave.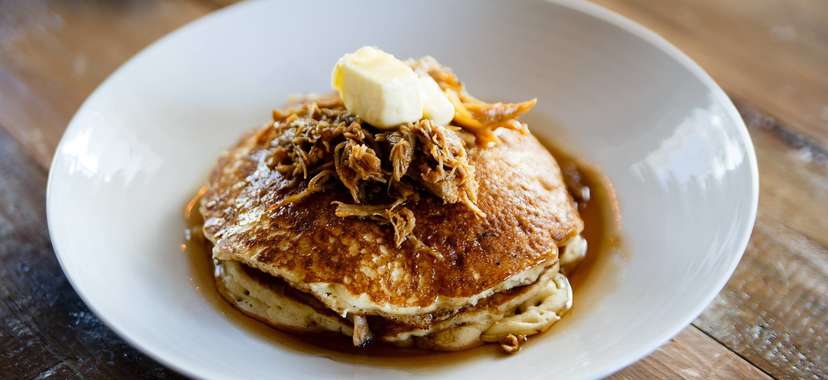 Go out to brunch, duh!
$$-$$$
Multiple locations
It's a well known fact that your visitors want to get a nice buzz and a food coma before their flight home, and the very best way to accomplish that is by taking them to brunch. From all-you-can-eat spreads filled with ceviches, chilaquiles, and tres leches to Bloody Mary-fueled spots where elastic waistbands are required, we've got the lowdown on the best brunches in Houston.
$-$$
Downtown
Houston's first underground beer garden and food hall offers some respite from the occasionally unsavory Houston weather. Choose from over 60 taps of local, national and international beer, cider, mead and whiskey; or hit up the inhouse Noble Rot wine dive to get wine by the glass and bottle. Current food options include individual bar pies at Arte Pizzeria, tacos and smoked meats at El Burro & The Bull, build-your-own poke (Moku Bar) and pho (The Pho Spot), and Venezuelan-style arepas at the upstairs Gordi's Arepas & more.
Take a walk along 19th
Free or $
Heights
The historic 19th Street in the Heights isn't exactly a hidden gem, but pop into some of the stores along it and you'll definitely find some treasures. Head to Manready Mercantile, where you'll find manly, American-made goods from beard treatment to leather bags; shop Emerson Rose for boutique clothing and accessories; go antiquing at AG Antiques; and finish with milk & honey lattes at Boomtown Coffee, sloppy tacos and beer at Torchy's Tacos, or happy hour on the roof at Harold's Restaurant & Tap Room.
Cheer on the hometeam
$$-$$$
Multiple locations
Houstonians get down for their home teams, whether they're smashing BBQ funnel cake and singing "Deep in the Heart of Texas" for the Astros at Minute Maid Park; getting nutty with the "Red Rowdies" at a Rockets game; hoping the Texans can pull off a "W" at NRG Stadium; or going full orange for the Houston Dynamo & Dash at BBVA Compass Stadium. Regardless of the outcome, at least the tailgate will be fun.
$
Multiple locations
Do a taco shop hop, making pit stops at favorites like Laredo Taqueria, Villa Arcos, and Chilosos Tacos House. Once you've eaten your weight in tacos and have still only spent like $10-$15 because #tacolife is amazing, pledge your allegiance and crown your favorite morning treat, once and for all.
$$
Multiple locations
Is there anything more fun than a tandem bike/trolley with a keg hookup? We think not. Stock up on beer and wine and get ready to slowly pedal/bar hop your way around town. You'll need a big enough crew for manpower (up to 16 people), so hopefully you also have some friends that actually live here --  if not, you can reserve 1-6 seats and make some new friends that day. Routes include Midtown, Washington, White Oak, Montrose, EaDo and a River Oaks Christmas Crawl. You're the boss when it comes to choosing the stops along the way.
Convince them to try crawfish
$-$$
Multiple locations
Mudbugging is a Houston right of passage, as is spreading the good word and teaching your visitors how to pinch, peel, and suck properly. In season (roughly from February through June), you'll find crawfish at favorites from BB's Cafe to pop-up shack The Boil House, both of which offer fiery Cajun-style bugs.  Viet-Cajun joints, including the famed Crawfish & Noodles and Midtown's Saigon House, usually serve the garlic-butter-loaded crawdads year-round.
Plan the ultimate picnic
$$
Multiple locations
Houston's most epic picnic purveyors are here to help. Near the Heights? Buy a ton of cheeses at Houston Dairymaids, then hop over to Canino Produce for fresh fruits and preserves. If you're Downtown, hit up Phoenicia Specialty Foods and go nuts on imported cheeses, salumis, fresh salads, hummus and baklava. Now pat yourself on the back and bring your spread to Discovery Green, Buffalo Bayou Park, Hermann Park, Memorial Park or Menil Campus.
Treat yourself to an opulent meal
$$$-$$$$
Multiple locations
Houston's dining scene is world-class, with plenty of expense account restaurant experiences that are worth the splurge (we even recently got ourselves a Nobu). Try the intimate tasting menu at The Pass; it's constantly refreshed, but you can expect five intricate courses offering tastes like tuna belly, caviar and pancakes, and roasted foie gras, plus expertly paired wines if you please. Looking to go big on beef? Doris Metropolitan is one of the city's hottest steakhouses right now, offering Mediterranean flavors alongside beef dry-aged in a show-stopping, chandelier-lit meat locker. With so many good options, we have you covered with even more of the very best places to eat in Houston right now.
$$
Montrose
This fairly fresh spot hits the honky-tonk trifecta: live music, two-steppin, and plenty of good whiskey. On Thursdays through Saturdays, you'll find local and regional country acts, as well as bluegrass, Zydeco and Americana. But if it's not a weekend, don't worry; you'll always find 40 labels of bourbon, rotating drafts, craft cocktails, and late-night tacos filled with everything from 44 farms cheesesteak to lamb barbacoa.
Free or $
Washington
This newly revamped arts and cultural district houses plenty of bars, restaurants, and shopping. And at the center of it all is Sawyer Yards, with 55 acres of repurposed industrial warehouses, over 300 creative working studios, and an exceptional art community. Every second Saturday of the month, the district hosts a curated open market, and local artists open their studios to the public, showing off sculptures, paintings, jewelry and photography, from noon to 5pm. Afterward, hit up Holler Brewing Co. for juicy IPAs.
Jam to live music
$$
Multiple locations
Rock your face off to live music at venues like Walter's, Warehouse Live, The Continental Club, and White Oak Music Hall; get rowdy at Midtown's Howl at the Moon; check out the country lineups at The Rustic and Goodnight Charlie's; or make your very own live music with some questionable singing at Glitter Karaoke.
Bring your dog to a patio bar
$
Multiple locations
'Tis the season for patio hopping with your pup (unless you're reading this during a heatwave, in which case, stay inside with A/C). Thanks to the awesome Paws on the Patio initiative back in 2010, you'll find no shortage of paw-friendly places to eat, drink, and hangout with the only soul who really knows how to love you. Bring Astro to spots like Heights Bier Garten, The Burger Joint, Cottonwood, 8th Wonder, Little Woody's, Bobcat Teddy's, Pub Fiction, FM Kitchen & Bar… and the list goes on.
Get in an al fresco sweat sesh
Free
Downtown (& other locations)
With Memorial Park's 3-mile loop, the Buffalo Bayou hike & bike trails, the Rice University trek, and the picturesque Hermann Park, there are no shortage of scenic runs in Houston. But those looking for a training sesh a little more outside the box can check out Discovery Green's lineup of free and open-to-the-public exercise classes. Look out for group sessions from Hatha Yoga, and Thai Chi to HIIT and Parkour.
Free-$
Midtown
In the Houston spring and summertime, Thursday eves are made for one thing and only thing only: cheering on tiny, adorable turtles as they race out a ring at Little Woodrow's Midtown. Bucket babes, a turtle MC, prizes, and a rowdy crowd are all part of the fun. As is betting a bucket of beer on the most ridiculously named turtle with your buddies.
$$
Galleria/Uptown
Over in BLVD Place, the fresh-faced Rooftop Cinema Club offers a program of classic and modern films set to views of the city and sunset, all on an outdoor rooftop deck. Reserve some comfy deck chairs for you and the crew (you'll need to scope out the films in advance, as seating fills up pretty quick for popular films), put on the wireless headphones, and settle in for movie night alongside wine and snacks.
$
River Oaks (& Downtown)
Houston's ultimate farmers market, Urban Harvest, runs on Saturdays year-round at its Buffalo Speedway location, and on Wednesdays at the Downtown City Hall location in the Spring and Fall. Pop in and you'll find a rainbow of farm-fresh fruits and vegetables, organic meats and artisan cheeses, freshly baked goods, jams and honeys, sweets, and basically anything you'd need to put together a badass meal later that night.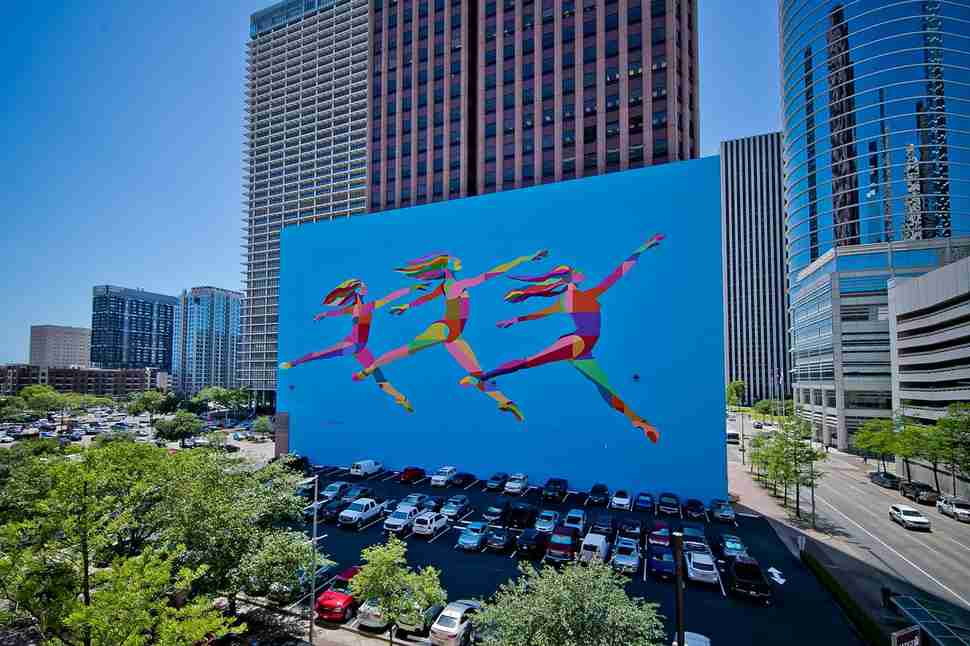 Go mural hopping
Free
Houston
Spend the day Insta-storying each other in front of the city's coolest local art attractions. Stops include but are not limited to Market Square's "Houston is..." mural, the Biscuit Paint Wall on Westheimer, the We <3 Houston Sign, the 10-foot tall Midtown letters in Bagby Park, the "Greetings from Houston" wall on White Oak,  Synchronicity of Color in Discovery Green, and Downtown's Art Blocks.
$
Needville
Head about 40 miles from Downtown to Brazos Bend, where you can enjoy a hike and finish it off with a sick stargazing sesh at the onsite George Observatory. The best nights to come out are when the sky is clear; Just be sure to check for closures due to flooding before you make the trip, because #HoustonProblems.
Sign up here for our daily Houston email and be the first to get all the food/drink/fun in town.