The 17 All-Time Greatest Things to Do in Houston
Here are the best bucket-list experiences to tackle in Houston right now.
Minute Maid Park

| Image courtesy of Visit Houston, Photo-illustration by Maitane Romagnosa for Thrillist
Minute Maid Park

| Image courtesy of Visit Houston, Photo-illustration by Maitane Romagnosa for Thrillist
Whether you're a fresh face in Bayou City or are a longtime local, Houston is a city begging to be explored…and there's a whole lot of it to explore. That's why we've dreamed up a hyper-curated bucket list, stacking it with essential local landmarks and seasonal flavors, drinking and dining destinations, both obvious and rare pockets of the city to uncover, and the buzzy must-dos of the season. Tacos. Greenspaces. Asiatown. Graffiti art. We cover it all and then some. Here are 17 all-time great things to do in Houston this fall and winter.
Things to Do in Houston in Fall and Winter
Winter Festivals
Beautiful weather means it's festival season, y'all. Just around the corner are citywide favorites like the ultimate people-watching experience Texas Renaissance Festival (Oct. 7–Nov. 26), Tacolandia (Oct. 21), Whiskey Social (Nov. 13), Thanksgiving Day Parade (Nov. 23), Dickens on the Strand (Dec. 1–3), Lights in the Heights (early December), Yaga's Chili Quest & Beer Fest (Jan. 12 & 13), and Mardi Gras! Galveston (Feb. 2–13).
Holiday Shopping
The Christmas-themed pop-up extravaganza Nutcracker Market, which returns to NRG this November, is a really good place to start. But there are boatloads of boutiques and specialty shops to hit up in the city. Stroll the historic 19th Street in the Heights and find goodies at local favorites like Manready Mercantile and Emerson Rose. Get really generous with a shopping trip to the ritzy River Oaks District. Sift through all the antiques and vintage goodies along the lower Westheimer Curve in Montrose. Speaking of vintage, find more at Houston's favorite vinyl record stores and thrift shops.
Holiday Lights
Every year starting in November and running through early January, the Houston Zoo decks its grounds in millions of twinkly things for its annual Zoo Lights spectacular. Start there, then check out other extravagant and festive illuminations including the City Lights at Avenida Houston, Houston Botanic Garden's Radiant Nature, Katy's Magical Winter Lights and drive-thru Light Park, Space Center Houston's Galaxy Lights, and Moody Gardens' Festival of Lights. Want a free lights tour? Stroll the posh neighborhood of River Oaks (anything near the River Oaks Country Club is a good place to start) and its lavishly bonkers light displays.
The Theatre District
Houston's always-bustling Theatre District shines even brighter during the holidays, with family-favorite seasonal productions including The Nutcracker from the Houston Ballet, Alley Theatre's A Christmas Carol, and Houston Symphony's Halloween Spooktacular, Handel's Messiah, and Very Merry Pops. Or check out Ugly Christmas Sweater, the laugh out loud musical from TUTS.
Ice Skating
When the weather drops, downtown urban park Discovery Green transforms into a Winter Wonderland, turning its usually kayak-laden Kinder Lake into an outdoor ice skating rink for the public. Show off your skills under the twinkly lights or lace up at these other ice skating rinks in town.
Miracle and Sippin' Santa Pop-Up Bars
Christmas nostalgia goes full blast as returning holiday pop-up bars Miracle and Sippin' Santa complete their ultra kitschy takeover of some of the nation's most cherished local watering holes. Kicking off in late November and running through the year's end, you can sip Rudolph and Krampus cocktails out of old school Santa mugs while you order that cool elf ladder off Amazon at local spots including Johnny's Gold Brick, Winnie's, the upcoming Nickel City, and Galveston's Daiquiri Time Out.
Where to See Live Music and Entertainment in Houston
Live Music
Hip hop artists and rappers, grungy rock bands, worldwide superstars. Houston sees no shortage of talented musicians rocking out the stages across town. Score tickets to shows at big name venues including 713 Music Hall, Bayou Music Center, House of Blues, White Oak Music Hall, and Cynthia Woods Mitchell Pavilion, or check out more smaller and underground venues like Continental Club and Shoeshine Charley's Big Top Lounge, Dan Electro's Guitar Bar, Goode Company Armadillo Palace, Last Concert Cafe, The Rustic, and Warehouse Live.
Houston Sports
We've got five professional hometeams—the NFL's Houston Texans, NBA's Houston Rockets, MLS' Houston Dynamo, NWSL's Houston Dash, and 2022 World Series Champion Houston Astros, meaning you have five reasons to get yourself out to some sort of ballgame. Aside from all the thrilling competition and feats of athleticism, this is Houston, so you know the stadium food will be stellar.
Where to Eat and Drink in Houston
Navy Blue
Houston is a food city. Ask a local what to do and they'll likely answer with somewhere to eat, then somewhere to drink. Today's most exciting eateries include Navy Blue, the impeccably polished seafood spot with French technique and Gulf Coast soul from chef Aaron Bludorn and company. Yes you want to add the biscuits.
Doris Metropolitan
You'll also want to visit Doris Metropolitan, an Israeli chophouse complete with a chandelier-lit meat locker, the most gorgeous desserts, a must have beetroot appetizer, and top grade cuts with Salt Bae style accompaniments.
Crawfish & Noodles
Foodies known to take a drive down Bellaire Boulevard to Houston's Chinatown, where they'll find traditional eats from across Asia. Feast your way through all the neighborhood has to offer: saucy dumplings, noodles and flavorful pork buns, vegetarian joints, ramen, crawfish, and pho. As Houston is home to the third-largest Vietnamese population in America and rocks some truly incredible Vietnamese food, head to Crawfish & Noodles peel, pinch and suck down a bucket of garlic-butter drenched Viet-Cajun mudbugs. Don't skip the wok-fried tamarind crab and 12-hour turkey neck.
Blood Bros. BBQ
Then there's Blood Bros. BBQ, a Tex-Asian joint that's the epitome of Mutt City dining. Smoked char siu bánh mì, 44 Farms brisket chow fun, and gochujang ribs are just a few of the goodies that may be up for grabs.
Julep
Whet the palate by popping into Houston's dynamo roster of top bars, which run the gamut from high-class cocktail bars with break-even bottle programs to vibey ice houses fueled by whiskey, beer, and tacos. Alba Huerta's James Beard Award–winning Julep oozes Southern charm, the perfect mashup of refinement and laidback. Sip a proper Mint Julep or Cherry Bounce Sour while you hang with locals slurping Gulf oysters (just $1 on Mondays).
Eight Row Flint
If whiskey's your thing, Eight Row Flint is your spot. The modern icehouse has planted roots in two neighborhoods now, the Heights and East End. Pick whichever is closer and unpack the day with whiskey and tacos, the way a real Texan would.
Saint Arnold Brewing Company
Houston's craft brew scene is popping off with reliable standbys dreaming up fresh taps, young guns changing the game, and dynamite taprooms and beer gardens to enjoy it all in. Start with the 14 most essential, then continue your hoppy voyage from there. If you have time for one and only one, make the visit to Saint Arnold Brewing Company. It's been in the Houston craft beer game the longest (since way back in 1994), rocks a popping beer garden with views of the downtown skyline, and a lineup of brews that always hit, including the sessionable Lawnmower, hopped up Art Car IPA, and cult favorite seasonal releases like Pumpkinator.
Laredo Taqueria
While we're happy as a hog the entire food scene here, tacos are one of Houston's most iconic foods. There is nothing like starting your morning with a piping hot, chorizo and egg filled tortilla at the iconic Laredo Taqueria, line be damned. Be sure you know what you want when you get to the steam tables, because things move at lightning speed from there.
Tacomadre
Late-night street tacos should be considered the Eighth Wonder of the World, as they rightfully are in Houston. Get 'em at bonafide treasure Taconmadre, which keeps night owl hours at its three locations and offers trompo, a rarity at local taco shops.
West Alabama Ice House
One of the greatest aspects of Houston is that it's almost always patio season. With fall and winter temperatures finally creeping after a scorching hot summer, now is the time to make the most of that. But we can't talk about Houston patios without mentioning the O.G. Sipping a Lone Star in the shade at West Alabama Ice House (crackin' since 1928) is a quintessential Houston bucket lister. Score quadruple points by tacking on pastor tacos from neighboring food truck Tacos Tierra Caliente. Want more? Our al fresco drinking and dining landscape also includes a colossal beer garden, whiskey-soaked hangout with corn hole and firepits, sexy European-inspired brunch spot, and grade-A Texas smokehouse with skyline views. We've also got scenic rooftop bars and laidback watering holes where you can drink with your dog.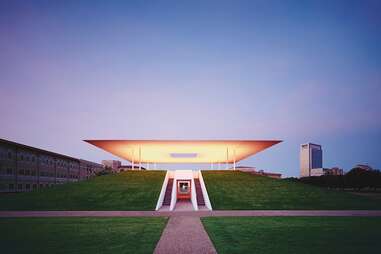 Where to See Art in Houston
The Museum District
You can make a day of it with a trip to the city's world-renowned Museum District. Stroll the visually immersive campus at Museum of Fine Arts Houston, which rocks thought-provoking exhibitions and galleries, a tranquil sculpture garden, Houston's own version of the Chicago "Bean", and a high-end French restaurant where you can take it all in. Delve into the past and the future with a trip to the Houston Museum of Natural Science and its super cool planetarium. Or take advantage of Houston's finest free museum experiences, which includes the prized Menil Collection and spiritually transcendent Rothko Chapel.
Twilight Epiphany Skyspace
Over at Rice University, James Turrell's "Twilight Epiphany" Skyspace is a totally rad (and totally free) light and sound installation, combining its acoustic engineering with a super cool LED light sequence projected through the structure's open roof just before sunrise and at sunset.
Arts District and Sawyer Yards
In addition to housing the works of over 300 local artists and creatives, Arts District Houston and Sawyer Yards are full of 'Gram-worthy wall art. You can find more knockout graffiti and mural art throughout the city by scanning the Houston Mural Map.
Project Row Houses
Transformative creative community Project Row Houses sits over in theThird Ward, one of Houston's oldest African-American neighborhoods. The row of shotgun houses turned art galleries acts as a catalyst to engage and enrich the community. Visit for free, but consider a donation, too.
Art Car Museum
And, in case you didn't know, Houston has an entire museum dedicated to totally wackadoo decorated art cars. Also known as "Garage Mahal," the Art Car Museum is always free, and it'll be back open to the public after its latest installation is complete in late October.
Things to Do Outdoors in Houston
Buffalo Bayou Park
Stretched along the Buffalo Bayou, the 160-acre BBP is where you want to take your bike, hike, or take a stroll with your kids and dogs. Its trails and greenspaces are filled with public art, a $20 million dog park, super cool skatepark, kids play area, gorgeous Mexican restaurant in the sky, and must experience Cistern, an 87,500-square-foot cavern built as one of the city's underground reservoirs in 1926 and now open to the public for fun stuff like tours, artist installations, and sound healing meditation.
Hermann Park
In Houston's colossal Museum District, the 445-acre Hermann Park is the crown jewel, rocking trails for days, Japanese gardens and the sprawling McGovern Centennial Gardens, an 8-acre lake, golf course, train for the kids, free and open-to-the-public Miller Outdoor Theatre, and the Houston Zoo.
Memorial Park
Then there's Memorial Park, famous for both its popular 3-mile running trail and adjacent burger joint. There's also the recently opened 100-acre Eastern Glades wetlands project, 155-acre Houston Arboretum and Nature Center, 18-hole golf course, all sorts of sports fields and facilities, playgrounds for the kiddos, and plenty of opportunity to picnic.
Galveston Island
Off the Texas Gulf Coast, Galveston Island is just 50 miles southeast of the city; and while it's certainly a worthwhile drive year-round, there's something about basking in the quieter off-season. Hit the salty sands of popular spots including East Beach and Jamaica Beach, grab the best fish tacos you've had in your life (and whatever's on special that day) at island treasure Fish Company Taco, take a stroll along the historic Strand and pop in La King's for old-fashioned confectioneries and ice creams; sip local craft beers at Galveston Island Brewing, and live like a kid again at the Galveston Island Historic Pleasure Pier.
Brooke Viggiano is a Houston-based writer whose work has been published across the internet and in print with Thrillist, Chron, Houstonia, Houston Press and 365 Houston. When not searching every corner of Houston for the unicorn cool-but-not-too-cool patio bar, you can find her sharing her breakfast on Instagram @brookiefafa or on Twitter @brookeviggiano.