Journalist and author Hunter S. Thompson once said this of our fair city:

"Houston is a cruel, crazy town on a filthy river in East Texas with no zoning laws and a culture of sex, money and violence. It's a shabby, sprawling metropolis ruled by brazen women, crooked cops and super-rich pansexual cowboys who live by the code of the West -- which can mean just about anything you need it to mean, in a pinch."
While we kind of like the sound of that, it doesn't really help when guests come armed with questions. This will:
1. The city is all around you
We're the fourth largest city in the US, so we're sure you'll be asked by visitors, "So like, where's the actual city?" It's right here, dammit! Get down with our urban sprawl.
2. Downtown isn't REALLY a ghost town
Everyone's just down in the tunnels… or they're already home, because nobody really lives there. That being said, it's a fantastic place to bar hop.
3. No one is actually from here
Okay, well obviously some people have to be from here (or do they??), but ask most Houstonians where they are from and it's another city, state, or country altogether. Some would say it's the booming job market (thanks big oil!) and cheap housing that brings people flocking, but we think it's the tacos.
4. Yes it's freaking hot, but it's not THAT bad
We'll admit the Summers are long and slightly hellacious, but we survive just fine. We'll either hop straight from air-conditioning to pool or fashion sweet hats to shade us from the scorching sun.
5. That being said, don't bother doing your hair in August
Humidity wins. It always wins.
6. There are no zoning laws…
See that sex shop next to that mansion that's right down the block from that school that sits alongside what seems to be a makeshift Buddhist temple? Yeah, that's Houston.
7… But that doesn't mean there are no parking laws
Parking in Houston is -- how can we put this lightly -- a cold-hearted sonofabitch. You are probably getting a ticket right now.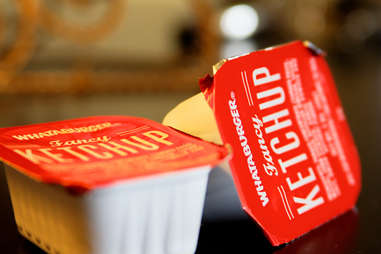 8. We're pretty serious about our Whataburger
So don't even try to start talking about how much you love In-N-Out. We don't want to hear it.
9. But we're way more than just burgers and steaks
Vietnamese, Cajun, Pakistani. You name it. We got it. And it's most likely incredible… even if it is in a strip mall.
10. Everyone drives
And we kind of drive like maniacs… because we're trying to avoid getting stuck in the traffic that's beginning in 3, 2, 1…
11. We exist within two giant loops with an "X" in the center. Kind of like an X-Men symbol...
… an X-Men symbol that is constantly undergoing construction. There's 610 that forms a 42mi "inner loop" around the center of the city, 45 and 59 which create the "X", and finally, Beltway 8, "the outer loop".
12. We name our freeways
Because that's just how we do it, OKAY? There's Katy Freeway, Gulf Freeway, Northwest Freeway, Southwest Freeway, and a bunch of others that don't have a name yet. Because they haven't earned it.
13. And we use a feeder road to get on them
No such thing as a frontage road here.
14. These are kolaches
We stuff them with all kinds of deliciousness and eat them for breakfast instead of bagels. Learn them, love them, and buy bigger pants.
15. If we're not eating kolaches for breakfast, we're eating tacos
We are also eating them for brunch, lunch, dinner, and all those meals Hobbits talk about.
16. Hot sauce goes on everything
And we don't discriminate as to what kind of sauce. Tabasco. Habanero. Thai Chili. Just as long as it's "Hey guy, your nipples are totally sweating through your deep V" hot.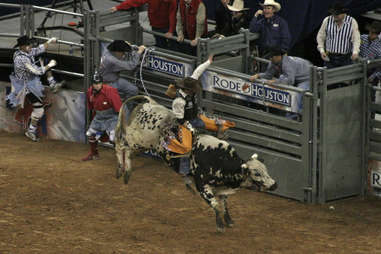 17. We don't really wear boots and hats...
… because we're not really cowboys. The only exception is during rodeo season when we all deck ourselves in the finest bolo ties, hats, boots, and buckles we can find and totally pretend to be cowboys.
18. But we do say y'all
We are in the South, y'all!
19. Yes, that was one of the Texans you just saw at Twin Peaks
What? The wings are good.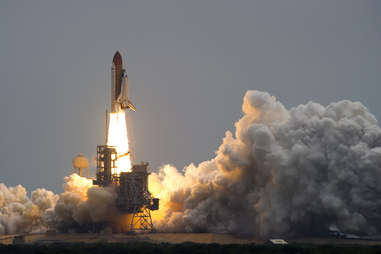 20. Sorry, the Space Center is not that exciting
NASA is cool and Mission Control is awesome and stuff, but that may be the only interesting portion of the three-hour tram tour that you've unknowingly signed up for. Hope you brought your mini fan.
21. The Galleria is nice, but it should be avoided on the weekends and holidays at all costs
Though the quinceañeras are fun to watch.
22. Our strips clubs, though, they are the s**t
Just ask Justin Bieber.
23. The jury's still out on Galveston
Same goes for the Astros.
24. Houston's flat, but it's prettier than you think
Just like your mom. Wait, what? We're not even sure if that's a compliment or an insult. Whatever.
25. When it rains, it pours
Which is just about every afternoon in the Summer for an hour or so. Ah, the joys of a subtropical climate!
26. No, we don't wish we lived in Austin
But many of us do like to visit once in a while.
27. &$#% you, Houston's awesome
And we have T-shirts to prove it.