You learn a lot when you live in Las Vegas. Things like which people to avoid on the Strip, where to get breakfast when you're hungover, and how to gamble like a champ (yeah, we're still figuring that one out). But the most important thing you learn is that no matter how great Sin City is, it's still got a few problems. At least 99 of 'em to be exact...
1. All our tract homes look the same
2. Forgetting where you live because all our tract homes look the same
3. Scorpions
4. Brown recluses are the size of corgis
5. Scorpions and brown recluses organized enough to join forces and take over a 7-Eleven
6. The heat
7. Parking meters on bike racks
8. Eccentric millionaires
9. Eccentric billionaires
10. Eccentric guy named Earl on the corner of Charleston and Martin Luther King Blvd demanding a baggie of your hair
11. It's impossible to clean dog poop out of AstroTurf yards
12. The ice rink Downtown is actually made of plastic
13. Somehow, there's still a local hockey team
14.Sex and the City-themed bachelorette parties
15. The Hangover-themed bachelor parties
16.Fear and Loathing in Las Vegas-themed funeral parties
17. Nightclub beer prices
18. Nightclub prices
19. Nightclubs
20. Yardstick booze slushies
21. Your Aunt Carol insisting on getting a booze slushy
22. The Strip is 4.2mi
23. Carrot Top
24. 25-year-olds who drive Maseratis
25. You can't afford a Maserati
26. The Heart Attack Grill
27. Inbreeding
28. Donny & Marie
29. Los Angeles: the city, the people, the jersey
30. Craigslist is absolutely terrifying
31. MMA fighters who like to practice in crowded bars
32. The Hangover 1 and 3
33. People trying to recreate The Hangover 1 and 3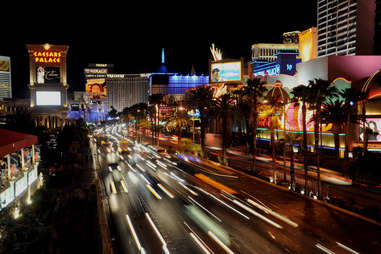 34. Friday night traffic on the Strip
35. Saturday night traffic on the Strip
36. Wednesday afternoon traffic on the Stri -- WHAT ARE YOU EVEN DOING HERE?!
37. Hotel parking garages that don't have floor or section markings
38. Valet drivers who clearly turned your A/C all the way up and floored it once or twice on the way over
39. Major streets shut down for zombie marathons
40. Major streets shut down for the Color Run
41. Major streets shut down for Pride parade
42. Major streets shut down for the Mexican Independence parade
43. Major streets shut down for -- is that a beer festival? All right fine.
44. Anyone who says "We run Vegas" and wears flip flops
45. Anyone who DOES run Vegas and wears a toupee
46. It's almost impossible to find the great restaurants in Chinatown. Oh, wait!
47. Traffic in Chinatown... mostly due to people looking for an unmarked restaurant
48. Tech start-ups
49. The phrase "Only in Vegas"
50. Things that ACTUALLY only happen in Vegas
51. The guy next to you in traffic screaming "YOLO" at 85mph
52. Luxury car tours parking at the only quiet overlook in Red Rock
53. It's hard to pick from the billions of cheap, delicious steak 'n egg options
54. The "going out shirt"
55. Barefoot girls on the Strip
56. The brutal stench of urine in the alleys behind Fremont St
57. The brutal stench of -- actually, I don't know what that is, but I'm taking a different alley
58. The song "Waking Up in Vegas"
59. Drive-time DJs for playing it on a Monday morning
60. The water color at casino day club pools
61. Video billboards above busy intersections
62. Video billboard-related accidents and fatalities
63 Your police report saying something to the effect of "crashed watching preview for Blue Man Group"
64. The smell of Las Vegas Blvd when it gets above 90 degrees
65. It's still above 90 degrees in October
66. The line at Tacos El Gordo if you've been drinking
67. The line at Tacos El Gordo if you HAVEN'T been drinking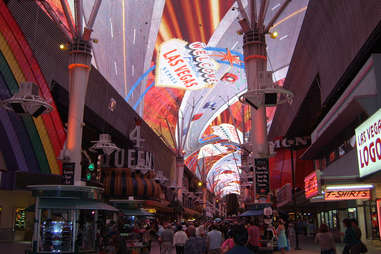 68. The Fremont Street Experience
69. That goddamn flame-throwing praying mantis at Downtown Container Park
70. There are only three decent bookstores, all of them are Barnes & Noble, and they're all in the distant suburbs
71.Celebrity DJs
72. Too many award-winning restaurants to choose from on any given night
73. Cocaine on the toilet seat in Starbucks
74. Tinder Prom
75. The presence of anyone from The Real World
76. The presence of anyone in a giant animal costume
77. The presence of anyone with the last name Hilton
78. The dread-locked kids playing guitar on the Strip only seem to know "No Woman, No Cry"
79. Those kids are the only ones on the Strip not wearing too much cologne
80. They're also the only ones who could really, really use it
81. How casually bikers talk about having been "brushed" by buses
82. The person-colored markings on the side of buses
83. Any celebrity impersonator not on Las Vegas Blvd or Fremont St
84. That isn't an Elvis-after-years-of-amphetamines impersonation? Yyyyyikes, man.
85. You're only five minutes into your flight home when visitors start screaming "Vegas, baby!"
86. Spirit Airlines for instigating that and just because
87. Anyone who still thinks "What happens in Vegas, stays in Vegas"
88. Parties hosted by Kim... or really any of the Kardashians
89. Picking the right topless pool
90. Not every margarita comes in a life-size plastic guitar
91. Your dinner reservation got delayed because Pauly Shore wanted a second dessert
92. Your buffet reservation got deleted because the Thunder From Down Under guys are stress-eating
93. The couple in the elevator
94. The couple fighting in the elevator
95. The couple sloppily making up/out in the elevator
96. The couple recounting how they met earlier this weekend, for 10 minutes, unprompted
97. The couple asking where you're from, then interrupting you to say, "He's from Omaha and I'm from Seattle"
98. Seriously, how long is this elevator ride? We're going to the 80th floor? Why would I know where you parked? Please don't throw up. No, the elevator probably doesn't have a trash can. Because it's an elevator. Please wait until I get off. No I don't have a plastic bag. Think about non-pukey things. No, wait!
99. Getting puke on your shoes at 2pm on a Sunday
Sign up here for our daily Vegas email and be the first to get all the food/drink/fun in town.