Courtesy of Bally's
Courtesy of Bally's
The first thing you need to know about Las Vegas showgirls is that there aren't many shows left for them to perform in. In fact, just one surviving -- and still thriving -- production remains: Bally's Jubilee, coming up on its 34th year. Many of the current dancers weren't even born when their parents (or grandparents) first saw this retro-classic homage to the splendor of the female form, but that hasn't stopped them from carrying on the tradition. We snuck backstage and talked with some of the girls, and company manager, Diane Palm, to get the lowdown on what being a showgirl means, and what it doesn't.
1. Real showgirls are trained in ballet and other classical dance
Since the beginning, when Margaret Kelley (aka Madame Bluebell) & Donn Arden first brought Parisian-style nightclub shows to Vegas, it's never been about the bump and grind, or just about being a model wearing an outrageous outfit. To achieve the graceful elegance required for this level of pageantry, most of the girls have had to put together an impressive dance pedigree, starting with classical ballet technique.

2. They make a real living at it
Kelley always insisted her dancers be paid like the professional performing artists they are, which today means a solid paycheck, health insurance, and a 401k, just like the one you should probably be contributing to more than you are.
3. Showgirls range from tall to "really, really tall"
The minimum height is 5'8", and internally that's considered "short," in terms of lining dancers up appropriately -- tall ladies are between 5'10" and 6'2". Growing up, many will tell you that they stood out, and predictably felt a bit awkward, and that this is the first time in their lives they've been surrounded by vertically similar girls.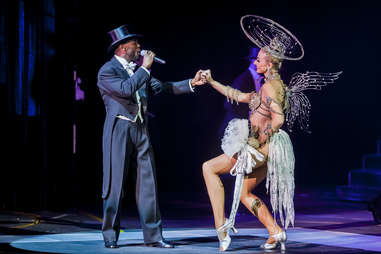 4. They are even fitter than you imagine
Working with the equivalent of a rhinestone-studded ostrich on your head requires imposing strength and balance, and this is done in costumes the weight of Kevlar vests. Making it through the 90-minute show is basically like playing a soccer game, if the pitch consisted of 1,000 stairs and instead of Adidas you had to wear 3" heels.
5. But they also fall a lot
Drape enough tall women in elaborate costumes and have them march up and down enough stairs, and you're going to have your share of slips and falls. Typically the ladies are very quick to jump right up, before anyone in the audience has realized anything's gone awry.
6. Wardrobe malfunctions are like Kaiser Soze
In that you'll never realize they existed. When they happens, the girls gracefully and stealthily exit the stage before anyone's the wiser.

7. Showgirls go through boot camp before taking the stage
They may be bad-asses of ballet, but there's really nowhere else to learn a showgirl's specific skills and steps outside Vegas. New dancers go through 3-4 weeks of intense training to make sure they can physically carry the load, not to mention all the memorization of thousands of dance combinations and steps.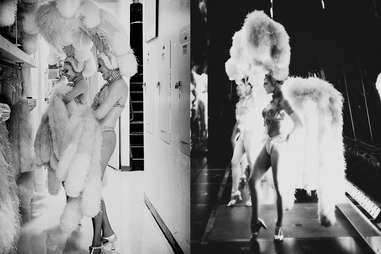 8. They change into more costumes than you have clothes
Six to eight costume changes per show -- it's enough to make Stevie Nicks look like a member of Depeche Mode.

9. Not every showgirl goes topless
Breast-baring duties depend on the role. In the case of Jubilee, of the 45 female dancers, 23 go topless. Internally, those who dare to bare are referred to as "dancing nudes," (a combination of a female dancer and a showgirl), and performers who instead don spectacular rhinestone-studded sparkling brassieres are female dancers or "Bluebells" -- a reference to Kelley's girls who gave your granddad a heart attack back in the 1950s.

10. Yes, they are real
The physical demands of performance don't lend themselves to artificial enhancement (showgirls are already carrying 20-30 additional pounds in costume), so while your staring might or might not be natural, what you're staring at definitely is.

11. Showgirls don't hang out on the Strip
Back in Vegas' first golden era, in the 1950's some female entertainers were expected to hang out with high rollers after a show. With showgirls, it was the opposite; they were placed on a pedestal, and it's damn hard to play arm candy from a pedestal. These days, like many locals who make their livings on the Strip, they simply don't want to hang out where they work, and are more likely to be found out on East Fremont at places like the Beauty Bar, Gold Spike, and the Commonwealth.

12. But they do give backstage tours
Showgirls lead all-access, behind the scenes tours on Tuesdays, Wednesdays and Thursdays at 4 pm. So maybe don't just hit Vegas on Fridays and Saturdays.
13. Showgirls are artists
The most astounding art at UNLV might be a statue of Jerry Tarkanian sucking on a towel (really, this exists), but the most alluring is the extensive library of showgirl costume designs and photographs, some of which is currently on display as part of an archival exhibit chronicling the Bluebell-led French entertainment invasion. Check out some vintage showgirl art here, then see the show live -- because, as you've already learned, there's no substitute for the real thing.