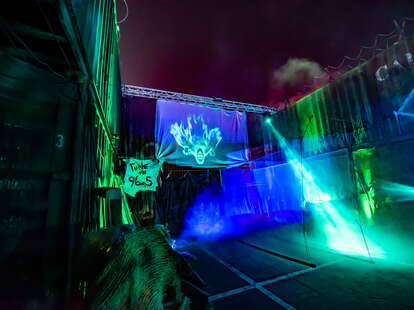 Photo courtesy of Trapped by Hallowheels
It's 2020. What are we gonna do about Halloween? Here in Nevada, the spooky holiday is moving full steam ahead. And yes, it's possible to fully enjoy it with social distancing in mind. Has there ever been a better time to say, "Wear a mask"? Not really. Especially here in Las Vegas, where there's plenty of stuff going on around town.
Through Saturday, December 31
Industrial Corridor
Not feeling well? It's time for a diagnosis by the evil Dr. Craven. The team behind Fright Dome is now presenting Fright Ride—a socially distanced attraction in which participants travel on electric carts (or "transport vehicles") through a 75,000-square-foot research lab. This could get bloody. Reservations required.
Cost: General admission begins at $34.99 and VIP admission begins at $44.99 (with express entry to minimize the long wait in line)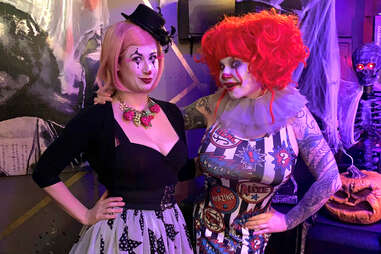 Through Saturday, December 31
Chinatown
One of our favorite bars in Las Vegas is doing something special for Halloween. The Sand Dollar Lounge is transforming into Nightmare on Spring Mountain, a pop-up concept with spooky cocktails, costumes, and elaborate decorations. Special themes include "superhero" (October 22), "goth" (October 25), "slutty" (October 27, no nudity), "intergalactic" (October 29), and a general "Halloween" (on October 31, duh), which is kinda like a free swim. Guests will be seated at tables and appropriately distanced.
Cost: Free admission (reservations encouraged)
Through Saturday, October 31
Industrial Corridor
Drive-thru experiences are all the rage this Halloween season. Another great example is "Trapped" in the parking lot of The Industrial event space. Guests pull their car into one of four docking bays, built from old shipping containers, where lights, projections, and costumed performers help "decontaminate" the vehicle in a post-apocalyptic zombie world. The ten-minute performances run from 7 pm to midnight through October 28, until 1 am on October 29–30, and until 2 am on October 31. (Not to be confused with Trapped! The Escape Room, which has its own Halloween-themed experience west of the Strip.)
Cost: $54.99 per car
Year round
The Strip
Make the most of the mild October weather with a walking tour by Las Vegas Ghosts—available anytime of the year, not just Halloween weekend. Your guide will show off haunted locations on the Strip while providing a generous overview of Las Vegas history. Even longtime locals will pick up on things they've never heard before. If you prefer to social distance as much as possible, take your own audio-guided ghost tour with the Junket phone app or livestream a tour from the comfort of home with Ghostflix.
Cost: Walking tours begin at $12 (Ghostflix starts at $13 for on-demand tours or $15 for livestream tours)
Sunday, October 25–Saturday, October 31
Downtown Arts District
The Majestic Repertory Theatre is turning its annual "Horrorwood Video" stage production into an outdoor drive-in experience—something the troupe has been pretty good at this year—with a "Highway to Hell" theme. Guests will stay in their cars while entering a retro 1980s-style video store and being introduced to the most terrifying VHS horror movies never made. Shows are 7pm to midnight. Performers promise not to touch you, but that won't stop them from getting under your skin.
Cost: $50 per vehicle ($70 on Halloween night)
Monday, October 26–Sunday, November 1
Boulder City
Pedaling yourself down the train tracks with Rail Explorers is one of the coolest things you can do when visiting Boulder City. Throughout the week of Halloween, guests are encouraged to dress up in costume for sunset tours at 5:30 pm and lantern tours at 7:30 pm (Friday and Saturday).
Cost: Tandem rail bike for two begins at $85, quad rail bike for four begins at $150
Wednesday, October 28
Summerlin
The annual Night of the Witches benefit for HELP of Southern Nevada is happening from 6-8:30pm at Grape Street Cafe in Downtown Summerlin. The price of admission includes a Witches Brew sangria with souvenir cup, raffle ticket, happy hour food pricing, and a gift bag for the first 100 guests. Dress up as a witch or warlock, compete in a costume contest, and ask Mystic Mona for a psychic reading.
Cost: Admission begins at $25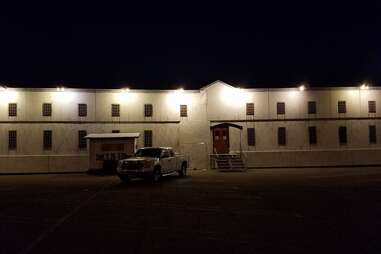 Thursday, October 28–Saturday, October 31
Meadows Mall
Some long-running haunted attractions are taking 2020 off—but not this one. Las Vegas Haunts continues to scare the city after 22 years, but with limited admission and advance reservations in place. You've got your choice of two different experiences—"Asylum" (inspired by an old mental health institution) or "Hotel Fear" (modeled after a spooky hotel). In a switch this year, all tickets include admission to both.
Cost: Tickets begin at $20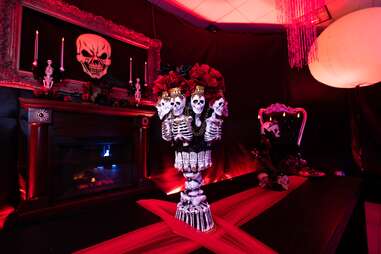 Thursday, October 29–Saturday, October 31
The Strip
Fashion Show Mall is bringing a sense of style to the Halloween season. Shoppers can take a detour through Trick or Chic—a hall of skeletons dressed their best with guides sharing spooky stories. There's also a mummy and spiderweb exhibit in the Great Hall that makes for a great selfie station. Guests will leave with a few coupons for Fashion Show shops.
Cost: Free admission, but it helps to RSVP in advance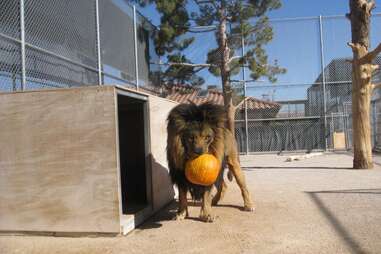 Thursday, October 29–Monday, November 2
Henderson
Las Vegas doesn't have a full-fledged zoo, but it does have the Lion Habitat Ranch. Located near the M Resort in Henderson, the ranch provides a home to more than 30 big cats, some of which were featured in Strip stage productions years ago—not to mention Ozzie the painting giraffe. The ranch is presenting "Boo at the Zoo" from 11 am–3 pm, a family-friendly event where costumes are encouraged (without completely obscuring the faces of those 14 and older) and lions will feast on pumpkins.
Cost: Tickets $8–$25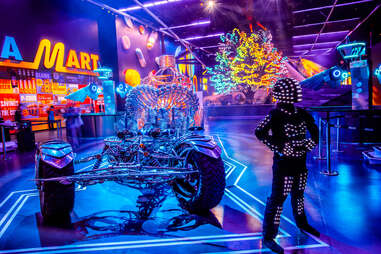 Friday, October 30–Saturday, October 31
Off the Strip
The AREA15 art and entertainment complex transforms into ScAREA15 on Friday night with family-friendly activities from 4–7 pm and adults encouraged to come by 8 pm–midnight with costume contests and performances. Things are taken up a notch on Saturday (kids from 4–7 pm, adults from 8 pm–2 am) for Future Carnival with acrobats, stilt performers, fortune tellers, and an intergalactic theme. Both nights will have cash bar potion stations and food available from The Beast pop-up restaurant by Todd English.
Cost: Early entry is $5 with kids 10 and younger entering free; late admission is $15 Friday and $25 Saturday
Friday, October 30–Saturday, October 31
Downtown
After remaining closed for much of the pandemic, the Gold Spike is back open to bring some welcome energy to the Downtown nightlife scene. Check it out over a two-night "Fright Spike" Halloween party where costumes are encouraged, masks are required, and table reservations are available. Fend off the munchies with their new easy-serve burger kiosk.
Cost: Contact venue for latest information
Satisfy your sweet tooth on Halloween weekend
Friday, October 30–Sunday, November 1
Multiple Location
Trick or treat—gimme something to eat. For some Halloween fun, spend the weekend wolfing down a box of Mini Monster Clouds by locally made organic Nuage Cotton Candy. Pinkbox Doughnuts has 12 different Halloween-themed doughnuts available until November 1. Take a dozen home or decorate your own with the Halloween Playbox (a DIY kit with a ghost doughnut, six plain doughnuts, and four bite-sized cake doughnuts plus icings and toppings). Meanwhile, Black Tap at the Venetian has an Instagram-worthy chocolate Halloween CrazyShake with candy corn, a spiderweb cupcake, twisty pop, rock candy, whipped cream, sprinkles, and a chocolate drizzle.
Cost: Nuage Mini Monster Clouds are $29 per box of ten, Pinkbox Halloween Playbox is $18.99, and Black Tap's Halloween CrazyShake is $17.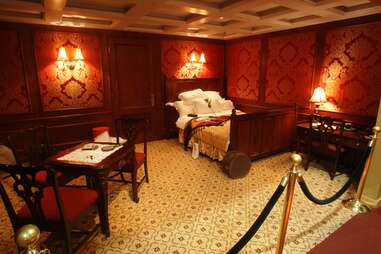 Friday, October 30–Sunday, November 1
The Luxor
Titanic: The Artifact Exhibition is hosting 90-minute guided ghost tours at 11:30 am, 2 pm, and 4:30 pm throughout Halloween weekend. The place is already a pretty cool museum to check out artifacts recovered from the famous sunken cruise ship—not to mention the "big piece" of the hull. But the experience is especially ominous when hearing about the myths, mysteries, and stories by a costumed stewardess.
Cost: Tickets begin at $24 for for ages 4–12 and $32 for ages 13 and up
Saturday, October 31
The Luxor
It's amazing how early fans will wake up to watch video games as a spectator sport. The HyperX Esports Arena at the Luxor is opening at midnight on Halloween for a 2020 League of Legends World Finals watch party at 3am. The event is open to those 18 and over—and participants are welcome to play games of their own too. Later that night, the arena hosts a Saturday Fright Speedway Mario Kart 8 Deluxe tournament, beginning at 5:30pm. Hundreds of dollars in prizes are at stake in a costume contest so get your Mario and Luigi outfits together.
Cost: Admission is free (pre-register for 50% off gameplay or four hours for $20)
Saturday, October 31
Off the Strip
The Front Yard at Ellis Island makes it easy to celebrate Halloween day or night. A special brunch runs 10am–3pm with themed cocktails to chug down alongside a French Toast Waffle, Brisket Benedict, and other dishes. A DJ will perform, beginning at 4pm with a costume contest and Halloween specials for the dinner crowd. Make sure to try the beer.
Cost: Free admission (with reservations suggested)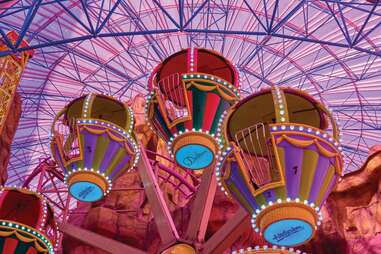 Saturday, October 31
Circus Circus
The Adventuredome at Circus Circus may no longer have Fright Dome, but it still has plenty of fun and rides for Halloween. The five-acre amusement park will have trick-or-treat stations 10–4pm with candy handed out for every ride completed. Costumes are encouraged, and while facemasks are required for safety, costume masks are not allowed. Locals with Nevada ID get a 20% discount the first three hours of the event.
Cost: Passes are $39.95 (48 inches or taller) and $19.95 (under 48 inches)
Friday, October 30–Saturday, October 31
The Cosmopolitan
For two straight nights, Playboy's Haunted Mansion sets up shop at Marquee with a late-night party in the main room and on the pool deck at 10 pm. The nightclub is still operating as a lounge, so table, cabana, or bungalow reservations are required. Have fun with your costume, but unlike the pages of Playboy, no nudity allowed.
Cost: Table reservations begin at $500
Sign up here for our daily Vegas email and be the first to get all the food/drink/fun in town.
Rob Kachelriess has been writing about Las Vegas in Thrillist for more than seven years. His work has also appeared in
Travel + Leisure, Trivago Magazine, Sophisticated Living, Modern Luxury, Leafly, Las Vegas Magazine
, and other publications. He's wearing a mask this year, whether trick-or-treaters show up or not. Follow him on Twitter @rkachelriess.